A heavily pregnant woman, who lost her 8-month-old unborn baby after she was repeatedly kicked in the stomach, was rushed to hospital by police following an hour-long wait for an ambulance that never arrived.
Two men wearing motorcycle helmets attacked the 21-year-old, who was 32-weeks pregnant, as she walked home along Talfourd Place in Pechkahm, south-east London, at around 8pm on 15 June.
The victim has been identified in reports as Malorie Bantala.
A number of people in the area heard screams, and witnesses of the attack outside a converted pub rushed to help Ms Bantala after the men fled. A member of the public then contacted the emergency services.
The London Ambulance Service (LAS) has since apologised, after the force admitted that police were forced to take Ms Bantala to hospital after officers waited an hour and ten minutes for an ambulance. Officers then called to cancel the request.
Ms Bantala later lost her baby in hospital, where she remains in a critical condition.
A spokeswoman for the London Ambulance Service said: "We were called at 8.16pm on 15 June to Talfourd Place, SE15.
"We are very sorry that we were unable to send an ambulance before we were cancelled by the police at 9.25pm and are now looking into the circumstances of what happened."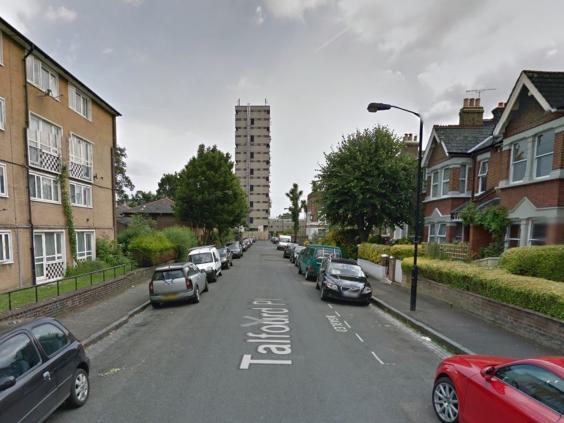 Miss Bantala's mother, Ida Bantala, identified her daughter to the MailOnline and described how she was in her flat in Peckham when someone ran to her door to alert her of the incident.
"I rushed down and there she was just lying on the pavement with the police.
"She was just crying and crying. If you see your daughter like that, it's awful. Words can't explain it," she said.
"Then, about an hour later maybe, they took her to hospital and I went with her. She was talking to the police for a long time."
Addressing the motivation behind the "abhorrent and vile" attack, Scotland Yard have said there was a "strong likehood" the men were trying to kill the unborn child and investigators are therefore treating the incident as "akin to murder".
Police have arrested a 20-year-old man on suspicion of child destruction and grievous bodily harm.
Detective Chief Inspector Robert Pack, from the Homicide and Major Crime Command, said: "This was a truly abhorrent and vile attack on a heavily pregnant woman who has now, tragically, lost her baby."
He said that police believe the men intended to target the unborn child and "must have known the impact of their actions" as they focused their violence towards her stomach, rather than her head or face.
"It sickening to think someone would deliberately target a pregnant woman in this way," said Mr Pack, adding: "certainly we're treating it akin to murder."
In an apparent attempt to ease public fears, he said the victim "quite possibly" knew her attackers and that "there's absolutely no suggestion this is part of a pattern or spate of similar attacks. This is a one-off
Mr Pack added: "I have absolutely no doubt that someone out there has either heard something, or overheard something, or had someone confide in them.
"It's that sort of person that really needs to search their conscience and think 'This is not on, this is beyond the pale'."
The suspects were described by police as being black and in their 20s.
Anyone with information is asked to contact the incident room on 020 8345 3985 or Crimestoppers anonymously on 0800 555 111.
Reuse content