Anni Dewani's family have seen their "nightmare" come true as Shrien Dewani walks free after being cleared of arranging her murder.
Her parents and siblings were in court today to hear the case against Mr Dewani be dismissed as the judge found that the prosecution's evidence fell "far below the threshold" of what a reasonable court could convict on.
Mrs Dewani's family had led public appeals for Judge Jeanette Traverso not to let the case collapse, saying it would be their worst "nightmare" for the trial to finish before her husband had even taken the stand.
They immediately left the courtroom after Monday's verdict was delivered, venting their anger on the steps outside.
  "The justice system has failed us," Mrs Dewani's sister, Ami Denborg, said.
In a statement, the Hindocha family added: "We feel really, really sad because we have not heard the full story. Shrien lived a double life."
He had admitted his bisexuality during the case and having affairs with men, which prosecution lawyers attempted to argue gave him cause to plot his wife's murder to escape the relationship.
Mrs Dewani, 28, was shot dead after being abducted from a taxi travelling through a township near Cape Town on her honeymoon in November 2010.
Her husband was dumped from the vehicle unharmed but she was found dead the next day.
Three men were jailed over her murder but claimed Mr Dewani paid them to kill his wife and make it look like a hijacking.
Judge Traverso today found that key evidence was "so improbable, with so many mistakes, lies and inconsistencies you cannot see where the lies ended and the truth begins".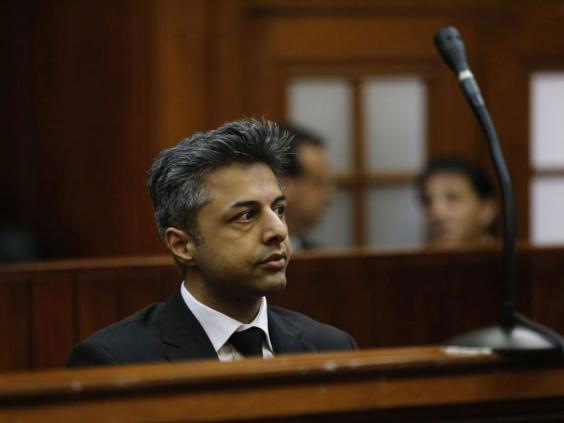 She allowed an application from Mr Dewani's defence team that the case should be dismissed, saying the quality of evidence made it impossible for the trial to continue.
The Hindochas had begged Mr Dewani to "tell the world what happened the night she died", with her brother Anish imploring him to take to the witness stand and tell his story for the first time.
Mr Dewani, who can now return to the UK a free man, breathed a large sigh of relief as Judge Traverso cleared him but was otherwise impassive.
Members of his family wept and embraced as the wealthy businessman, from Bristol, swiftly left the dock.
Buzz of media and public awaiting Shrien Dewani's last exit from the Western Cape High Court #DewaniTrial @ANN7tv pic.twitter.com/wEczA38daI

— kevinjohnbrandt (@kevinjohnbrandt) December 8, 2014
The case, coming just months after the controversial Oscar Pistorius trial, where the athlete was found guilty of manslaughter but not murder for shooting Reeva Steenkamp dead, has provoked protests across South Africa.
Campaigners held it up as another example of alleged violence against women going unpunished but Judge Traverso said it would be unjust for public opinion to influence any court.
"If any court admitted public opinion or emotion to affect their judgement, there would be anarchy," she added.
Honeymoon crime: Shrien and Anni Dewani
Honeymoon crime: Shrien and Anni Dewani
1/8 Honeymoon crime

Shrien Dewani and wife Anni on their wedding day

PA

2/8 Honeymoon crime

The couple pictured together

3/8 Honeymoon crime

Mrs Dewani is believed to have been shot three times

4/8 Honeymoon crime

Xolile Mngeni was sentenced to life after being convicted for the murder of Mrs Dewani in November 2012

Rex

5/8 Honeymoon crime

Mngeni, convicted of killing Anni Dewani, had a brain tumour and died in prison in October

Getty Images

6/8 Honeymoon crime

Mr Dewani, who has consistently maintained his innocence, broke down in tears as graphic footage and images of his wife's dead body were shown in a South African court

7/8 Honeymoon crime

Vinod Hindocha, left, the father of murdered Mrs Dewani, has said he was not aware of his son-in-law's sexuality prior to his daughter's marriage to the British businessman

AFP

8/8 Honeymoon crime

Here, Mr Hindocha, breaks down at a news conference on the eve of the murder trial's start

AP
Reeva Steenkamp's parents backed Mrs Dewani's family last week to call on Mr Dewani to give evidence in court.
Barry and June Steenkamp called the victim's family to express their sympathy and back their calls for the trial to continue, the Daily Mail reported.
In a call to Mrs Dewani's father Vinod Hindocha, Mr Steenkamp reportedly said his family understood what they were going through.
Mr Hindocha told the Daily Mail: "Mr Steenkamp and I talked about Reeva and Anni and I gave him my sympathy too.
"Only he and I as fathers can properly understand the pain of losing a daughter to bullets and then experience very difficult and high profile cases.
"Reeva's father told me 'we are both in the same boat' and that I needed to be strong."
Reuse content