Shrien Dewani has been cleared of playing any role in the "honeymoon murder" of his wife as a South African judge threw out the case against him and ruled that the prosecution case had been "riddled with contradictions".
Speaking outside court immediately after the ruling, Mrs Dewani's sister, Ami Denborg, said: "The justice system has failed us."
'We came here for the truth, seeking answers but are left with so many unanswered questions, its a very sad day."
In a statement, the Hindocha family added: "We feel really, really sad because we have not heard the full story. Shrien lived a double life."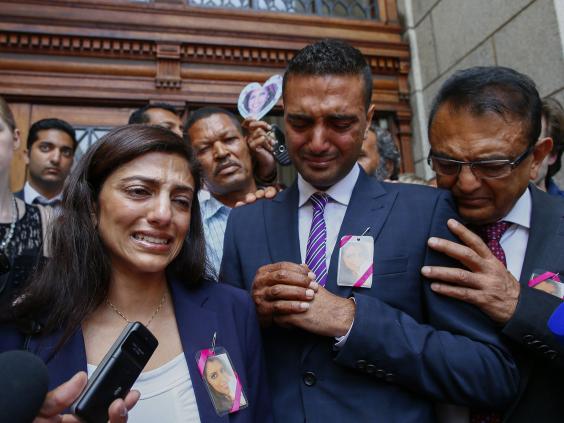 Judge Jeanette Traverso said evidence against Mr Dewani fell "far below" the required threshold and the only way the case could continue was if Mr Dewani implicated himself by giving evidence.
She said the testimony of the chief prosecution witness was "riddled with contradictions" and inadmissible in court.
Mr Dewani, 34, has always denied any involvement in the murder of his wife, Anni Dewani, in November 2010 but was charged with murder, conspiracy to commit kidnapping, robbery with aggravating circumstances, kidnapping, and defeating the ends of justice.
His 28-year-old wife was shot dead after being abducted from the taxi the couple were travelling in through a township near Cape Town on the way to dinner.
Prosecutors say Mr Dewani, who is bisexual and admitted to having a number of affairs, plotted for his wife to be murdered to escape the relationship but his defence team applied for the case to be dismissed.
It was essential for the state to prove that the evidence of its main witness, taxi driver Zola Tongo, was reliable.
He is already serving 18 years in jail for Mrs Dewani's murder and claimed he was paid by her husband to organise the murder.
Judge Traverso told the court: "It is crucial for the state to prove that Mr Dewani entered into an agreement with Zola Tongo the taxi driver."
Without it, there would be nothing linking him to the murder, which was carried out by two other men - Mziwamadoda Qwabe and Xolile Mngeni.
Judge Traverso told Western Cape Crown Court that Tongo's evidence was "riddled with contradictions" with his evidence "highly improbable".
Prosecutors argued that he "never strayed from the crux of his evidence" about the murder plot but the judge said it was impossible "to see where the lies end and the truth begins".
"In some instances evidence makes no sense and the explanations are poor," she added.
Honeymoon crime: Shrien and Anni Dewani
Honeymoon crime: Shrien and Anni Dewani
1/8 Honeymoon crime

Shrien Dewani and wife Anni on their wedding day

PA

2/8 Honeymoon crime

The couple pictured together

3/8 Honeymoon crime

Mrs Dewani is believed to have been shot three times

4/8 Honeymoon crime

Xolile Mngeni was sentenced to life after being convicted for the murder of Mrs Dewani in November 2012

Rex

5/8 Honeymoon crime

Mngeni, convicted of killing Anni Dewani, had a brain tumour and died in prison in October

Getty Images

6/8 Honeymoon crime

Mr Dewani, who has consistently maintained his innocence, broke down in tears as graphic footage and images of his wife's dead body were shown in a South African court

7/8 Honeymoon crime

Vinod Hindocha, left, the father of murdered Mrs Dewani, has said he was not aware of his son-in-law's sexuality prior to his daughter's marriage to the British businessman

AFP

8/8 Honeymoon crime

Here, Mr Hindocha, breaks down at a news conference on the eve of the murder trial's start

AP
Tongo had become a state witness in order to get a reduced sentence, giving him motive to incriminate someone else and lessen his punishment.
Another key witness was a "self-confessed" liar, the judge said.
Monde Mbolombo, a hotel worker who allegedly acted as a middle man in the plot was reportedly promised legal immunity for truthful testimony but Judge Traverso said his evidence "unravelled in cross-examination" and was contradictory.
Calling him a "self-confessed liar", she said he admitted lying in several statements and tried to conceal his involvement in the killing.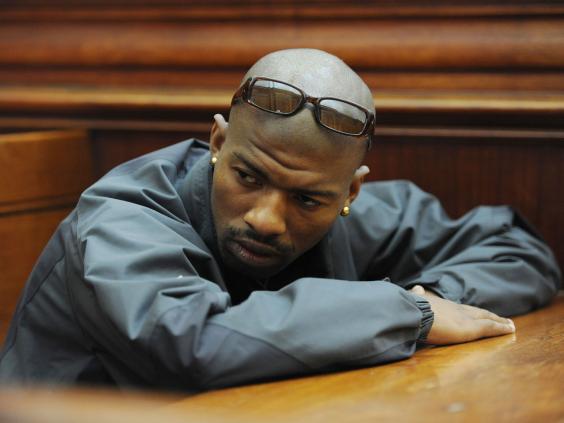 It "became more and more clear that he was deeply involved in the whole plot" the judge said, pointing to phone recordings and transcripts of messages with Tongo.
He has not yet been prosecuted for putting Tongo in touch with the men who carried out the killing but the judge refused to grant him immunity.
Another of the alleged conspirators, Xolile Mngeni, who was convicted of firing the shot that killed Mrs Dewani, died in custody from a brain tumour without being called to give evidence to the trial.
The case, coming just months after the controversial Oscar Pistorius trial, where the athlete was found guilty of manslaughter but not murder for shooting Reeva Steenkamp dead, has provoked protests across South Africa.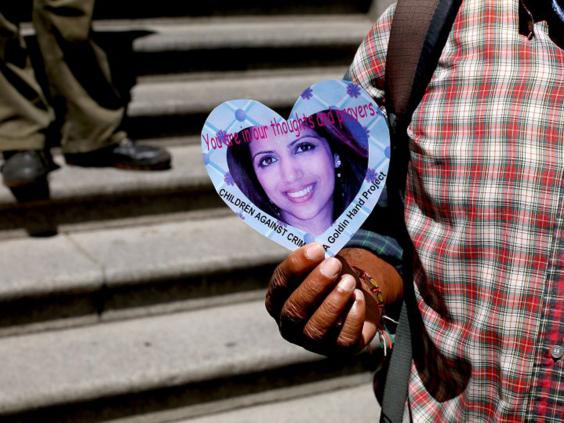 Campaigners held it up as another example of alleged violence against women going unpunished but Judge Traverso said it would be unjust for public opinion to influence any court.
"If any court admitted public opinion or emotion to affect their judgement, there would be anarchy," she added.
Additional reporting by agencies