Attorneys General from 16 US states have condemned Donald Trump's executive order banning citizens of seven Muslim-majority countries travelling to the US. 
The White House has remained defiant over the travel ban, which prevents people from Iraq, Iran, Sudan, Somalia, Libya, Syria and Yemen travelling to the US, despite several judges ruling it is "unconstitutional and unlawful". 
One federal judge has ordered a temporary stay on the order, which was reportedly not reviewed by Department of Justice lawyers before it was signed, allowing people with green cards and visas into the country. 
In a joint statement, the officials from California, New York, Pennsylvania, Washington, Massachusetts, Hawaii, Virginia, Vermont, Oregon, Connecticut, New Mexico, Iowa, Maine, Maryland, Illinois and the District of Columbia condemned the "chaotic situation" the order had created. 
They said: "Religious liberty has been, and always will be, a bedrock principle of our country and no president can change that truth".
The executive order bans all immigration from the seven countries for 90 days as well as suspending the entire US refugee programme for 120 days and forbidding the immigration of Syrian refugees indefinitely.
The Department of Homeland Security initially said the ban would also apply to people who have dual citizenship with a third country but UK Foreign Secretary Boris Johnson has secured an exemption for British passport holders.
The move came after Prime Minister Theresa May was heavily criticised for refusing to condemn the ban which was signed immediately after he visit to the White House where she invited Mr Trump to the UK for a state visit later this year.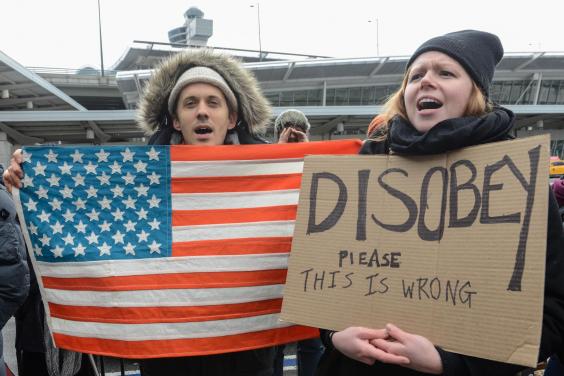 Ms May later clarified that she did not support the policy but stopped short of condemning it. She also did not respond to calls from her own backbenchers to cancel the state visit in light of his policy. 
Scottish Conservative Leader, Ruth Davidson, said: "State visits are designed for both the host, and the head of state who is being hosted, to celebrate and entrench the friendships and shared values between their respective countries". 
"A state visit from the current President of the United States could not possibly occur in the best traditions of the entreprise while a cruel and divisive policy which discriminates against citizens of the host nation is in place".
Another Tory, Stratford-upon-Avon MP Nadhim Zahawi, said the ban applied to him as he had been born in Iraq so he could not visit his children in the US – though he will now be permitted under Mr Johnson's exemption.
Large protests against the executive order are currently taking place across the US with a planned demonstration planned in the UK for Monday evening. 
Thousands are marching from Battery Park to the federal Customs and Border Patrol (CBP) offices in Manhattan and made more have protested outside several airports across the country demanding the release of the detained refugees and visa holders. 
A lawyer working with the American Immigration Lawyers Association which was one of several organisations to file the lawsuit against the order, Mana Yegani, said they were prepare non compliance motions against the CBP.
Top congressional Republicans, meanwhile, were backing Mr Trump despite concerns about the targets of the order.
Senate Majority Leader Mitch McConnell said he supports more stringent screening mechanisms, though he cautioned that Muslims are some of the country's "best sources in the war against terror".
"I think it's a good idea to tighten the vetting process But I also think it's important to remember that some of our best sources in the war against radical Islamic terrorism are Muslims, both in this country and overseas," he said.
He also stressed the need "to be careful as we do this", and said it would be up to the courts to decide "whether or not this has gone too far".
The controversial orders Donald Trump has already issued
The controversial orders Donald Trump has already issued
1/8 Trump and the media

White House Press Secretary Sean Spicer takes questions during the daily press briefing

Getty Images

2/8 Trump and the Trans-Pacific Partnership

Union leaders applaud US President Donald Trump for signing an executive order withdrawing the US from the Trans-Pacific Partnership negotiations during a meeting in the Roosevelt Room of the White House in Washington DC

Getty

3/8 Trump and the Mexico wall

People protest against US President Donald Trump's inauguration next to a fake wall with a Mexican national flag and a dummy representing him in Mexico City

Getty Images

4/8 Trump and the Mexico wall

A US Border Patrol vehicle sits waiting for illegal immigrants at a fence opening near the US-Mexico border near McAllen, Texas. The number of incoming immigrants has surged ahead of the upcoming Presidential inauguration of Donald Trump, who has pledged to build a wall along the US-Mexico border

Getty Images

5/8 Trump and abortion

US President Donald Trump signs an executive order as Chief of Staff Reince Priebus looks on in the Oval Office of the White House

Getty Images

6/8 Trump and the Dakota Access pipeline

Opponents of the Keystone XL and Dakota Access pipelines hold a rally as they protest US President Donald Trump's executive orders advancing their construction, at Columbus Circle in New York. US President Donald Trump signed executive orders reviving the construction of two controversial oil pipelines, but said the projects would be subject to renegotiation

Getty Images

7/8 Trump and the Dakota Access pipeline

US actress and political activist Jane Fonda attends a rally with opponents of the Keystone XL and Dakota Access pipelines as they protest US President Donald Trump's executive orders advancing their construction, at Columbus Circle in New York

Getty Images

8/8 Trump and 'Obamacare'

Nancy Pelosi who is the minority leader of the House of Representatives speaks beside House Democrats at an event to protect the Affordable Care Act in Los Angeles, California. The Republican-led US Senate has launched their much-anticipated effort to repeal the Affordable Care Act by passing a budget blueprint which would allow them to begin rolling back the health care reforms

Getty Images
Mr Trump billed his sweeping executive order as a necessary step to stop "radical Islamic terrorists" from coming to the US but it is unclear the measures would prevent attacks on American soil.
The directive did not address homegrown extremists already in America, a primary concern of federal law enforcement officials. And the list of countries in Mr Trump's order does not include Saudi Arabia, where most of the 9/11 hijackers were from.
Mr Priebus, who is Mr Trump's chief of staff, said the ban could be expanded to more countries in the future.
Read the full statement below:
"As the chief legal officers for over 130 million Americans and foreign residents of our states, we condemn President Trump's unconstitutional, un-American and unlawful Executive Order and will work together to ensure the federal government obeys the Constitution, respects our history as a nation of immigrants, and does not unlawfully target anyone because of their national origin or faith.
"Religious liberty has been, and always will be, a bedrock principle of our country, and no president can change that truth.
"Yesterday, multiple federal courts ordered a stay of the Administration's dangerous Executive Order. We applaud those decisions and will use all of the tools of our offices to fight this unconstitutional order and preserve our nation's national security and core values.
"We are confident that the Executive Order will ultimately be struck down by the courts. In the meantime, we are committed to working to ensure that as few people as possible suffer from the chaotic situation that it has created."