Almost a quarter of a century after she bumped across America in a bus beside her husband on his first run for president, and eight years after she made her own first unsuccessful bid for the same job, Hillary Clinton was back on the trail exhorting voters to consider a Clinton one more time.
Under bright blue skies on Roosevelt Island, a sliver of land between Queens and Manhattan in New York City, Mrs Clinton, 67, used her first major rally of a campaign technically launched in April to promise to represent and champion all the American people – "the successful and the struggling".
"Prosperity can't be just for CEOs and hedge funds. Democracy can't just be for billionaires and corporations… It's your time to secure the gains and move ahead. You know what, America can't succeed unless you succeed," she said. "That is why I am running for president of the United States."
The swipe at Wall Street was directed that those who have accused of her being too cosy with big business and financial fat cats and too willing to take their dollars for speeches. Before a cheering crowd in the Four Freedoms memorial to President Franklin Roosevelt, Mrs Clinton, in a vivid blue trouser suit, said: "I am not running for some Americans but for all Americans".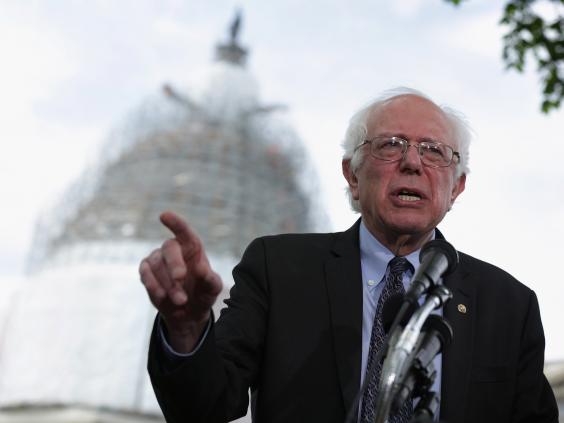 She assailed Republicans saying they "shame and blame women" by seeking to curb access to abortion, want to put immigrants at risk of deportation and "turn their backs on gay people who love each other". The rally, where she spent nearly an hour ticking through top policy priorities, from campaign funding reform to tackling the racial inequities in the judicial system, ended with a family ensemble as Bill, their daughter Chelsea and her husband, Marc Mezvinsky, climbing on the stage with her.
"You won't see my hair turn white in the White House. I have been colouring it for years," she joked, after acknowledging that she won't be the youngest candidate in the field. "But I will be the youngest ever woman present," she quipped to loud cheers and chants of "Hillary, Hillary!".
Seeking to personalise her promise to represent every class of Americans, Mrs Clinton said she had been inspired by her late mother, Dorothy Rodham, whose own early life was one of hardship and family abandonment. "My mother taught me that everyone needs a chance and a champion. She knew what it was like not to have either one."
Yet while the event had been touted heavily by her campaign and was choreographed even down to replicating the red and blue arrow symbol of her campaign logo on the surface of her stage, Mrs Clinton delivered a speech that was oddly lacking in passion or electricity. She has the gesturing her husband used to do – the pointing at friends at the crowd – but still she can't muster his dynamite delivery.
The symbolism of the setting was lost on no one. The Clintons both have drawn their progressive philosophies from the legacy of FDR. The four freedoms refer to the tenets for America he outlined in a 1941 speech – freedom of speech and worship, and freedom from want and fear.
But the reverence held by Mrs Clinton for Eleanor Roosevelt, as the first American First Lady to create her own political space to advocate for the disadvantaged and for human and women's rights, is also widely documented. She has herself admitted to drawing on Eleanor's spirit during her most difficult times in the White House, notably when the effort she led in 1993 to create universal healthcare faltered.
No patch of America will be friendlier to Mrs Clinton if she becomes the nominee than Manhattan, and there it was to her left as she spoke, its skyline soaring in all its splendour. But at this event, which featured a short set by the rock pop band Echosmith, not everyone at the event was a fan.
Bob Kunst, a registered Democrat, had travelled from Miami to protest against the former First Lady. He said: "This woman is an absolute fraud. Look at her positions on Israel and Iran and she's here talking about her mother?" He said he was disappointed not have any better choices this time around. "People don't want the Bush dynasty and they don't want the Clinton dynasty. They are tired of both families."
On Monday, in fact, it will be the turn of Jeb Bush who will formally announce his candidacy in Florida, the state that he once ran as governor and arguably the most important of any in a presidential race. So far on the Democrat side, Mrs Clinton is facing completion only from Senator Bernie Sanders, a self-described socialist democrat, as well as two former governors, Martin O'Malley and Lincoln Chafee.
In pictures: Hillary Clinton's Rivals
In pictures: Hillary Clinton's Rivals
1/5 Martin O'Malley

The former Maryland Governor and mayor of Baltimore, 52, has never disguised his national ambitions. His record is moderate, but is to the left of Clinton's

AFP/Getty

2/5 Jim Webb

The former Reagan administration official, 69, who switched to the Democrats and served as senator for Virginia. If he runs he would at least ask Clinton tough questions.

Getty

3/5 Bernie Sanders

The Senate's one socialist, 73, is in favour of a single-payer healthcare system and anti-Wall Street. He is popular in his native Vermont, but has no national following.

Getty

4/5 Joe Biden

Obama's Vice-President, 72, has the political heft, but is probably too old, and has done no obvious spadework for a White House bid.

Getty

5/5 Elizabeth Warren

Massachusetts senator, 65, and Clinton's strongest putative opponent. Her anti-Wall Street stance has made her the darling of the left. The problem is that she insists she is not running

AFP/Getty
For now, all three are far adrift from her in polls. But this rally was also an early start on reintroducing Ms Clinton to the country as a whole. A CNN poll earlier this month showed that 57 per cent of Americans thought she was not honest and trustworthy, up from 49 per cent in March, and that 47 per cent of voters thought that she "cares about people like you", down from 53 per cent last July.
That trust may be a problem has been highlighted in the weeks since she declared in April. Questions about donations by foreign governments to the Clinton Foundation have multiplied as have concerns about her use of a private email server while Secretary of State in the first term of President Obama.
In an interview with CNN to be broadcast on Sunday, Bill Clinton will suggest that it has been helpful that these controversies have broken at this early stage. He will always say that as a couple they have become hardened by tough criticism. It was a sentiment echoed by a line from a Kelly Clarkson track that played twice here as the crowd waited for Mrs Clinton: "What doesn't kill you makes you stronger."
Mr Clinton also speaks of the love in a marriage that has survived some very public crises, notably when he was impeached while president after an affair with an intern, Monica Lewinsky. "I trust her with my life, and have on more than one occasion," he tells the network.
Reuse content