The teenage gunman who killed his schoolmate Emilio Hoffman at a high school in the US state of Oregon on Tuesday, has been identified by the police as Jared Michael Padgett.
15-year-old Padgett boarded the school bus to Reynolds High School, in the Portland suburb of Troutdale, armed with a military-style rifle, and carrying a guitar case and a duffel bag, according to the authorities.
"The shooter obtained the weapons from his family home," Troutdale Police Chief Scott Anderson said. He added that Padgett had "defeated" measures at his home to secure the weapons.
Padgett also carried a semiautomatic handgun that he did not use on any pupils, as well as a large knife and nine loaded ammunition magazines with a capacity for several hundred rounds.
He then shot Hoffman, 14, in a boy's locker room at the school, which, by accommodating around 2,800 students, is one of the largest in the state.
Savannah Venegas, a 16-year-old girl who had dated Hoffman a year ago, told reporters that he was "a good kid, a quiet kid." She added: "He didn't stir up trouble. [He was] Just a down-to-earth guy."
Emilio lived with his mother and had an older brother and two younger sisters, both in primary school, Venegas said.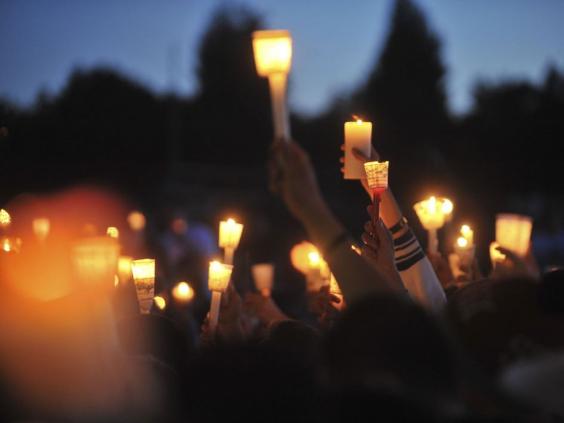 Later, Padgett encountered officers in a hallway, but managed to flee after a brief exchange of gunfire.
He was found with a fatal, self-inflicted, gunshot wound in the bathroom stall of a gym building, a police autopsy confirmed.
"We have not established any link between the student and shooter," Anderson said during a new conference on Wednesday.
"At this time it would be inappropriate to discuss a motive," he added.
"This is a tragedy that affects our whole community," Anderson said. "This is not supposed to happen in any school, or to any child."
Mr Anderson said he had spoken with the Hoffman's family, saying they had a difficult road ahead and sought privacy.
Anderson went on to praise 50-year-old PE teacher Todd Rispler, who Padgett grazed with gunfire, but was able to reach the school office and warn administrators of the incident unfolding in the school's gym block and initiate a lockdown at the institution.
During the evacuation of the school, authorities found another student with a gun and he was taken into custody. The weapon and arrest were not related to the shooting, Mr Anderson said.
"Oregon hurts as we try to make sense of a senseless act of violence," said governor John Kitzhaber of the deaths at the school.
The Reynolds School District also issued a statement mourning the loss of its students.
The incident marked the third outbreak of deadly gun violence at a US high school or college campus in less than three weeks.
Anyone who is struggling to cope can contact the Samaritans on their helpline: 08457 909090
Additional reporting by agencies