If Governor Chris Christie's surprise endorsement of Donald Trump represents a genuine political romance between two men who had previously been at odds, then one cannot help but feel the tycoon's bedside manner is somewhat lacking.
Recordings from a campaign event where a microphone was still turned on, captured Mr Trump seemingly dismissing Mr Christie after the New Jersey Governor had just introduced him to a cheering crowd.
"Get in the plane and go home," Mr Trump is heard saying to Mr Christie at the event in Tennessee. "It's over there. Go home."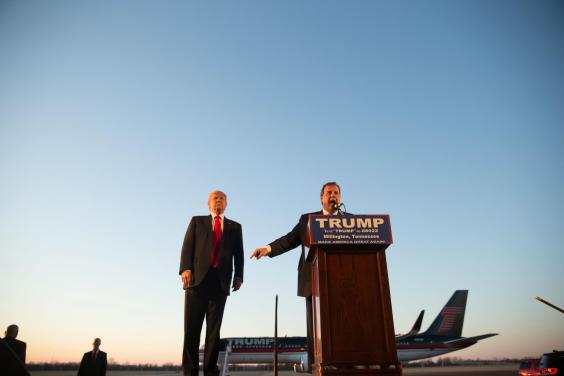 Mr Christie and Mr Trump dominated the headlines on Friday when the governor announced he was endorsing the real estate mogul. The backing - which Mr Trump had worked several weeks to obtain - flooded the news cycle, just as the media was questioning whether Senator Marco Rubio had damaged the tycoon at Thursday night's Republican debate.
Mr Christie, who had rejected similar overtures from Mr Rubio, was quick to attack the Florida senator on Mr Trump's behalf.
"Rubio said he's gonna work as hard as he can as long as he can to win the Republican nomination. That would be something new for Marco Rubio – to show up to work at all," said Mr Christie, mocking Mr Rubio's attendance record on Capitol Hill. "How about a refund, Senator Rubio?"
.@realDonaldTrump told @ChrisChristie to go home (as was planned) to be with family tonight. Being blown out of proportion, BIG LEAGUE!!

— Dan Scavino (@DanScavino) February 28, 2016
Reports suggest that on Saturday Mr Trump had arrived together in Millington, Tennessee on the billionaire's plane, walked off to loud cheers, and then Mr Christie introduced the man whom he only last year said was unsuitable to be president.
Mr Trump has yet to comment about the recording, which is likely to be used by Mr Rubio to attack the Republican frontrunner.
On Saturday evening, Mr Trump's social media director Dan Scavino tweeted that Mr Trump had told Mr Christie "to go home (as was planned) to be with family tonight." 
"Being blown out of proportion, BIG LEAGUE!!," he said.
Reuse content