The final hours of build up to the most eagerly but most nervously anticipated sporting event in decades began with tear gas, rubber bullets and stun grenades fired down the streets of Sao Paulo, as the promised and much feared protests materialised, where there was hope that they wouldn't.
At least 200 protesters clashed with riot police as they sought to block a road five miles from the Arena Corinthians, and sabotage an event that has cost billions of pounds of public money in a nation fraught with poverty and inequality.
At least one person was detained by police, and six people injured, three of them journalists.
In the arena itself, the scenes in the stands were more enchanting than the short opening ceremony, as the 65,000 seats turned slowly into a sea of yellow, for the first World Cup in Brazil in 64 years.
World Cup 2014: Protests before opening ceremony
World Cup 2014: Protests before opening ceremony
1/10 World Cup 2014 protests

A masked man throws a stone towards riot policemen in Sao Paulo, Brazil, 12 June, 2014, hours before the first World Cup match was to be played.

AP Photo/Rodrigo Abd

2/10 World Cup 2014 protests

Masked anti-World Cup protesters rip apart a Brazilian national team soccer jersey during a demonstration, in downtown Rio de Janeiro

AP Photo/Leo Correa

3/10 World Cup 2014 protests

Masked men work to uproot a street sign to add to a makeshift barricade during a protest by people demanding better public services and against the money spent on the World Cup in Sao Paulo

AP Photo/Rodrigo Abd

4/10 World Cup 2014 protests

A protester is detained by police during a demonstration by people demanding better public services and against the money spent on the World Cup

5/10 World Cup 2014 protests

The protester is restrained on the ground. Brazilian police clashed with anti-World Cup protesters trying to block part of the main highway leading to the stadium that hosts the opening match of the tournament

AP Photo/Nelson Antoine

6/10 World Cup 2014 protests

A protester holds a sign that reads in Portuguese "There won't be a Cup!" during a demonstration demanding better public services in Sao Paulo

AP Photo/Nelson Antoine

7/10 World Cup 2014 protests

A masked protester returns a tear gas canister to riot police during a demonstration by people demanding better public services and against the money spent on the World Cup soccer tournament in Sao Paulo

AP Photo/Rodrigo Abd

8/10 World Cup 2014 protests

A protestor argues with police during the demonstration in Sao Paulo

AP Photo/Rodrigo Abd

9/10 World Cup 2014 protests

Passengers await their flights during a partial work slowdown at Rio de Janeiro's Santos Dumont airport on 12 June

REUTERS/Lucas Landau

10/10 World Cup 2014 protests

Construction workers listen to a protest leader speak during their demonstration against the World Cup outside the hotel where the media is staying in Fortaleza, Brazil

AP Photo/Fernando Llano
You can forgive Brazil for keeping its ceremony powder dry. They have the rather larger affair of the Olympics Opening Ceremony to consider in two years time. At 3pm local time, over a luminous polyethylene carpet, dancers dress as lilac teardrops ran in concentric circles around a glowing 'living ball' - which then opened like a Terry's Chocolate Orange to reveal Jennifer Lopez, the rapper Pitbull in worrisomely tight white trousers and the Brazilian pop singer Claudia Leitte, who sang the World Cup theme tune, We Are One.
A total of 660 dancers paid tribute to the country's 'nature and people', but those in the stands were hard pressed to comprehend quite how, as school boys did keepy uppy with balls on ropes, and the usual cast of gymnasts in medieval jester style outfits somersaulted over one another and bounced up and down on trampolines.
If it all felt a little short, it was in no small part because neither the Brazilian President Dilma Rousseff nor Fifa President Sepp Blatter made speeches, fearful of the loud booing that met them at the Confederations Cup last year.
Ms Rousseff has pleased for Brazilians to welcome visitors just as Brazil has been welcomed at other tournaments.
Meanwhile workers at Rio de Janeiro's three airports announced a strike over pay and World Cup bonuses, causing tanks to be dispatched to the international terminal fearful of angry scenes with thousands of passengers likely to be affected.
But the city's metro system was packed with fans in the yellow of Brazil and the red and white of Croatia, after workers called off a strike planned for Thursday that had the potential to seriously damage the opening match.
The influential Homeless Movement, who were planning major protests at all 64 of the tournament's matches have also called off their plans.
Below the 20,000 seat temporary stands, which were just about finished in time, Brazil fans milled about in the concourses like bees in a hive, electrifying stuff. On the pitch, there were men dressed as trees turning in circles, bright humanoid flowers in pink and green, and women in dresses so wide, short and lace-covered they were less meringue, more coconut biscuit. But it is that Brazilian yellow - the colour they only after adopted after the Maracanazo - the disaster of the Maracana - when they lost the 1950 World Cup final wearing blue and white.
And there can be no doubting the most electrifying moment of all - at least in the build up. When living ball was dismantled, the pitch covering rolled away, and the Selecao, as the Brazilian team likes to call itself ran on the pitch, many with their fingers pointed first to the stands and then to the sky, the noise suddenly loud, intense and expectant.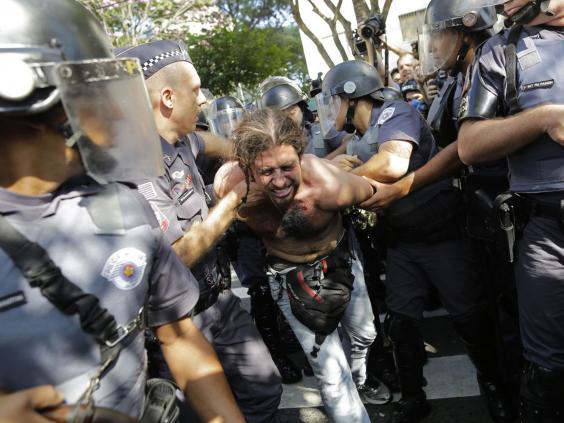 There are protests planned at each of the 64 matches of this year's tournament, which has cost around £7bn, the most expensive World Cup in history. But many, if not most Brazilians are just as intent as the protesters are on enjoying the football - they have certainly paid for it. In Sao Paulo, many residents approached the riot police to offer congratualtions for their zero tolerance tactics.
President Rousseff has defended the money spent on the tournament, citing the infrastructure improvements and lasting legacy it will bring. But many such projects were never started, and some are unfinished now the tournament is under way, not least the Sao Paulo monorail, on which a worker was killed on Tuesday.
The country built twelve new stadiums to host the tournament, all largely from scratch. Previous hosts have had more to begin with, and then staged the tournament in fewer venues.
The build up has also been set against unprecedented levels of scandal and criticism levelled at Fifa, as yet more corruption allegations have emerged. The football has felt a long time in coming. Not before time, it is underway.
Reuse content