Photos of apocalyptic explosions and huge mushroom clouds being shared online following North Korea's claim to have tested a hydrogen bomb actually show experiments carried out by other countries, it has emerged.
State media has not released any images of the test itself, which is believed to have taken place in an underground facility, but said it was carried out in a "safe and perfect manner".
That assessment contrasted with images being published by news outlets and shared on social media showing what appeared to be a huge blast in the open.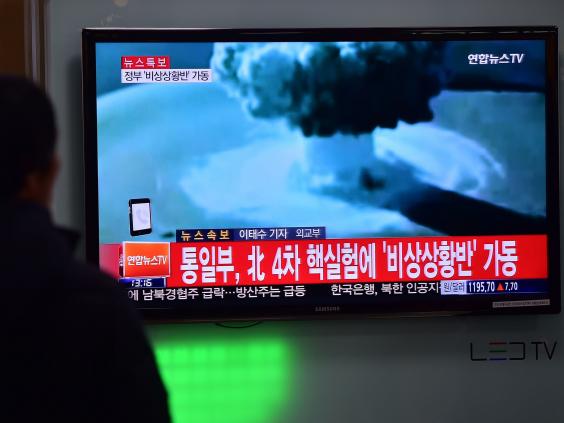 One newspaper claimed this image showed the detonation of the thermonuclear weapon being broadcast on North Korean television, but it in fact shows a stock image used to illustrate the story in neighbouring South Korea.
The AFP news agency reported that the blasts shown on television were from earlier nuclear tests carried out by other nations.
People gathered around television screens at a railway station in Seoul to watch the report as their government vowed to penalise its neighbour and defend itself and the UN Security Council called an emergency meeting.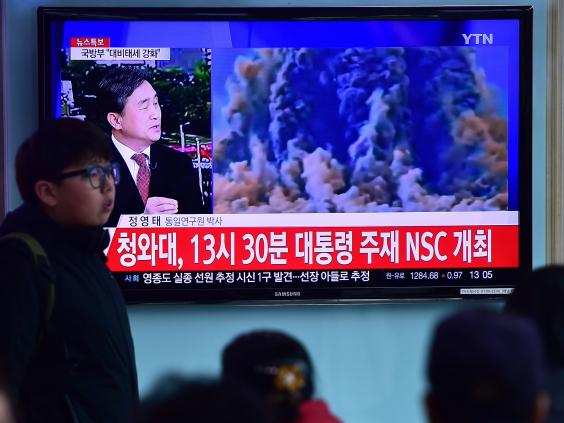 Some experts have cast doubt on North Korea's claim to have developed a miniaturised hydrogen bomb, saying the seismic wave recorded was too small for such a weapon and may have been from a less powerful atomic bomb.
The US Geological Survey registered a 5.1 magnitude tremor near the Punggye-ri nuclear test site at around shortly after 10am local time, when North Korea said the bomb was detonated.
A statement released by the government-controlled KCNA news agency gave little detail about the test itself, only saying it "scientifically verified the power of the smaller H-bomb" and "had no adverse impact on the ecological environment".
Condemning the test, China's Foreign Ministry said officials were monitoring air quality near the border but had found nothing abnormal so far, indicating that possible fallout from the reported test could have been contained.
The European Union was among the international bodies calling for North Korea to engage with the "Six-Party talks" working towards denuclearisation.
Federica Mogherini, the EU's high representative for security, condemned the reported test as "illegal and dangerous behaviour" in violation of multiple UN Security Council resolutions.
Additional reporting by agencies
Reuse content