Sepp Blatter has warned his opponents that he would never forget the campaign of "hate" they had orchestrated against him, as United States tax authorities revealed that further corruption charges are expected.
The defiant Fifa president, who was re-elected on 29 May, claimed that the "English media" and US authorities had joined together to target him because the two countries were bitter at losing their bids to host the World Cup in 2018 and in 2022.
Asked whether he forgave the Uefa president, Michel Platini, who personally asked him to resign over the corruption scandal which has engulfed world football's governing body, and who urged Fifa members to vote against him, Mr Blatter replied: "I forgive everyone but I don't forget."
The corruption allegations prompted the unusual public intervention of Prince William, who as a member of the Royal Family rarely speaks on controversial current events, but who praised an FA executive for taking a stand against Mr Blatter's Fifa regime.
Mr Blatter, 79, has refused to step down despite the arrest of nine serving or former Fifa officials, who have been charged with accepting bribes and kickbacks totalling hundreds of millions of dollars. The allegations have plunged football's governing body into the biggest crisis in its history.
Richard Weber, head of the US Internal Revenue Service's criminal investigations unit, hinted that more charges were expected but did not elaborate on whether Mr Blatter's name would appear on the list of targets.
"I'm fairly confident that we will have another round of indictments," Mr Weber told The New York Times. He added that the US had not been targeting Fifa specifically, as Mr Blatter suggested, but had simply followed a trail of wrongdoing. "We were going after corruption. One thing led to another, led to another and another," he said.
Appearing in front of the media, Mr Blatter denied that he was the "high-ranking Fifa official" who according to the US indictment sanctioned a payment of $10m to Jack Warner, the former Concacaf president, in 2008. The money was allegedly offered by South Africa in an attempt to secure the right to host the 2010 World Cup.
The Fifa bigwigs facing charges
The Fifa bigwigs facing charges
1/14 Jeffrey Webb, 50, Cayman Iskands

A Fifa vice president. His arrest came as a big surprise, as he had been tipped as the man to clean up Fifa once Blatter departs. Webb is also president of Confederation of North, Central America and Caribbean Association Football (Concacaf) and the Cayman Islands Football Association

Getty

2/14 Costas Takkas, 58, UK

A British citizen, Mr Takkas is currently an attache to the Concacaf president. He was previously general secretary of the Cayman Islands Football Association, of which Mr Webb is president

3/14 Jack Warner, 72, (pictured), Daryan Warner, 46 and Daryll Warner, 40, Trinidad & Tobago

The former Fifa vice president and head of Concacaf was a dominant force in football for 30 years, but was suspended from his roles in 2011 amid accusations of corruption dating back to the 1980s and an investigation by Fifa's ethics committee. He later resigned, ending the proceedings against him. Daryan Warner, the son of Jack Warner is also believed to have co-operated with the FBI. He pleaded guiltyin October 2013 to wire fraud conspiracy, money laundering conspiracy and the structuring of financial transactions, forfeiting $1.1m. Daryll Warner, another of Jack Warner's sons, he pleaded guilty to various offences in July 2013. A former Fifa development officer, he lost the job in 2012 after his father's resignation amid corruption allegations. He and his brother both face up to 10 years in prison

Getty

4/14 Charles Blazer, 70, USA

The former Concacaf general secretary reportedly turned "supergrass" to help the FBI inestigation, using a bugging device hidden inside a key fob to record meetigs with his Fifa colleagues at the London 2012 Olympics. In November 2013 he pleaded guilty to racketeering conspiracy, wire fraud conspiracy, money laundering conspiracy, and income tax evasion. Seriously ill with colon cancer

Getty

5/14 Rafael Esquivel, 68, Venezuela

Executive committee member of the South American Football Confederetion (Conmebol). It is alleged that officials at Conmebol, which organises the Copa America, received bribes from marketing executives

Reuters

6/14 Eugenio Figueredo, 83, USA/Uruguay

The Fifa vice president and executive committee member is a big name in world football, having previously been at the head of Conmebol and the Uruguayan Football Association. A former right-back

Reuters

7/14 Nicolas Leoz, 86, Paraguay

A former Fifa executive committee member and Conmebol president. When he retired in 2013 for health reasons, he said: "I've not stolen so much as a cent"

Getty

8/14 Eduardo Li, 56, Costa Rica

President of the Costa Rican Football Federation. He was elected to Fifa's executive commitee in March

Reuters

9/14 José Maria Marin, 83, Brazil

The former president of the Brazilian Football Confederation is also a member of Fifa's committee for Olympic tournaments

Reuters

10/14 Julio Rocha, 64, Nicaragua

Fifa development officer. Previously president of his country's football federation

EPA

11/14 José Hawilla, 71, Brazil

The owner and founder of the Traffic Group, a sports marketing conglomerate, pleaded guilty to racketeering conspiracy, wire fraud conspiracy, and money laundering conspiracy in 2014. Two of his companies - Traffic Sports International Inc and Traffic Sports USA Inc - have also pleaded guilty

youtube.com

12/14 Aaron Davidson, 44, USA

President of Traffic Sports USA, is a large promoter of football events in America

AP

13/14 Alejandro Burzaco, 50, (pictured), Hugo Jinkis, 70 and Mariano Jinkis, 40, Argentina

Alejandro Burzaco, a media executive who controls Torneos y Competencias, a sports marketing business. Hugo Jinkis, is the president of Full Play Group, a sports marketing business in Argentina. His son Mariano, is vice president

AP

14/14 José Margulies (AKA José Lazaro), 75, Brazil

Although he is in broadcasting, it is alleged he served as an intermediary to facilitate illicit payments between sports marketing executives and Fifa officials

youtube.com
"Definitely that's not me," he said. "This is a problem I do not enter. We will not go further. The only thing I can say is I have no 10 million dollars."
Asked whether he feared being arrested in connection with the US corruption investigation, a visibly irritated Mr Blatter replied: "Arrested for what? Next question."
Fifa is fighting corruption allegations on two fronts, as claims of "irregularities" in the awarding of the 2018 and 2022 World Cups to Russia and Qatar are also being investigated by Swiss police, amid suspicions of "criminal mismanagement" and money laundering.
Uefa, European football's governing body, previously warned that its members may choose to boycott the tournament in Russia if Mr Blatter was re-elected. The move is set to be discussed at a meeting ahead of Saturday's Champions League final in Berlin.
Mr Blatter, who also announced there would be no changes to the allocation of World Cup places for the tournaments in Russia in 2018 and Qatar in 2022, said he planned to make a "personal visit" to Fifa's sponsors to reassure them that the organisation would be able to weather the corruption storm. "Change will start tomorrow," he promised.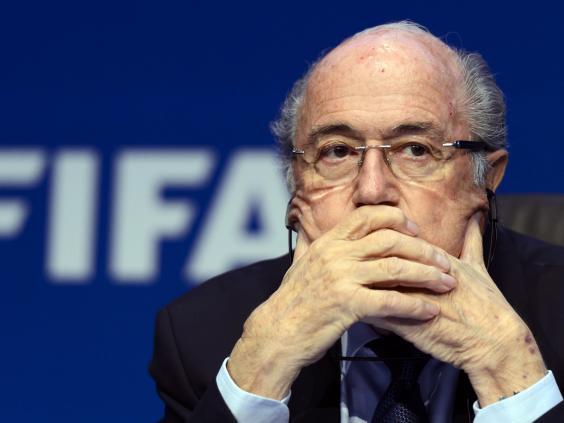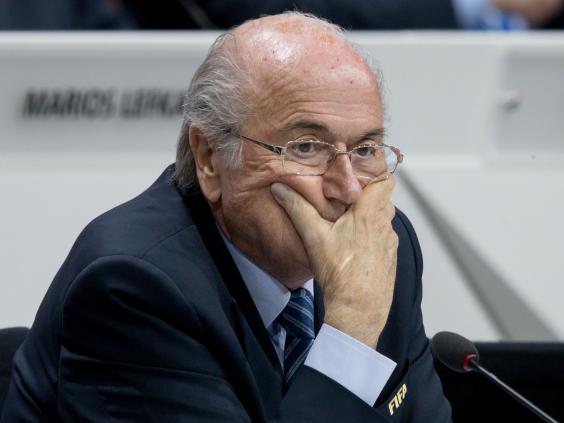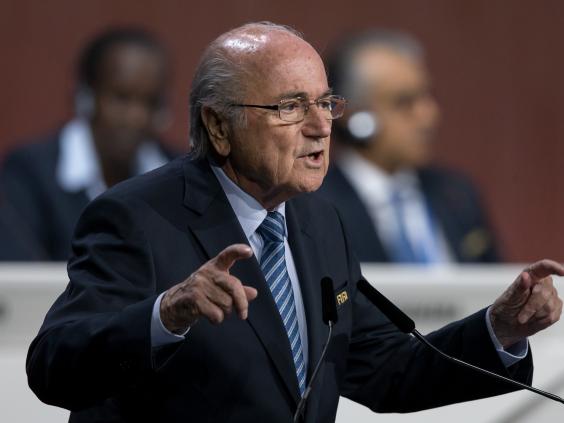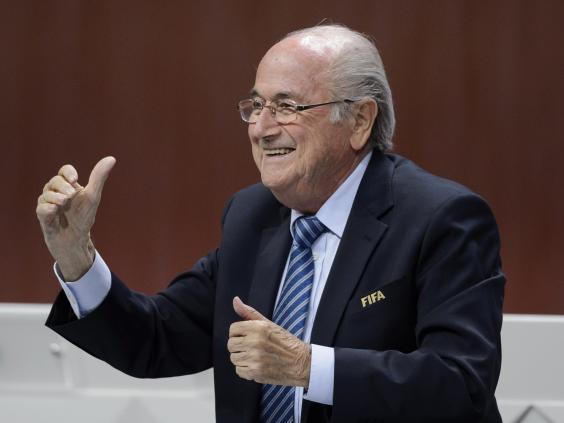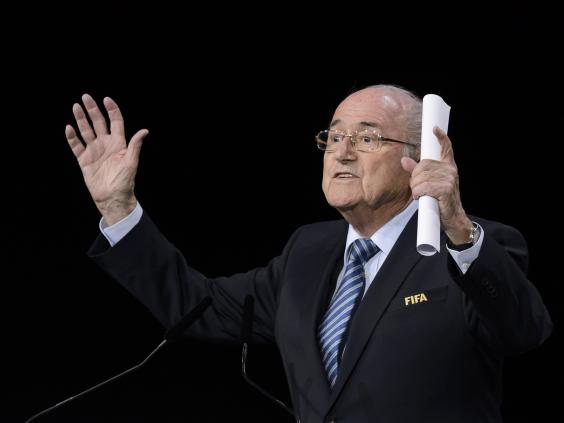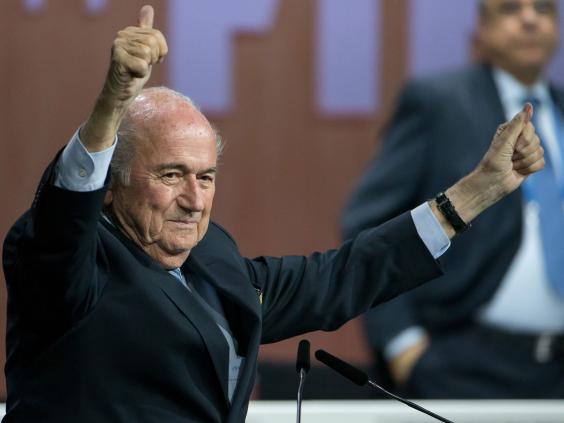 During his opening remarks, Mr Blatter questioned why "three American journalists" had been waiting outside the luxury hotel in Zurich where seven Fifa officials were arrested on Wednesday morning.
Earlier he told Swiss TV station RTS: "No one is going to tell me that it was a simple coincidence this American attack two days before the elections of Fifa. It doesn't smell right …. If they have a financial crime that regards American citizens, then they must arrest these people there and not in Zurich.
"There are signs that cannot be ignored. The Americans were the candidates for the World Cup of 2022 and they lost. The Engl ish were the candidates for 2018 and they lost, so it was really the English media and the American movement."     
Mr Blatter also criticised Football Association vice-chairman David Gill, who has refused to take up his post on Fifa's executive board while the Swiss is still in charge, for boycotting its first meeting. "If you are elected you have to come, whoever is president of Fifa," he said.
Mr Gill said in a statement: "This action is not something I take lightly, but the terribly damaging events of the last three days have convinced me it is not appropriate to be a member of the Fifa executive committee under the current leadership. My professional reputation is critical to me and I simply do not see how there will be change for the good of world football while Mr Blatter remains in post."
Prince William, the FA President, intervened in the row to praise Mr Gill for leading "by example" in refusing to take up his position on Fifa's executive committee.
"There seems to be huge disconnect between the sense of fair play that guides those playing and supporting the game, and the allegations of corruption that have long lingered around the management of the sport internationally," he said.
"Fifa must now show that it can represent the interests of fair play and put the sport first. Those backing Fifa, such as sponsors and the regional confederations, must do their bit to press these reforms – we are doing football and its fans no favours if we do not."
Mr Blatter claimed Fifa's executive committee had "reaffirmed its unity and its solidarity" in the wake of the corruption scandal – despite the fact that two of its members, Jeffrey Webb and Eduardo Li, are being held in custody over the US charges.
One new member is the Tunisian Football Federation chief, Tarek Bouchamaoui, a close ally of the country's former president Ben Ali, whose 2011 overthrow sparked the Arab Spring uprisings. Mr Bouchamaoui was also recently named in connection with tax evasion schemes organised by HSBC's private bank in Switzerland – but he has not been charged with any offences and has been allowed to join the Fifa committee.
Mr Blatter blamed the situation on Uefa, which has blocked Fifa from controlling who joins the committee, leaving decisions in the hands of regional confederations.
The Football Association chairman, Greg Dyke, who previously backed the idea of a co-ordinated European boycott of the World Cup, said Mr Blatter had been given a "bloody nose" by the events of the past few days, adding that he would be "very surprised" if he was still in the job in two years' time.
One of Mr Blatter's few supporters is the Russian President, Vladimir Putin, who wrote to congratulate him on his re-election. "Over the 17 years that you have stood at the head of Fifa, you have acquired great respect among fans, coaches and players," he wrote. "Your experience and organisational talent, and your efforts aimed at consistently expanding football's geography will serve to further develop and increase the popularity of this 'number one sport' that unites millions of fans all over the world."
Reuse content