More than 500 migrants have been rescued in a single day in the Mediterranean Sea as the refugee crisis shows little sign of slowing.
Two people were found dead at the bottom of one of the four boats saved and four other migrants were found drowned off the coast of Spain, bringing the number of asylum seekers killed attempting sea journeys to Europe so far this year to at least 17.
The Italian coastguard said more than 550 asylum seekers were rescued on Friday by two of its vessels, a navy ship, a fishing boat, merchant ship and humanitarian vessel.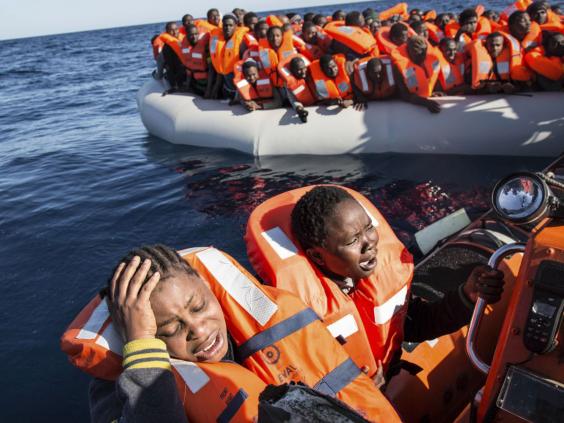 Footage captured by a coastguard's helmet camera showed men and women clambering from a dinghy onto a speedboat, with several falling into the water.
The man jumped into the sea to save several struggling migrants as they clung onto the side of the boat to stay afloat, dragging them to safety.
SOS Mediterranée, which operates the Aquarius rescue ship alongside Médecins Sans Frontières (MSF), said it recovered two dead bodies from the bottom of an overcrowded inflatable boat.
Aid workers believe they were crushed beneath the 191 other people crammed on board the vessel, launched by smugglers in Libya.
Survivors told MSF panic had broken out as they departed from Libya "after shooting started off the coastline". It was unclear who may have opened fire or why.
One of those rescued later had to be evacuated from the ship by helicopter because of a medical emergency as it sailed back to the Italian mainland on Saturday.
Ed Taylor, MSF's project coordinator on the Aquarius, said the crisis that saw more than 360,000 refugees arrive by sea in Europe last year was not stopping.
In pictures: A day of refugee rescues in the Mediterranean Sea
In pictures: A day of refugee rescues in the Mediterranean Sea
1/7

A baby being taken on to MSF's Bourbon Argos ship from a boat carrying 130 migrants and refugees

Lizzie Dearden

2/7

A refugee boat carrying 101 people being rescued by MSF's Bourbon Argos

Lizzie Dearden

3/7

A refugee boat carrying 101 people being rescued by MSF's Bourbon Argos

all images by Lizzie Dearden

4/7

A baby among refugees on a boat carrying 185 people off the coast of Libya

Lizzie Dearden

5/7

Migrants and refugees sleeping after being rescued by MSF's Bourbon Argos ship

Lizzie Dearden

6/7

A crew from MSF's Bourbon Argos ship rescuing a boat carrying 130 migrants and refugees off the coast of Libya, at sunrise

Lizzie Dearden

7/7

A woman in a stretcher being lifted onto MSF's Bourbon Argos ship from a boat carrying 130 migrants and refugees off the coast of Libya

Lizzie Dearden
He said the sea conditions were making crossings ever more treacherous in the winter, with wind, waves and large swells combining with temperatures cold enough to induce hypothermia.
"People are still making the crossings and we should be focusing on why they are taking this risk in the winter," Mr Taylor told The Independent.
"No one gets in these boats without taking serious consideration of the risk they're taking. 
"It's not just the danger of the boats being so insecure and flimsy, it's now the waves and the cold as well."
Several refugees have died of hypothermia at sea, while at least four more have died on the European mainland in extreme weather conditions in recent weeks.
The bodies of four migrants were found on the Spanish coast on Saturday after apparently attempting to cross from Morocco.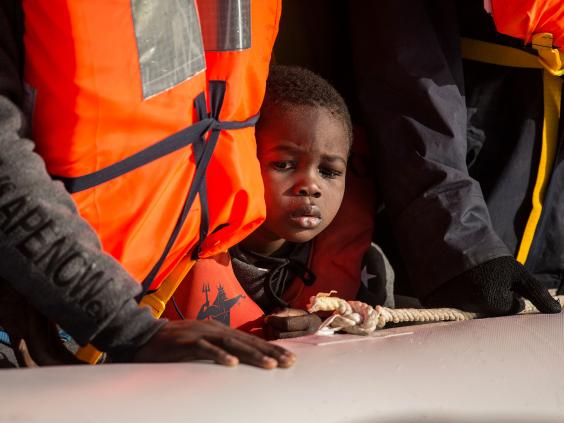 Spanish police said two bodies were found in the sea off Algeciras and two others were floating in nearby Tarifa.
More than 5,000 refugees were drowned, suffocated or crushed while attempting to cross the Mediterranean and Aegean seas in 2016, making it the deadliest year on record.
Many deaths are thought to go unrecorded, with bodies either disappearing or washing up on the shores of Libya, where authorities do not routinely release casualty figures. Some boats are sighted by Italian authorities but disappear before they can be reached by rescue ships.
The Unravelling the Mediterranean Migration Crisis (Medmig) project partly blamed Britain and EU nations for rocketing death rates, concluding that the refusal to open up legal routes for those seeking safety in Europe has increased demand for people smuggling on ever more dangerous routes.
Operations to combat the thriving trade have driven the use of smaller and less seaworthy boats to cross the Mediterranean, which are harder to spot by ships patrolling as part of the EU's Operation Sophia and authorities in north Africa.
Poorly made dinghies are now being loaded with more than 150 people a time, creating the risk of sinkings, capsizings or the inflatable bursting under the strain, as well as deadly fuel spills.
Since the EU-Turkey deal was implemented in March to deter crossings over the Aegean Sea, the longer and more dangerous journey over the central Mediterranean has become the dominant sea route to Europe.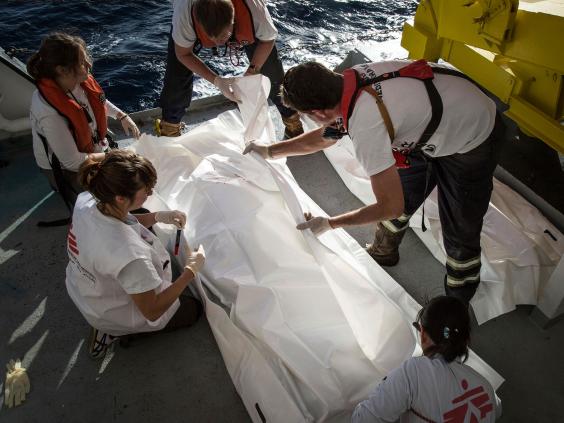 The vast majority of those arriving in Italy are African, from countries including Nigeria, Eritrea and Guinea, while most of the much lower number of asylum seekers reaching Greek islands are Syrian, Afghan or Iraqi.
The United Nations says there has been an "unprecedented" rise in the number of children and teenagers risking the journey alone.
Almost 26,000 unaccompanied minors arrived in Italy by sea last year, more than double the number in 2015, mainly from Eritrea, Egypt, the Gambia and Nigeria. 
While most of the children were boys aged 15 to 17 years, Unicef said younger children and girls have also been among the new arrivals. 
Several girls reported being forced into prostitution in Libya as a means to "pay off" the cost their boat journey, while many of the boys arriving had been forced into manual labour.
Lucio Melandri, Unicef's senior emergency manager, said the findings indicated a "serious and growing problem" that Europe is failing to address.
"These figures indicate an alarming trend of an increasing number of highly vulnerable children risking their lives to get to Europe," he added.
"Current systems in place are failing to protect these children who find themselves alone in a totally unfamiliar environment. Because they are on the move, a coordinated European response is needed to keep them safe."