Benjamin Netanyahu has called for the Israeli soldier convicted for shooting a wounded Palestinian man dead to be pardoned.
The Israeli Prime Minister described Sgt Elor Azaria's manslaughter verdict as a "difficult and painful day for all of us – first and foremost for Sgt Azaria and his family, IDF soldiers, many citizens and parents of soldiers, myself included".
Without commenting the man Sgt Azaria killed or his family, Mr Netanyahu called on Israelis to "act responsibly" towards the Israel Defence Forces (IDF), saying the army was the "basis for our survival".
"IDF soldiers are our sons and daughters and must remain above any controversy," he added. "I support giving Sgt Azaria a pardon."
Mr Netanyahu's statement was released hours after the soldier was convicted of manslaughter, facing a maximum prison sentence of 20 years.
The Israeli Prime Minister put himself at odds with military commanders who moved swiftly to condemn the killing of Abdel Fattah al-Sharif in March and called on all soldiers to obey its code of ethics.
President Reuven Rivlin has authority to issue pardons but has said he will wait for the legal process to run its course before making a decision, with Sgt Azaria's legal team already announcing an appeal.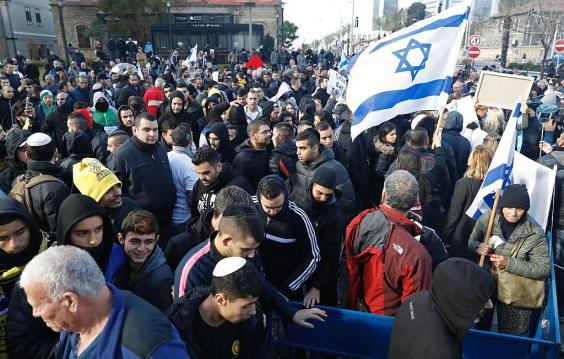 The case has reignited tensions across Israel and the Occupied Palestinian Territories, with thousands of Israelis protesting against the case and hundreds of Sgt Azaria's supporters gathering outside the court on Wednesday.
Among those demanding a pardon is Naftali Bennett, leader of the right-wing Jewish Home party.
"Today a soldier who killed a terrorist who deserved to die, who had tried to slaughter a soldier, was put in handcuffs and convicted like a criminal," he wrote on Facebook. 
Avigdor Lieberman, the Israeli defence minister, also said he disagreed with the "difficult" verdict and would do anything he could to assist Sgt Azaria and his family. 
"We must keep the army outside every political argument...and keep it in the widest consensus in Israeli society," he added. 
Sharon Gal, a spokesperson for the Azaria family, accused the court of "picking up the knife [used to attack an IDF soldier] from the ground and stabbed it in the back of all the soldiers".
Video footage captured by a local resident showed the soldier shooting al-Sharif in the head at close range as he lay on the ground in Hebron following a stabbing attack on an Israeli soldier.
He had already been shot alongside another man who died immediately at the scene, and was lying immobile on the ground in the divided West Bank city.
Sgt Azaria said he believed Mr al-Sharif remained a threat but judges found that Sgt Azaria was "aware" that his actions in shooting the wounded Palestinian assailant would result in loss of life, and that "the terrorist did not pose a threat." 
The IDF medic, now 20, did not act in accordance with army protocol, the three-judge panel found, and the claim that he felt threatened because al-Sharif may have been carrying explosives or still been able to reach for his knife was not justified. 
"One cannot use this type of force, even if we're talking about an enemy's life," the Tel Aviv military court said in its verdict.
Sgt Azaria remained emotionless as the chief judge read out the conviction, but his mother screamed "you should be ashamed of yourselves" as the panel left the bench. 
Yousri al-Sharif, the father of the man killed, said the verdict was "fair" following his son's death. 
"It is an achievement of the court that it condemned the soldier," he said after relatives gathered at the family home in Hebron to watch the three-hour verdict live on Israeli television.
Lt-Col Nadav Weissman, a military prosecutor, said, "The judges decided that it was an unjustified shooting. This is not a happy day for us. We would have preferred that this didn't happen. But the deed was done, and the offence was severe." 
The Israeli–Palestinian conflict intensifies
The Israeli–Palestinian conflict intensifies
1/10

Medics evacuate a wounded man from the scene of an attack in Jerusalem. A Palestinian rammed a vehicle into a bus stop then got out and started stabbing people before he was shot dead

AP

2/10

Israeli ZAKA emergency response members carry the body of an Israeli at the scene of a shooting attack in Jerusalem. A pair of Palestinian men boarded a bus in Jerusalem and began shooting and stabbing passengers, while another assailant rammed a car into a bus station before stabbing bystanders, in near-simultaneous attacks that escalated a month long wave of violence

AP

3/10

Getty Images

4/10

Palestinians throw molotov cocktail during clashes with Israeli troops near Ramallah, West Bank. Recent days have seen a series of stabbing attacks in Israel and the West Bank that have wounded several Israelis

AP

5/10

Women cry during the funeral of Palestinian teenager Ahmad Sharaka, 13, who was shot dead by Israeli forces during clashes at a checkpoint near Ramallah, at the family house in the Palestinian West Bank refugee camp of Jalazoun, Ramallah

AP

6/10

A wounded Palestinian boy and his father hold hands at a hospital after their house was brought down by an Israeli air strike in Gaza

Reuters

7/10

Palestinians look on after a protester is shot by Israelis soldiers during clashes at the Howara checkpoint near the West Bank city of Nablus

EPA

8/10

A lawyer wearing his official robes kicks a tear gas canister back toward Israeli soldiers during a demonstration by scores of Palestinian lawyers called for by the Palestinian Bar Association in solidarity with protesters at the Al-Aqsa mosque compound in Jerusalem's Old City, near Ramallah, West Bank

AP

9/10

Undercover Israeli soldiers detain a Palestinian in Ramallah

Reuters

10/10

Palestinian youth burn tyres during clashes with Israeli soldiers close to the Jewish settlement of Bet El, in the West Bank city of Ramallah, after Israel barred Palestinians from Jerusalem's Old City as tensions mounted following attacks that killed two Israelis and wounded a child
The prosecutor said the verdict was "important, clear, decisive and speaks for itself." 
The case is the first conviction of an Israeli soldier for killing a Palestinian since the start of a new wave of violence in October 2015.
Palestinian attackers have killed at least 36 Israelis and several foreign nationals in stabbings, shootings and car rammings, while more than 220 Palestinians have been shot dead by Israeli security forces. 
Authorities say the vast majority were carrying out or attempting attacks, while the UN and humanitarian groups have raised concern over excessive use of force.
A report by Israeli human rights organisation Yesh Din found the IDF opened 186 criminal investigations into suspected offences against Palestinians in 2015, but just four of those investigations yielded charges. 
Of 76 Palestinians killed in clashes with soldiers in the West Bank in 2015, only 21 deaths resulted in investigations, the group said.
"The fact that in 55 incidents no criminal investigation was considered necessary raises doubts about the implementation of Israel's declared policy on investigating civilian fatalities," the report concluded.