The city with the most expensive public transport in the world has been revealed - and it isn't London.
Copenhagen has the highest average price of a single ticket on a bus, tram or subway, costing £3.25. The second most expensive city is Stockholm, where a single ticket costs £2.93, followed by London, where a ticket costs £2.83.
This chart, from Statista, shows the average price of a single ticket in several cities worldwide, which varied between £1.93 and £3.25 in 2015.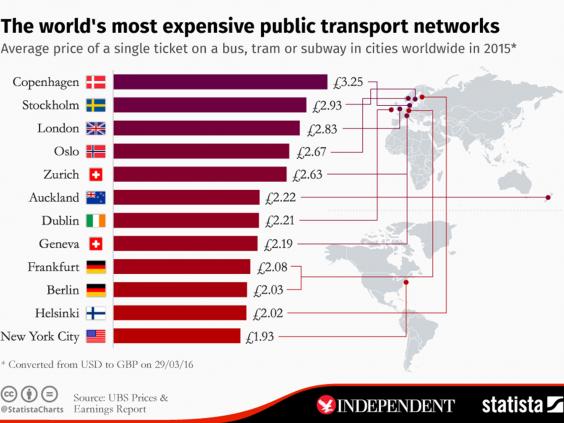 New York City has the cheapest public transport network in the world, with a single trip costing £1.93. 
Tickets cost £2.02 in the second cheapest city, Helsinki, while in Berlin, the third cheapest city, they cost £2.03. 
Previous research concluded London has the highest public transport fares in the world compared to other cities. 
Official figures have also found driving a car has continued to become significantly cheaper at the expense of bus and rail passengers.
Between 1980 and 2014, the cost of motoring fell by 14 per cent, but bus fares increased by 58 per cent. Rail travel also became dramatically more expensive, with comparable ticket prices rising by 63 per cent. 
However, research has shown people looking to lose weight should take public transport, to benefit from the "incidental" physical activity involved.
Reuse content