Virat Kohli returned to his sparkling best to help India continue their World Cup domination over arch-rivals Pakistan here yesterday, extending their winning streak to six with a crushing victory.
India had not won a competitive match in two months in Australia leading up to the World Cup but returned to form suddenly for the grudge match. Kohli ended a run of single-digit innings by scoring 107 off 126 balls and guiding his team to 300 for 7. In the process he became the first Indian batsman to score a century against Pakistan in the World Cup, surpassing the 98 scored by Sachin Tendulkar scored at Centurion in 2003.
"It's probably one of the biggest I've had in my career so far," Kohli said of his innings. "An amazing way for us to kick off the World Cup. It's a high-pressure game. Good to get that win under the belt."
He went to the crease at 34 for 1 and shared partnerships of 129 with Shikhar Dhawan (73) and 110 with Suresh Raina (74) before he was caught behind off Sohail Khan (5 for 55) in the 46th over, triggering a flurry of late wickets.
Raina, who clobbered three sixes and five boundaries in his 56-ball innings, was next out as India lost their last four wickets for 16 runs.
After dismissing Kohli and Raina, and after Wahab Riaz bowled Ravi Jedaja (3) in the 49th over, Sohail Khan started the last over by having M S Dhoni (18) caught off a top edge and bowling Ajinkya Rahane (0).
Pakistan's chase started badly when veteran Younis Khan was out for six with the total on 11 and it fizzled out entirely after three wickets fell for one run in nine deliveries, including opener Ahmed Shezhad (47), to slump to 103 for 5. When Shahid Afridi (22) sliced a high catch to Kohli off Mohammad Shami (4 for 35) to make it 149 for 6, groups of Pakistanis in the 41,587 crowd started filing out of the stadium. Skipper Misbah-ul-Haq posted the only half-century of the innings and was the ninth wicket to fall, caught off Shami for 76 from 84 balls. It was all over by the 47th over, with Pakistan all out for 224.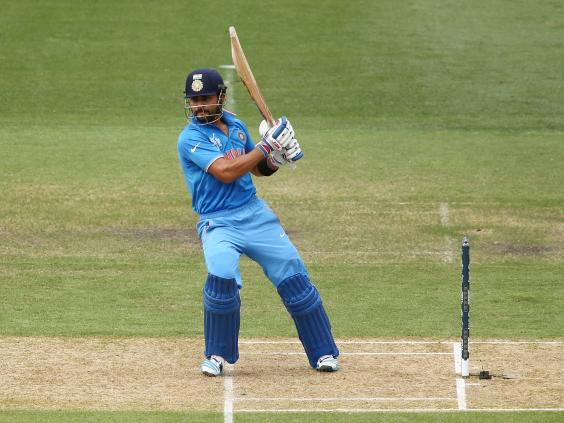 "We lost momentum with those three quick wickets – that really hurt us," said Misbah. "It's important for us just to concentrate on the games which are coming. If you keep on thinking about the game that is gone now, it's difficult to perform well."
The first World Cup meeting between the fierce rivals was in 1992 – the last time the tournament was co-hosted by Australia and New Zealand – and India began their winning sequence there.
"Yes, we're proud of what we've done," captain Dhoni said. "The record is good, but it's something I don't want to get into – there'll come a time when we lose, irrespective of whether it's this World Cup, next. It's not something that will stay [forever]."
Tendulkar, who played in the previous five Indian wins but retired in 2013, compared the intensity of the two countries' World Cup clashes with the level of a final. But this game was rarely in Pakistan's grasp after Dhoni chose to bat in ideal conditions.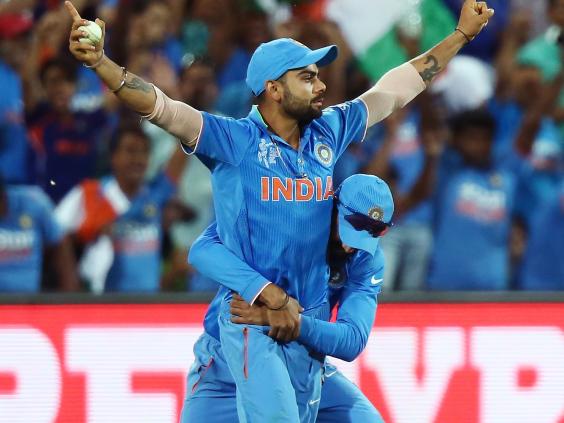 It followed a trend – India had won the toss in four of the previous five World Cup meetings and Pakistan struggled in pursuit of a target.
The match was advertised as a sell-out and organisers were expecting a record TV audience, but apart from some of the Indian batting it did not live up to its billing.
Kolhi reached triple figures with a single off Afridi in the 43rd over for his 22nd ODI hundred, and his second in World Cups.
His innings was not without incident. A mix-up led to Dhawan's run-out at the non-striker's end in the 30th over and he had a reprieve on 76 when part-time wicketkeeper Umar Akmal put down a regulation chance.
India will be relying on another big innings from Kohli when they take on leading contenders South Africa in Melbourne on Sunday. Pakistan, the 1992 champions, will play two-time winners West Indies in Christchurch on Saturday.
Reuse content