After all that has happened in the past year and recognising all that may be to come in the next, Alastair Cook appears at peace with himself. On the eve of a two-Test series against New Zealand which may cost him his job – nothing new there – he reflected with gratitude.
"As a person, walking out tomorrow is probably the biggest honour you get – with your blazer on, cap on at Lord's, it's an incredible honour," he said. "I know it's not going to last for ever, you have to appreciate the moment, the pressures which come with the job, absolutely.
"If it changes, it changes. I'm quite relaxed about that. All good things come to an end. It is all about just giving your best when you can."
The first Test at Lord's will be Cook's 32nd match as captain, taking him ahead of Ray Illingworth, the wiliest captain of modern times, and Mike Brearley, often cited as the wisest. No one has Cook in that category but his very survival speaks of a bloody-minded resolve and determination.
There has been carnage elsewhere in the England team for more than a year but Cook has withstood it all through team losses and poor form. He has been given the unvarnished support of the new director of cricket, his former opening partner Andrew Strauss. But he knows that a loss to New Zealand or to Australia later in the summer will warrant a change.
"I absolutely understand that cricket over the last 18 months has taken a bit of a hammering, certainly from off-the-field stuff," Cook said. "We have had a huge change at the top of the ECB, and I think only five players are playing from that last Test match in Sydney [when England lost the Ashes with a 5-0 whitewash in January 2014]."
Adam Lyth will make his Test debut for England, becoming Cook's ninth opening partner and sixth since the playing retirement of Strauss, with whom he walked to the crease in 68 matches. It has become a vexed position for the selectors and, while there is no doubt that Lyth deserves this, it is easy to suspect that he has been kept waiting for a reason.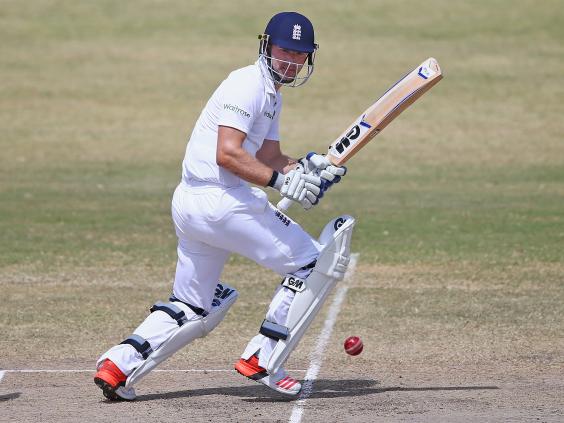 Little more than a year ago, Lyth signed to play as a professional in the North Yorkshire and South Durham League, so capricious had his form been for Yorkshire in the previous summer of 2013. In the event he never took up the option with Marske because he suddenly discovered a rich vein of form, which he has yet to shed.
Lyth will become the 666th player to win a Test cap for England. Since this is a number often associated with the works of the devil he was given the opportunity to skip a digit, but since Lyth is a Yorkshireman from Whitby, where Count Dracula arrived on these shores, he is made of much sterner stuff and declined.
The 667th may well be Mark Wood, the Durham fast bowler, though Cook, as is irritatingly his wont, declined to say so. He had no choice with Lyth because he was the opener designated by the selectors, but Wood is vying with Chris Jordan and Ben Stokes for the third or fourth seam bowler's spot. Wood, like Lyth, should have appeared in the West Indies and if he is overlooked here it will be almost an abrogation of responsibility.
Perhaps Cook and England may care to reflect one of these fine days when they are not in a state of enduring angst about Kevin Pietersen (who is definitely not in the team) that the paying customer deserves to know who is playing.
It could be a small part of the re-engagement with the public that Cook recognised yesterday was essential. He became for a few moments quite the romantic.
"Cricket is a great game," he said. "Cricket has been my life for years and years, I have been incredibly lucky to have experienced what cricket has given to me, that's from playing club cricket when I was 14, for Maldon Cricket Club.
"I was in a changing room with slightly older guys telling me stories I probably shouldn't have listened to, then getting picked for Essex. All those experiences, that's why I love the game.
"It doesn't matter what level you play, everyone then follows the English cricket team, they want the English cricket team to be successful, they want to bring pride to the country, that's what people want. I follow rugby, I want England to be successful. We know that's the pressure you're under but it's a great pressure, the highs and lows you experience from that are fantastic."
New Zealand are here to compete but if England are serious about the Ashes and Cook wants to keep his job they need to start with a convincing win at Lord's, probably inside four days.
First Test Preview
England: A N Cook (capt), A Lyth, G S Ballance, I R Bell, J E Root, M M Ali, B A Stokes, J C Buttler (wk), M A Wood, J M Anderson, S C J Broad.
New Zealand: M J Guptill, T W M Latham, K S Williamson, L R P L Taylor, B B McCullum (capt), C J Anderson, B J Watling (wk), M D Craig, M J Henry, T G Southee, T A Boult.
Umpires: S Ravi (India) and M Erasmus (SA).
Weather: Overcast, sunny later in day. Max temp: 20C.
TV: Sky Sports 2, 10am-7pm
Pitch report: Tinge of green. Early-season conditions should encourage seam bowlers.
Reuse content