How important is family to Tjaronn Chery? Well, his name is an amalgam of his two older brothers, Tjarck and Ronny, his heroes, who helped to raise him in immense difficulty in the deprived Wesslerbrink district of the Dutch city of Enschede.
Chery, born in Den Haag, was just three years old when his father left. He spent his early years moving around sheltered housing across Holland, before the family settled. Tjarck and Ronny, four and nine years older than Tjaronn respectively, had to work to provide money for his mother Sjaan. They drove their little brother to football, as he tried to make it at the FC Twente academy.
Life became especially hard when their absent father tried to insert himself back into the life of the family he had left behind. "Sometimes my dad tried to find us, but his relationship with my mum was not good" says Chery, who has not seen his father since he left. "He wanted to see my mum, but she didn't want to see him. She would go away and leave every time, to avoid him. Sometimes there were big problems." 
Tjarck and Ronny had to step up, and they did, helping their mother to hold the young family together. "My brothers were my role models," Chery says. "My big brother Ronny was like a second dad. My dad was not there, and Ronny was the main man in the house." The family is as close as any family could be. "My mum went through so many shit things when I was younger," Chery says, "but now she has a good life."
That, in short, is Chery's motivation in his football career. Everything that was lacking when he was growing up – stability, security, comfort, money – he wants to provide now. Not just to his brothers and mother, back in Holland, but to his wife Esley, their daughter Jaylinn, who turns four in December, and their second child on the way. He does not want his children to go through what he did, and it has driven him his whole life.
"Family is really important to me," Chery explains, when we meet at Queens Park Rangers' training ground. "When I was younger, with my mum and my brothers, we didn't have that comfort. But if I can be a footballer, it is an easier life for everybody, it's a better life for everybody. Because I know where I came from, I have to make it. That is the only motivation that I have."
What stands out about Chery, more than anything else, is his hunger, his need to succeed. That is what sustained him when he was told as a boy that he was too small to make it. Or when Twente loaned him year after year into the Dutch second tier. Or when he found himself, at the start of last season, sat on the bench at QPR and with a good offer to leave.
"Now nobody can say anything to me, to break me," Chery says, having come through so much. "If I look straight, no-one can turn me right or left. Nobody can say 'you are shit, you are small'. That's what everyone said, 'he's a good player but he will never make the top'. Whatever people said about me, I showed them the opposite. Always."
If I can be a footballer, it is an easier life for everybody, it's a better life for everybody. Because I know where I came from, I have to make it. That is the only motivation that I have.
The answer has always been the same: hard work. Chery spends as much time as he can at the training ground, working in the gym before and after sessions because he knows he needs to bulk up. He is a friendly person but he is not here to make friends. "If I'm here, I have to train," he explains with Dutch honesty. "Some players like to stay in the dressing room and talk. For me, if you're here, you're here to work. I need more power, so I do gym sessions. I always try to do the best for myself. And the other players see that I do everything."
It is fair to say that there has not been enough training ground hunger at QPR over the last five or six years. That was the inevitable consequence of paying far too much in fees and salaries for players who saw Rangers as an easy sinecure as their careers wound down. After their second relegation, in 2014-15, the club knew they had to change. Not just for their financial future, but to get a motivated team back on the pitch.
There is a new policy at Loftus Road now. £20,000 per week is the absolute limit of what they will pay. The only two players still earning big money, more than double that figure, are Sandro and Steven Caulker, who the club simply cannot get rid of. Chery earns roughly £12,000 per week, and that is its own motivation. His hard work has been rewarded with new talks over a better deal.
"It's not like it was before, and this is a good thing," Chery says. "Now everybody is working, for a new contract, and to play. If you get so much money, you don't feel the motivation to get more money, because you get it already. Now everybody is training hard to be in the team. The manager gives us the feeling: you have to work hard, or you don't play."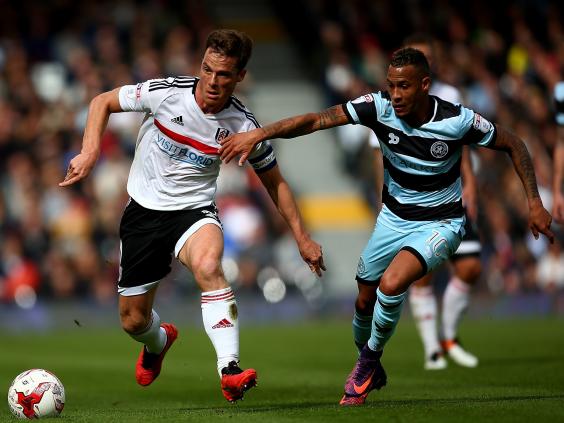 Chery is the embodiment of Rangers' new approach. He was the players' player of the year last season, having found his feet once Jimmy Floyd Hasselbaink replaced Chris Ramsey. He is the star of this starless team. And yet he is not at all satisfied with where he is now, at 28 years old. He is not sitting comfortably. He is desperate to play in the Premier League, and wants to drag QPR there with him.
That has always been Chery's dream and why, after a brilliant season with Groningen in 2014-15, he came to England. He had just been called up to the Netherlands squad by Guus Hiddink, having been the best number 10 in the Eredivisie that year. He had plenty of good offers, including lucrative ones in the Middle East. QPR had watched him extensively and were impressed not just by his 15 goals and 10 assists, but by how busy he was on the pitch. They sensed that he had the attitude and application to make it in the Championship, and paid £2million to buy him.
It was not easy at first, with Chris Ramsey playing Chery on the left wing, and he found the tempo difficult to adjust to. Ramsey was replaced by Hasselbaink, who played Chery in his favoured no 10 role. Chery likes his manager, although he denies it is down to any shared national values. "No, he is really English," Chery snaps. "He knows what he wants. Everybody has to work hard. If you don't want to work hard, you are not going to play. Everybody has respect for the manager."
Hasselbaink played Chery where he wanted and was rewarded with 10 Championship goals last season. This season Hasselbaink wants Chery to aim for 15. He has four already. "He wants a lot of goals," Chery says. "He has given me confidence. When I get the ball, I have the freedom to go and pass or shoot. I am really important in the team's play."
It was Chery who set up the moment of Rangers' season so far, crossing for Idrissa Sylla's late winner at Craven Cottage earlier this month. But QPR are still stuck in mid-table, five points off the play-offs. The challenge now is to put a run together and push for promotion, competing against teams who can pay the big salaries QPR used to. It will be difficult but Chery relishes the sense of responsibility.
That is why he decided to stay at QPR when Maccabi Tel Aviv came calling in January. He was not in the Rangers team at the time and was made a very good offer, with the prospect of European football too. Then-manager Peter Bosz, who knew him from Holland, was insistent and persuasive. So was sporting director Jordi Cruyff. But Chery decided to stay.
"I was not ready," Chery says. "I was not finished here, and I'm still not. I am not a person who says, 'if I don't play for two months, then goodbye.' I knew that if I train well I would get back on the team, and that's what happened. Because I'm a fighter."
Reuse content