Arsenal were foolish not to strengthen in January
The signing of Mohamed Elneny hardly appears to be a game-changer in the course of the Premier League title race, and if Arsenal go on to miss out on top spot due to a lack of goals, than all eyes should be on manager Arsene Wenger, not Olivier Giroud. Every Tom, Dick and Harry knew that this season posed the best chance Arsenal have had of winning the title since their dramatic collapse in 2008, and if the club actually went out and signed one or two quality players that would strengthen the first team, then the 12-year Premier League drought may finally be over come May.
But they didn't. Not only did Arsenal fail to sign a striker to support Olivier Giroud, they also bought a midfielder who on first viewing will struggle to get into Wenger's first-choice squad, let alone the starting XI. Elneny was left out of Tuesday's squad to face Southampton despite being available, and he doesn't look like the type of player that is going to inspire Arsenal to the title.
If Arsenal fall short – which looks a very realistic possibility right now given the form of Leicester, Manchester City and Tottenham, fans may finally lose their patience with Wenger at what would be a glorious chance spurned.
United begin to find their feet but don't be fooled by one victory
Manchester United continue to improve after they followed up the impressive 3-1 FA Cup victory over Derby with a comfortable 3-0 win against Stoke on Tuesday night. With Wayne Rooney back in form and Anthony Martial displaying s slice of the talent that he has shown on an all-too-rare occasion this season, United looked like a team who finally knew how to win again.
But they can't afford to get too far ahead of themselves. Yes, the performance over the Potters was an impressive one, but they remain in fifth, 10 points behind the leaders and precariously just one point above West Ham. As we've seen too often this season already, it only takes one defeat to throw United out of balance, with questions surrounding Louis van Gaal's future only silenced until the weekend where a defeat to Chelsea would surely trigger the latest wave of criticism aimed at the Dutchman.
Arsenal player ratings vs Southampton
Arsenal player ratings vs Southampton
1/12 Cech: 6 out of 10

Will doubtless be overshadowed by excellence from Fraser Forster but as per usual Cech never put a foot wrong and was always live to Southampton's attempts to get in behind his defenders.

2/12 Bellerin: 5 out of 10

A rare loose display from the full-back, who was one of several to give the ball away far too often. His crossing was as good as ever but too often Long and Mane were able to exploit the space he left.

2016 Getty Images

3/12 Gabriel: 5 out of 10

There were good reasons for dropping Per Mertesacker, who is looking more cumbersome by the week, but this was not a match where Gabriel fully convinced in his stead. Was very lucky to not give away a penalty in the second half when only Mane's refusal to go down saved him.

2016 Getty Images

4/12 Koscielny: 6 out of 10

A key figure in a misfiring second half, on more than one occasion sweeping in behind to stop the dangerous Long and Mane sweeping in behind. However how he missed an unmarked header from six yards out only he will know.

5/12 Monreal: 6 out of 10

In the mistake-filled morass of the first half Monreal stood out by rarely putting a foot wrong. He sat much deeper than he has in  past games but it was notable that Southampton had little joy down the right.

2016 Getty Images

6/12 Flamini: 5 out of 10

Simply lacks the legs to cut it alongside Ramsey in the middle of the park. He was unable to cover the ground required as his colleague pressed forward, allowing Southampton to pick the Gunners apart on the counter. Increasingly, and justifiably, lost his rag with Ramsey as he failed to track back with any urgency.

2016 Getty Images

7/12 Ramsey: 4 out of 10

Santi Cazorla dictates play for Arsenal in the deep-lying playmaking role, and so did Ramsey. Hence with so many passes flying wide of the mark and straight into touch the Gunners' first-half was utterly atrocious. The second half saw him more often than not alongside Giroud but he had even less impact there.

2016 Getty Images

8/12 Campbell: 5 out of 10

Once more the work-rate was present and correct but the quality was lacking. First the ambitious passes stopped paying off, then the basic ones. He would track back and look to recover his mistakes but more often than not that would lead to a free-kick.

9/12 (Sub) Walcott: 5 out of 10

Barring a double chance spurned seconds after coming on Walcott offered little to Arsenal's attempts to break Southampton down and was once more notable by his absence.

2016 The Arsenal Football Club Plc

10/12 Ozil: 5 out of 10

Muscularly dealt with by Victor Wanyama and Oriol Romeu, but his influence grew as the match wore on. He may not have been able to take the first-chance opportunities but that was more down to the luck and excellence of Forster than anything else.

11/12 Sanchez: 7 out of 10

About the only Arsenal player in the opening period who looked like crafting a chance or even correctly placing a pass, as in his beautiful delivery to Ozil. But his own superiority was soon to be his downfall as he hubristically took the burden of the whole team's output on his shoulders.

12/12 Giroud: 5 out of 10

Is it fair to criticise him for constantly dropping deep into midfield in a bid to create something. Probably not, such was the dominance of Virgil van Dijk and Jose Fonte in the air. A frustrating night was defined in opposition to the excellence of Forster, who on several occasions kept out several efforts that seemed destined for goal.
Vardy's goal spectacular – but what was Mignolet doing?
Jamie Vardy's beautiful strike to give Leicester a lead they would not relinquish over Liverpool was described by former Foxes striker Gary Lineker as a possible "goal of the decade". But while the awareness, precision and power of Vardy's strike can't be faulted, questions must be asked of Liverpool goalkeeper Simon Mignolet once again.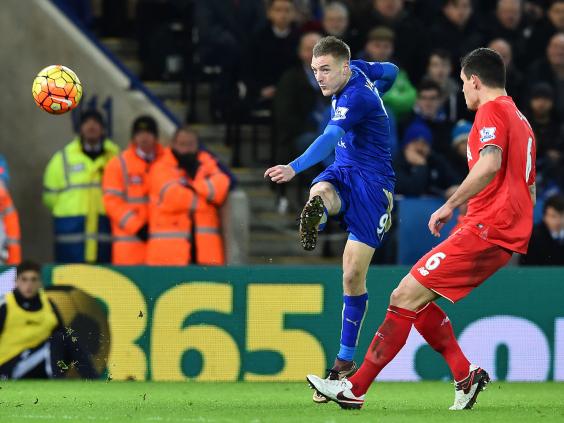 The Belgian has not had the best of seasons, and his reaction to Vardy's run through the Reds' defence spoke volumes about his current state of mind. Mignolet did not react quick enough to get back onto his line, so much so that when Vardy strikes the ball the goalkeeper can be seen to still be shuffling backwards towards his goal. His initial reaction it to step to his right in an effort to cover the open-side of the goal, which creates the space for Vardy's curling effort to beat him at his near-post. Take nothing away from Vardy, but Liverpool need to justify why Mignolet was handed a five-year contract just last month.
Manchester City will want to win title for Pellegrini
Manuel Pellegrini's announcement to his squad that he would be replaced by Pep Guardiola at the end of the season is said to have been an emotional and passionate meeting which resulted in a number of players being left saddened by his departure. While the allure of playing under Guardiola's management will pick them up immediately, the Manchester City squad appear to have a close bond with Pellegrini, and it's this reason why City will perhaps be the most determined to win the title.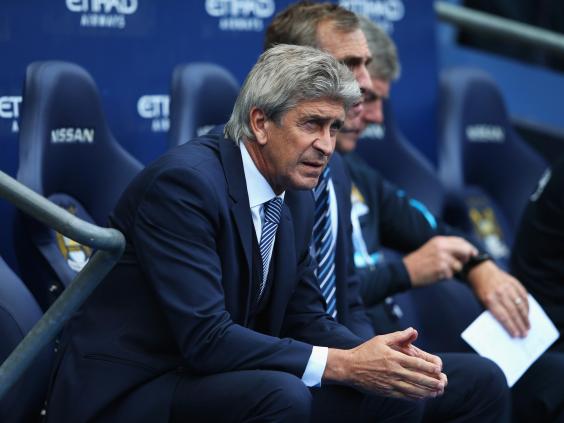 If the players can deliver Pellegrini a sending off present in the form of a Premier League title – and who knows, possible more silverware – it will be the perfect way to cap the Chilean's reign at the club that looks set to see him leave as their most successful manager in their history.
How can Villa possibly avoid relegation?
Jordan Ayew's senseless red card in the 2-0 defeat by West Ham may as well signal Aston Villa's relegation to the Championship. 13 points from 24 matches, 10 points off safety and not one signing in the January transfer window has left the club in complete disarray, and has also led manager Remi Garde to consider his future over a lack of mid-season reinforcements.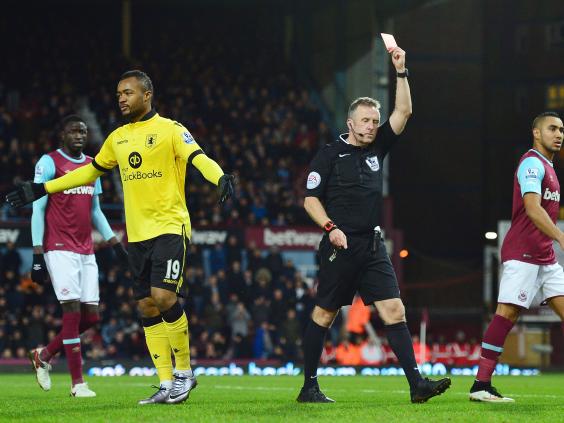 With Ayew being sent-off within minutes of kick-off for elbowing West Ham defender Aaron Cresswell, any hope Villa had of snatching three points from the in-form Hammers were gone. If Villa somehow find a way to stay in the top flight, they should celebrate it like they've won the Premier League, because both achievements are as unlikely as the other.
West Brom can't expect Berahino to hold value if Pulis refuses to play him
Rejecting a deadline day offer in excess of £21m is a bold move from West Bromwich Albion chairman Jeremy Peace, but at one point does Saido Berahino begin to lose value. The striker is virtually starting every Premier League match on the bench, and given that last season he was on the verge of making his England debut, the 22-year-old is now nowhere to be seen on the international stage.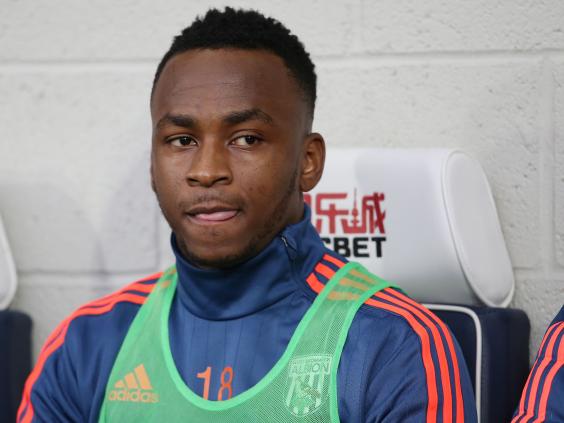 Harry Kane, Vardy and – when fit – Danny Ings have all moved ahead of Berahino in Roy Hodgson's pecking order, and with Danny Welbeck and Daniel Sturridge slowly returning to fitness, it could be some time before Berahino sees the Three Lions shirt. If West Brom manager Tony Pulis keeps him outside the starting line-up, what is there to justify a £25m price tag for an unfit non-international striker?
Reuse content