Manchester United forward Radamel Falcao is "100 percent ready to give everything" according to his wife Lorelei Taron.
Her statement appears to be in direct conflict with Old Trafford manager Louis van Gaal's who suggested that the Colombian is only fit enough to play 20 minutes at a time.
Van Gaal said Falcao must play in the second team before he would be considered to start a game and "was not interested" if the 28-year-old was unhappy with his current role.
"He is not fit enough to start a game yet. He needs to play 45, 60 or even 90 minutes in the second team but I haven't been able to do that because I needed him on the bench when James Wilson missed the Hull game and Wayne Rooney was injured for the Stoke game," Van Gaal told a press conference ahead of their match with Southampton.
"I selected him (on the bench) despite the fact that, at the moment, he can only play 20 minutes at that level because the physical intensity in the Premier League is the highest in the world.
"I am not interested (if he is unhappy being on the bench). He has to follow my philosophy."
Manchester United injury list
Manchester United injury list
1/5 Wayne Rooney

There is uncertainty over the extent of the Manchester United captain's injury, with fears he may have suffered ligament damage to his knee during the 3-0 defeat to Everton. Unlikely to feature against West Brom and could miss the rest of the season.

GETTY IMAGES

2/5 Michael Carrick

Having limped off in the 4-2 derby victory over Manchester City, it's uncertain if the England midfielder will fit for this weekend. Was unable to even make the bench for the defeat to Everton.

GETTY IMAGES

3/5 Rafael

The right-back's return to action has suffered a set-back. After making a short appearance in the 3-0 win over Tottenham in March, the Brazilian has been pushing for full fitness. However he suffered a blow to the ribs in an Under-21 match against Leicester and could miss the rest of the season.

GETTY IMAGES

4/5 Marcos Rojo

Having missed the games against Chelsea and Everton due to a groin injury, the Argentina international is pushing for a return and could feature this weekend.

GETTY IMAGES

5/5 Phil Jones

Fellow defender Phil Jones also missed the defeats to Chelsea and Evertton but the England international has returned to training after a foot complaint and could play at against West Brom.
Taron however disputed the Dutchman's claims.
"100 percent ready to give everything," she posted on Instagram alongside a photograph of Falcao smiling during a training session.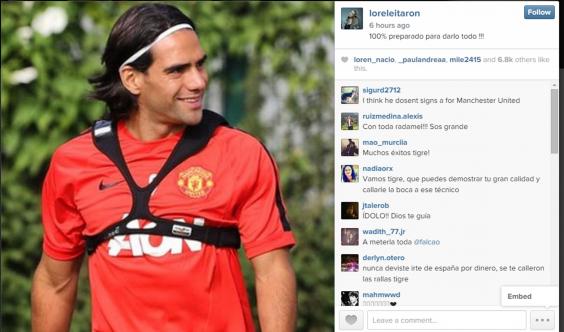 It is not the first time a player's partner has taken to social media to defend her man.
In May, Samir Nasri's girlfriend, Anara Atanes, launched a scathing Twitter attack against France coach Didier Deschamps after he opted not to select the Manchester City winger for the 2014 World Cup.
Reuse content