Where is Mesut Ozil is fast becoming a familiar cry for Arsenal supporters while the club's record signing adapts to life in the Premier League.
But do the naysayers have a point? Looking at the statistics from his last nine matches compared to his first nine for the Gunners, maybe they do.
The £42.5m signing arrived from Real Madrid on deadline day in a blaze of glory, fans had been waiting all summer for Arsene Wenger to spend, having only brought in the young French striker Yaya Sanogo on a free transfer, and spend he finally did. Madrid players spoke of their devastation that their playmaker had left as the club looked to recoup some of the £86m they splashed out on Tottenham's Gareth Bale.
It didn't take long for the German to hit the ground running either - just 11 minutes into his debut his inch perfect ball to Olivier Giroud set Arsenal on their way to a 3-1 victory at Sunderland.
His first goal then arrived in the masterclass against Napoli in the Champions League the following month in October, in one of the finest individual performances to grace the Emirates Stadium.
In his first nine matches for Arsenal, the 25-year-old had a total of four assists and three goals, but in his last nine games he has recorded just one assist - for Santi Cazorla in the Gunners' 2-2 draw at Southampton last month.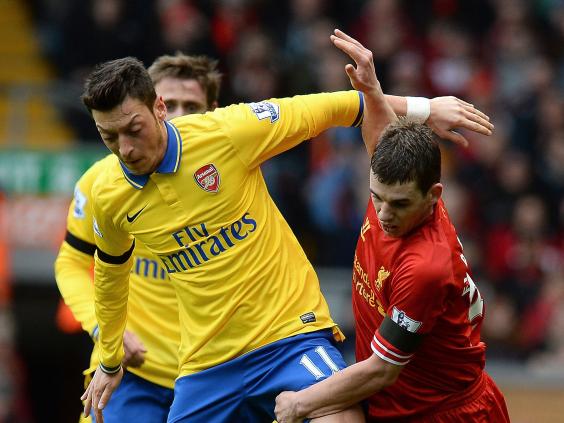 In his recent book, Stillness and Speed, Dennis Bergkamp explained that it took him a year at the club to fully adapt and be consistent to the division, and it is starting to look like the comparison between the players extends to more than just being the club's marquee signing.
On the plus side, Ozil has still averaged nearly three key passes per Premier League match this season, and has a pass success rate of 88% in the division, a higher average than when he played with Ronaldo, Benzema and Co at Madrid in La Liga (85%).
He will be needed to produce in the Gunners' upcoming nightmare run of games, starting with Manchester United tonight, then Liverpool, and ending with Bayern Munich next week.
Reuse content