When Steve Heighway was running Liverpool's academy he had on his desk photos of the three great talents he had produced. Steven Gerrard was the finest of that trinity, although his future away from Anfield will be the most uncertain.
Jamie Carragher's wit and ebullience eased the defender into his seat in the Sky Television studios. Michael Owen had his year as a galactico at Real Madrid and his stables at Malpas to fall back on. Gerrard may be an intelligent, thoughtful man but he is not a television natural and he is not one for the gallops.
"Since he was 15 or 16 he has been making that religious journey every day to play for Liverpool and he is a guy who, deep in his heart, is a supporter of the club," said his manager, Brendan Rodgers. "He wanted to make the decision to leave sooner rather than later so there would be no speculation. Given the type of man he is, there would not be another word spoken about it but, of course, it will be talked of every day."
Steven Gerrard in pictures
Steven Gerrard in pictures
1/11 England Under-21s

Steven Gerrard of England celebrates his 13th minute strike during the England v Luxembourg European 2000 Under-21 Qualifying match at the Madejski Stadium, Reading, England. The match finished in a 5-0 win for England

Getty Images

2/11 England 5 Germany 1

Gerrard celebrates his goal in the 5-1 win over Germany, one of his England highlights

Getty

3/11 Euro 2004 qualifiers

Gerrard celebrates after scoring the equaliser during the Euro 2004 European Championships Group 7 against Macedonia at St Mary's Stadium in Southampton, England

Getty Images

4/11 2006 World Cup qualifiers

Gerrard celebrates with Michael Owen during the FIFA World Cup 2006 group six qualification after scoring against Austria in Vienna

EPA

5/11 Beckham and Gerrard

David Beckham and Gerrard in England colours together. The pair were at the heart of England's 'golden generation'

Getty Images

6/11 Beckham and Gerrard

And now Gerrard could follow Beckham in a move to the MLS and LA Galaxy

GETTY

7/11 Champions League success 2005

Gerrard captained Liverpool to their famous penalty shootout European Cup victory in 2005

Getty

8/11 England Player of the Year

Gerrard was named England player of the year in 2013

AFP

9/11 2014 World Cup

Gerrard captained his country to the 2014 Fifa World Cup in Brazil last summer

AP

10/11 An early exit

But was unable to prevent defeats to Italy and Uruguay that paved the way to England's early exit from the tournament

Getty Images

11/11 International retirement

Gerrard would go on to announce his international retirement after the ill-fated trip to Brazil

Getty Images
Speaking in an interview with the club's television station, LFCTV, Gerrard confessed to embarrassment at all the talk his decision to leave had generated. "My feelings are raw and they will be until the end of the season," he said. "I didn't realise the news would be that big."
He said his team-mates had been shocked when he informed them, but the hardest thing had been telling his daughters.
"It was tough to tell the girls, even though they are not big football fans," he said. "They are more into the girly things in life, but to tell them that their dad wasn't going to play for Liverpool any more still hit them hard. That is when the emotion started in the house."
Gerrard is a deep thinker, and last year there would have been plenty of thoughts skating around his brain. In 2005, in the wake of the European Cup final that had seen the greatest performance by an Englishman since Geoff Hurst's hat-trick in the Word Cup final, Jose Mourinho made what would be the first of several offers.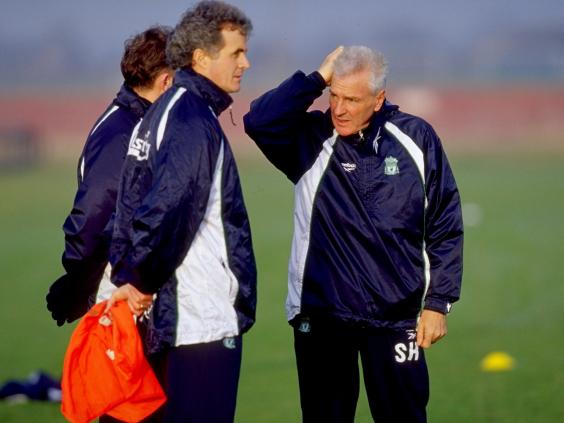 Unless he came to Chelsea, Mourinho said, Gerrard would never know what it was to win the Premier League. A slip against Chelsea last April, yards from where Mourinho was standing, ensured that prediction would come hurtfully, heartbreakingly true.
Then there was the World Cup. Rodgers argued that Gerrard had endured highs and lows with England, and Brazil would have been no different. But that, surely, is to misread the man. His excellent, passionate autobiography, written in the golden afterglow of Istanbul and his match-turning performance in the 2006 FA Cup final, climaxes with the World Cup in Germany. He was not the central figure – that was David Beckham's show – and England performed better than they would eight years later. In contrast, in Brazil he, alongside Roy Hodgson, was the public face of English football.
He scored in Liverpool's first game back in the Champions League and he scored in front of the Kop in their last match, giving Liverpool nine minutes of hope that were never realised. But for the games against Real Madrid he was left out in the Bernabeu and was an irrelevance at Anfield.
Before the first of those matches, he had talked in detail in Anfield's Trophy Room about his regrets about not accepting Mourinho's offer of a contract at Madrid. There was a wistfulness in his voice out of place with a Champions League press conference, which is traditionally all about the uttering of banalities before banks of television cameras.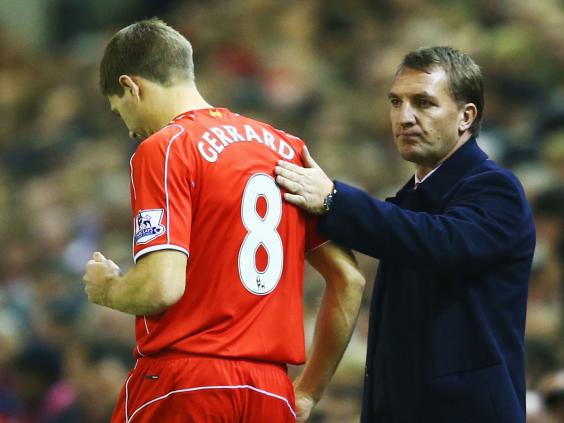 America's MLS is not La Liga but it will give Gerrard a fresh horizons without the pressures of leading Liverpool or having his every pass scrutinised by the Spanish press. The question is, what he will do when he comes home?
It was always Carragher of the three who was going to be the manager, but Gerrard may be that rarity; a great footballer who flourishes in the dug-out.
"Over the years you have seen many fine players who have not been able to do that, but Steven is someone who studies, puts the hours in and works," said Rodgers. "There is no question as to why that couldn't happen. Whether it will, only time itself will tell."
Reuse content