As the new term commenced at The University of Bristol on Monday, students were confronted by a transphobic poster, slammed by student groups as "hateful" and "disturbing".
The poster is a parody of an awareness raising sign put up by the university's LGBT+ society in November.
The original poster read: "If you're in a public bathroom and youth think a stranger's gender does not match the sign on the door, follow these steps: 1. Don't worry about it, they know better than you."
The poster, featuring the UBU LGBT Society's butterfly logo, received mainstream press attention for its positive message.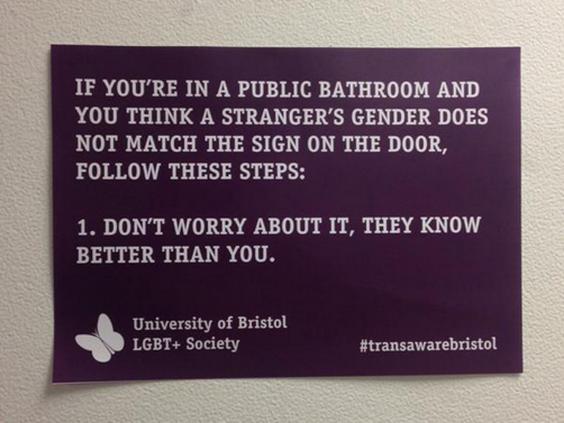 The alternative poster displayed in the Wills Memorial building instead warned women of a supposed threat from trans women, and was distributed by a group calling itself the "University of Bristol MENZ+ Society" - although no-one has yet claimed responsibility for it.
Adopting the LGBT+ poster's tone and design, it sarcastically told women to "ignore the fact men[...]rape women every 9 minutes".
A transphobic poster in Bristol is telling women 'surrender your boundaries' http://t.co/45doBaIgp1 pic.twitter.com/cKIl6saeuk

— Epigram Comment (@EpigramComment) January 19, 2015
Student groups have condemned the poster for misgendering trans women - as it refers to those who are, or have, transitioned from male to female as "trans men" - and inciting discrimination through scare tactics.
Jamie Cross, the President of the LGBT+ Society, told The Independent: "I think that whoever has parodied the poster has, in every way, misinterpreted the campaign. In fact I think that anyone who believes that we have not considered the need for safety for all self-identifying women in public bathrooms has also misinterpreted what we were trying to achieve with the original poster.
"I'm both angry and hurt that this may have been put up by a student at the university."
Hattie Stamp, the President of the university's Feminist Society, told Epigram, Bristol's independent student newspaper: "I think it's a really hateful thing to do, its intention is to make trans people feel unsafe at Uni by calling them transgender males (when they self-identify as a woman) and completely dismisses their experiences and incites discrimination."
The Universty of Bristol Union's Equality, Liberation and Access Officer Alice Phillips told Pink News: "I'm extremely disturbed by the appearance of this poster in the Wills Memorial building.
"There is absolutely no place for transphobia at the University of Bristol and as a Union we're going to be doing everything we can to find out where this has come from.
She added security services will now be "extra vigilant on their patrols" and will take down any posters they see.
Paris Lees, a journalist and transgender rights activist, also expressed her concerns regarding the poster.
...the idea that gay and trans people are perverts who pose some sort of sexual threat to women and children is a cruel lie, and an old one.

— Paris Lees (@ParisLees) January 20, 2015
The poster comes after police data revealed that transphobic hate crimes soared in the UK last year, with the true number of attacks likely to be higher.
According to police data reveals victims have been subjected to assaults, verbal abuse and harassment on the street.
Eleven forces recorded more transphobic hate crimes between January and November than the whole of 2013, according to figures released to the Press Association under the Freedom of Information Act.
The Metropolitan Police alone saw offences against transgender people rise by 44 per cent in 2014.
Reuse content