Travel essentials
Why go now?
In March, Adelaide enters its "month of madness" when the city hosts several festivals and sporting events, starting with the Adelaide Fringe (adelaidefringe.com.au) from 12 February to 14 March and followed by Adelaide Arts Festival (adelaide festival.com.au) from 26 February until 14 March. Womad-elaide (womadelaide.com.au) runs from 11-14 March.
Australia's national football team, the Socceroos, take on Tajikistan at the Adelaide Oval (1) on 24 March in Asian Cup qualifiers (adelaideoval.com.au).
Touch down
From 3 May, Qatar Airways (0333 320 2454; qatarairways.com) launches daily flights from Doha to Adelaide with connections from Manchester, London Heathrow, Edinburgh and Birmingham. The route will compete with Emirates (0844 800 2777; emirates.com), which operates one-stop flights from Heathrow, Gatwick, Birmingham, Manchester, Glasgow and Newcastle.
The airport is situated 6km south-west of the city centre; the 15-minute journey by taxi costs about A$25 (£12.40). It's also possible to take the JetExpress J1X bus (adelaidemetro.com.au) into the city, costing A$5.20 (£2.60) one way. It operates between 5am and 10.45pm and takes 25 minutes to reach Pulteny Street (2) in the city centre. 
Get your bearings
The South Australian capital stretches out for 12 miles from the Gulf of St Vincent to the foothills of the Adelaide Hills, with the shoreline to the west of the city. 
It is the only city in Australia to be enclosed by parkland and is planned in a grid format, neatly arranged into terraces with five public squares, making it easy to find your way around. The River Torrens flows east to west through the city centre. 
Adelaide offers free public transport on buses and trams within the centre. The 98A and 98C City Connector Bus routes connect the main tourist sites in a loop every 30 minutes; 99A and 99C link the main city destinations. 
There is also a frequent tram service taking passengers from Adelaide Entertainment Centre (3) on Port Road to Glenelg, a popular coastal resort; the free service runs as far as South Terrace. The O-Bahn, a tramway on which adapted local buses run, links the city with the northern suburbs (adelaidemetro.com.au). 
The tourist information office (4) at 9 James Place (00 61 8 8203 7611; southaustralia.com) is just off Rundle Mall, the main shopping area. It opens 10am to 4pm at weekends and 9am to 5pm weekdays.
Check in
InterContinental Adelaide (5) at North Terrace (00 61 8 8238 2440; icadelaide.com.au) sits on the south bank of the river Torrens opposite the Adelaide Oval (1). It has comfortable doubles starting at A$250 (£121), room only. It's right in the centre of the city and within walking distance of all Adelaide's main sites.
The Franklin Boutique Hotel (6) at 92 Franklin Street (00 61 8 8410 0036; thefranklinhotel.com.au) is is also centrally located and has seven rooms each decorated with work by local artists and some with stained glass windows. The hotel also offers free bike hire. Double rooms start at A$150 (£73), room only.
Voted best hostel in South Australia by the state tourism board in 2015, Adelaide Central YHA (7) at 135 Waymouth Street (00 61 8 8414 3010; yha.com.au) has private en-suite doubles for A$128 (£63), room only.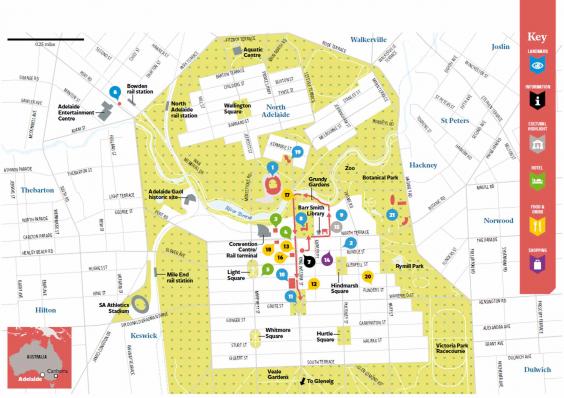 Day one
Take a hike
The city has a strong Victorian architectural legacy. From the tourist information centre (4), walk down Stephens Place to the front of Government House (8), built in 1840 and the official residence of the state governor.
Continue along North Terrace towards the University of Adelaide (9). Established in 1874, it's the third-oldest university in the country and was the first in Australia to give degrees in science. Look out for the grand Victorian architecture of the Barr Smith Library. Carry on through the campus until you hit the riverside. Bear left along the Torrens where locals gather to picnic. When you hit King William Street, take a left and pass the General Post Office (10), built in 1867.
Around the corner is Victoria Square (11), known as Tarndanyangga by the Kaurna indigenous Australians who have gathered here for centuries for community events. Three Rivers Fountain, built to commemorate the Queen's visit in 1963, is a focal point. 
Lunch on the run
Blefari Café (12) at 182 Victoria Square (00 61 8 8232 5115; blefaricafe.com.au) offers a range of light lunches, including chicken schnitzel, or a bacon, lettuce and cheese wrap for A$11.90 (£5.90).
Window shopping
Haigh's Chocolates (13) at 2 Rundle Mall (0061 8 8231 2844; haighschocolates.com.au) is the oldest family owned chocolate-maker in Australia, established in 1915. At the flagship store, seek out the popular chocolate peppermint frogs and orange pastilles.
For a mix of Australian and international brands, head to Rundle Place shopping mall (14) at 77-91 Rundle Mall. Besides the vast food court, there are also clothing stores such as Aussie brand Country Road (countryroad.com.au) along with supermarkets and jewellers.
Cultural afternoon
The South Austral-ian Museum (15) at North Terrace (00 61 8 8207 7500; samuseum.sa.gov.au; 10am to 5pm; free entry) is home to the Australian Aboriginal Cultures Gallery, which has more than 3,000 artefacts collected from across the country, including boomerangs, photographs, paintings and bark canoes.
An aperitif
The Hennessy Bar (16) at the Mayfair Hotel, 5 King William Street (00 61 8 8210 8888; mayfairhotel.com.au/hennessy) has a great rooftop area with views of the city and the Adelaide Hills. Wines from the Hills, such as a Fox Gordon pinot grigio, cost A$13 (£6.40). There's also a great cocktail list; try the Honey Trap, with honey-infused vodka, lime, ginger and mint (A$22/£11).
Howling Owl (17) at 13 Frome Street (00 61 8 8227 1611; thehowlingowl.com.au) is a hit with residents for its local gins and craft beers. Try a KIS wild gin and tonic with strawberries for A$9 (£4.40) with gin from nearby Kangaroo Island. If beers are more your thing, order McLaren Vale Beer Co's Vale Ale (A$8.50/£4.20).
Dine with the locals
The award-winning Jolley's Boathouse (18) at 1 Jolley's Lane, overlooks the river (00 61 8 8223 2891; jolleysboathouse.com) and serves contemporary, locally sourced dishes such as Port Lincoln king prawns (A$30/£14.75) and crisp skin Cone Bay barramundi (A$36/£17.70). 
The Strathmore (19) at 129 North Terrace (00 61 8 8231 5475; strath.com.au) serves a good selection of Aussie pub fare. If you're feeling adventurous, try the kangaroo, crocodile, barramundi or lamb rump for A$38 (£18.70).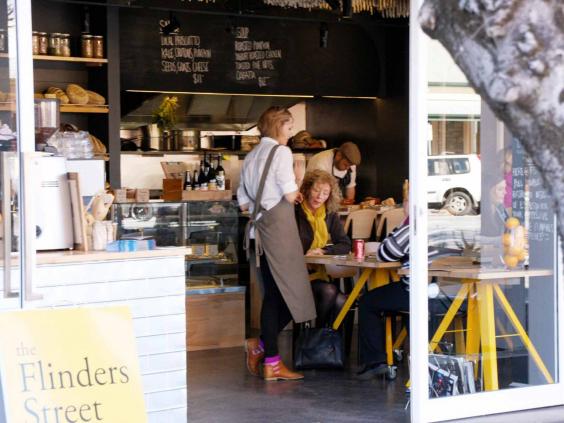 Day two
Sunday morning: go to church
An iconic mark on the city's skyline, visible from as far as the Adelaide Hills, St Peter's Cathedral (20) sits on the northern side of town at 27 King William Road. It was consecrated in 1878, although not completed until 1911. Inside, there is an ornate rose window situated above the main door depicting stories of South Australia and the Bible.
Sunday services are held at 8am and 10.30am (00 61 8 8267 4551; stpeters-cathedral.org.au; 9.30am to 4pm Monday to Saturday). 
Out to brunch
The Flinders Street Project (21) at 276 Flinders Street (00 61 8 72301 817, theflindersstreetproject.com.au) is all about fresh, local produce. All of its pastries and breads are home-made while the building is also an art gallery, with 10,000 spoons hanging from the ceiling. 
Choose from a selection of brunch dishes, from sourdough toast (A$7/ £3.50) to poached eggs served with avocado, lime and halloumi on sourdough (A$18/£8.90). Sunday brunch served 9am to 3pm.
A walk in the park
Adelaide Botanic Gardens (22) (00 61 8 8222 9311; botanicgardens.sa.gov.au; 9am to 6.30pm daily) is the perfect place for a Sunday walk. The 51-acre green retreat is right in the centre of the city. 
Highlights include the International Rose Garden, which holds more than 5,000 roses, and the Palm House, a Victorian glasshouse that was imported from Bremen, Germany, in 1875 and restored in 1995.
Take a ride
Head out to the seaside suburb of Glenelg on the tram, which leaves from Adelaide Entertainment Centre (3) every 10 minutes. The journey takes about 40 minutes and costs A$3.30 (£1.60) (A$5.20/£2.60 before 9am and after 3pm Monday to Friday and all day Saturday). Glenelg, on the shore of Holdfast Bay in the Gulf of St Vincent, is home to trendy bars, ice cream parlours and, most importantly, miles of sandy beach. 
Icing on the cake
Adelaide Oval (1) at War Memorial Drive (00 61 8 8331 5222; roofclimb.com.au), one of the world's most well-known cricket venues, will be running a new roof-climb experience from March, offering a bird's-eye view of the city. Opt either for a day or early-evening climb (times to be announced). Prices start at A$99 (£49).
Reuse content