Travel essentials
Why go now?
The spirit of Freddie Laker has returned. Norwegian (0843 3780 888; norwegian.com) runs low-cost transatlantic flights from Gatwick, reviving a Laker Airways link to Florida's south-east coast, and from July next year BA will compete on the same route.
Touch down
Fort Lauderdale airport (1) is four miles south of Downtown. Bus 6 (001 954 357 8400; broward.org/bct) runs at least hourly to the Broward Central Terminal (2) in the heart of the city for a fare of $1.75 (£1.10); a day pass costs $5 (£3). A taxi downtown costs around $15 (£9), to the beach hotels about $20 (£12).
The city is also easily accessible from Miami, which has many more flights from the UK. Miami airport is about 20 miles south. Tri-Rail trains run from Miami airport railway station to Fort Lauderdale, with shuttle buses connecting at either end.
Get your bearings
Fort Lauderdale's geography is curious, because of the Intracoastal Waterway that runs along America's eastern seaboard and which separates the beach area from the rest of the city.
The Downtown area lies on the inland side, running east-west along the New River, with the Riverwalk on the north bank. It is cut through by US1, the Federal Highway that runs from the Canadian border to Key West; the busy road bores under the New River through a tunnel (3) built in 1960. As a result the Downtown area is relatively free of traffic.
The main east-west thoroughfare is Las Olas Boulevard, which extends by a bridge over the waterway to reach the ocean. Here, Atlantic Boulevard runs north-south, giving access to miles of beach.
For more information visit the Fort Lauderdale Convention and Visitor Bureau (001 954 765 4466; sunny.org).
Check in
For the best location and sense of heritage, the obvious choice is the characterful Riverside Hotel (4) at 620 East Las Olas Boulevard (001 954 467 0671; riversidehotel.com) – built in 1936 (with a bolted-on 21st-century "Executive Tower"). Doubles start at $132 (£80) for the pre-paid "Corporate Rate Direct". Even if you stay elsewhere, it's still worth a wander through the lobby.
Most of the cheaper places are south of New River on either side of the Federal Highway. The retro Oasis Motel (5) is within walking distance of Downtown (and very handy for the airport) at the start of South Miami Road, just where US1 meets SE 12th Street (001 954 523 3043; oasismotelfortlauderdale.com). Doubles from $109 (£68).
On the beach, the ideal location is the Sheraton (6) at 1140 Seabreeze Boulevard (001 954 524 5551; sheratonftlauderdalebeach.com) – a 1950s marvel that echoes the shape of a cruise ship. You can often get a pre-paid rate of $141 (£88).
All rates quoted include tax of 11 per cent, but not breakfast.
Click here to see a bigger image of the map
Day one
Window shopping
Make an early start for the best bargains at the world's largest daily flea market. The doors of the Fort Lauderdale Swap Shop (7) at 3291 West Sunrise Boulevard (001 954 791 7927; floridaswapshop.com) open at 8am.
Take bus 40 (destination Lauderhill Mall, every half hour) from Broward Central Terminal (2); get off at Sunrise Boulevard and walk five minutes west to an extraordinary retail location – full of music, fashion, tat and Latin American food and drink stalls. After dark, it becomes a multi-screen venue for drive-in movies.
By around 11am, the outdoor areas are getting hot and the crowds begin to arrive, so an air-conditioned bus (with free Wi-Fi) back into town is a good option.
Lunch on the run
Just beyond the bulky Riverside Hotel (4), Las Olas Boulevard becomes a mass of eateries. Gran Forno (8) at No 1235 (001 954 467 2244; gran-forno.com) makes paninis with its own freshly-baked ciabatta, usually with lots of mozzarella and tomato. Devour on the terrace or as a picnic beside the river.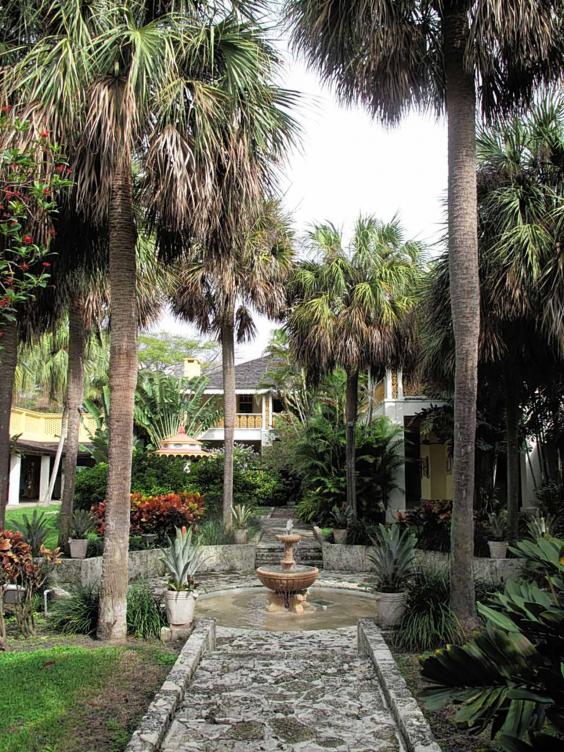 Take a hike
Begin with a stroll through the grounds and interior of Stranahan House (9) at 335 Southeast 6th Avenue (001 954 524 4736; stranahanhouse.org) – a handsome dwelling in exuberant grounds, where the story of Fort Lauderdale is told. It was originally a military settlement against the Seminole Indians. Later, Frank Stranahan established a trading post, located in this house – which he built in 1901. The city began to grow around it. Join a fascinating one-hour guided tour ($12/£7.50), at 1, 2 or 3pm daily.
Emerge from the house for a walk along the north bank following the curves of the shady Riverwalk. When you reach the Broward Center for the Performing Arts (10), head away from the river and east along SE 2nd Street. You reach the Las Olas Riverfront, a shopping/entertainment complex and shortly after, the landmark Fort Lauderdale Museum of Art (11) appears on the right at Andrews Avenue (corner of East Las Olas Boulevard; 001 954 525 5500; moafl.org; 11am-5pm daily except Monday, Sundays from noon).
Compared with the striking, ambitious exterior (and clever outdoor touches such as Impressionist landscapes on utility cabinets), you may find the interior disappointing. You might prefer to spend the $10 (£6) admission on a drink...
An aperitif
Along Las Olas Boulevard, Vibe (12) is a lounge for the ultra-cool. (If you don't qualify, then across the road is the Royal Pig Pub & Kitchen.)
But the real Fort Lauderdale vibe is to be found on the waterside, among the yachting contingent who make the city their home – at least for part of the year.
With prettily peeling paint and masses of maritime memorabilia, the Southport Raw Bar (13) at 536 Cordova Road (001 954 525 2526; southportrawbar.com) is the city's biggest purveyor of oysters. Enjoy some with the house sangria (glass $5.25/£3.30, or pitcher for $18.25/£11).
Dining with the locals
If you are tempted to stay for dinner at Southport, the catfish with fries and slaw is good value at $9.75 (£6). Back in the city, Yolo (12) (short for You Only Live Once) is adjacent to Vibe at 333 East Las Olas Boulevard (001 954 523 1000; yolorestaurant.com) and an excellent place on a summer evening. Perch at the outdoor counter, enjoying the evening breeze and coriander-seaweed crusted tuna ($26/£16) – or an old-school burger ($12.50/£8).
Day two
Sunday morning: make a splash
If swimming is your religion, then Fort Lauderdale is the global shrine – thanks to the International Swimming Hall of Fame (14), a block from the beach at 501 Seabreeze Boulevard. This combines a Museum of Swimming (001 954 462 6536; ishof.org; 9am-2pm, to 5pm weekdays; $8/£5) with the city's Aquatic Complex (001 954 828 4580; fortlauderdale.gov/flac), containing a beautiful pair of late-1950s pools.
Anyone can swim 8am-2pm at weekends (longer hours on weekdays) for $5 (£3). But get there quick: from August, the pools are closing for refurbishment.
Out to brunch
A block away, on the verge of the beach, the Oasis Café (15) at 600 Seabreeze Boulevard (001 954 463 3130; oasiscafefortlauderdalebeach.com) opens daily at 11am. The Caribbean Salad ($10.95/£7) contains avocado, papaya and sprouts (the alfalfa, not Brussels, variety).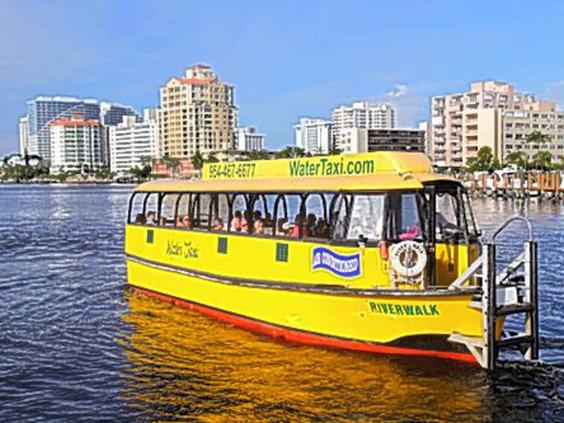 Take a ride
The scheduled Water Taxi service (watertaxi.com) plies along the New River and the Intracoastal Waterway. A day pass costs $20 (£12.50). Alternatively, a 90-minute cruise on the Carrie B (001 954 642 1601; carriebcruises.com; $25/£16) departs from Fort Lauderdale dock (16) at 11am, 1pm and 3pm (not Tuesday/Wednesdays) to ripple past the homes of the famous (in south-east Florida, at least).
Cultural afternoon
Hugh Taylor Birch was a Chicago lawyer who moved to South Florida in 1893. He donated 40 acres to his daughter, which is where Bonnet House (17) was built in 1920. Today, the walls that wrap around the Bonnet House Museum & Gardens at 900 N Birch Road (001 954 563 5393; bonnethouse.org; 9am-4pm Tuesday-Sunday; $20/£12.50) protect a fascinating mix of tropical garden, architecture and art from Spanish mission to Deep South plantation.
A walk in the park
Taylor Birch also bequeathed his 180-acre estate, Terramar, to the state. It is now the Hugh Taylor Birch State Park (001 954 564 4521; floridastateparks.org; 8am- sunset daily). A mile-long freshwater lagoon runs the length of the park. West of the water, there are trails to walk or cycle. Admission $2 (£1.25).
Icing on the cake
Lester's Diner (18) opened in 1967 at 250 W State Road 84 (00 954 525 5641; lestersdiner.com) and hasn't closed since. At any time of day or night, you can tuck into superb comfort food such as pancakes, French toast and eggs done in any style.