Long before dawn, outside Colombo's Fort railway station, a man flattens samosa skins with the heel of his hand under a naked light bulb. The row of shops and stalls overflows with snacks, water, and Sri Lankan pop music – fuel for a new day of slow travel across an island with growing boundaries. 
On Platform 3, a newspaper seller bounds across the tracks to reach travellers arriving for the first trains out of the capital. Seven years earlier, a suicide bomber killed 12 people on this platform, eight of them children. The 2008 attack by Tamil separatists came before the end of a 25-year civil war that had torn apart a country and claimed the lives of an estimated 100,000 people. 
Beyond the security guards in militaristic uniforms, there is little in the station to indicate what has gone before. The government, which brutally crushed the Tamil Tigers in the last months of battle, got to write the next chapter in Sri Lanka's history and it is anxious to present a vision of peace and prosperity. The destination of my train, which creaks into life at 5.45am, is a big part of that story.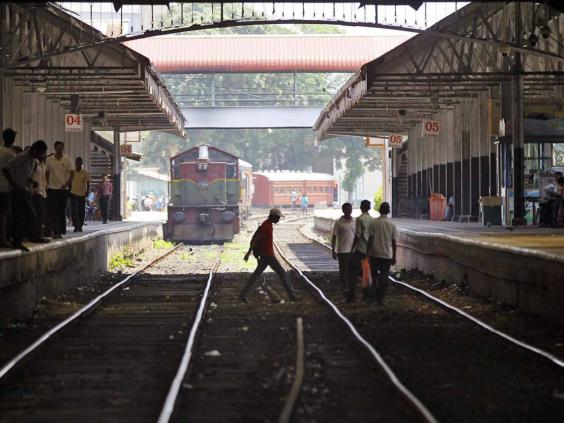 For almost the duration of the war, much of the northern half of Sri Lanka was cut off from the rest of the country. As Tamils fought for independence from the Sinhalese majority, the Queen of Jaffna became yet another victim. The train had bridged peoples and provinces for almost a century, running for 250 miles between Colombo and Jaffna. It stopped running 25 years ago, and northern sections of the track crumbled along with the stations. 
Reconstruction started soon after the Tamil Tigers' demise in 2009 and, earlier this year, jubilant Sri Lankans of all backgrounds were able to make the journey again. So too were tourists keen to expand their map of the island beyond the beaches and tea plantations of the south. For me, it is the unconventional and not always popular start to a honeymoon. 
Not far beyond Colombo's sprawl the windows fill with green. Crocuses and lilies flower above lakes, and rice fields shimmer in the breeze. The carriage is comfortable and air- conditioned, and the bumpy rails induce sleep. I'm woken by Bala, who grew up in Jaffna but stayed away during the war. He now runs an off licence in east London and is visiting his family by train for the first time. "It's quicker and better," he says, before showing me a war wound – a scar he picked up during a robbery on the Brixton petrol station he used to work in.
"This is my land, my home," says a Tamil labourer now living back in Jaffna after finding work in Germany. He was in Colombo to say goodbye to his brother, who is moving to Norway, and was happy to pay more for the six-hour train ride, which can be twice as fast as the bus. A Sinhalese doctor called Prabath joins the conversation. His family is in Colombo but his work during the week is in Jaffna. "I could not do this job before the train," he says of his commute. 
As the train rolls further north, the green land becomes drier, browner. Houses gutted by fire wear the scars of war. But we roll more smoothly on new track. Soon the stations are new, too – beacons of pink brick by the road. At Jaffna I meet Liya, our driver for the next few days. The son of tea-plantation workers from the south, he has only brought five clients up here since the war. He's far too professional to say it, but he seems puzzled by my desire to spend two nights here.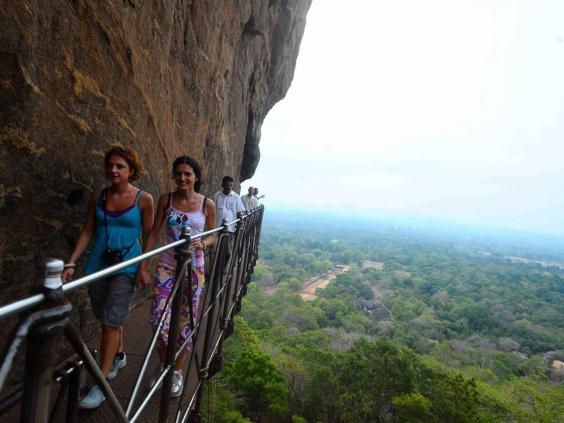 I begin to wonder myself as we check into our hotel. The Tilko boasts on its website that chief among Jaffna's attractions is "the accommodation afforded by Tilko Jaffna City Hotel that constitute a triumph of hospitality". If stained towels, sheets with other people's hair on them, rusting bathroom fittings, cockroaches, and a truly hopeless receptionist constitute a triumph, then it's a fair description. When I have to ask my wife of just a few days to stand outside the rusty shower as a human soapdish, I resolve to check out early. 
There's still time to explore the city. Hot, compact and bristling with optimism, its culture owes more to southern India than the Sri Lankan south. At the doubly misnamed Rolex Hotel, a non-luxurious café near the central market, I eat a lurid but excellent Tamil biryani. We wander around the hulking Jaffna Fort, the ruins of 17th-century Portuguese rule. At the grand public library, the cultural heart of Tamil country, photos reveal its destruction in a 1981 arson attack that helped to trigger the subsequent war.
We eat at a genuinely nice hotel – the fully-booked Jaffna Heritage, where the buffet is a thing of wonder (okra curry, coconut chutney, the creamiest dal). If you go, have a beer first at Morgan's Guesthouse, where the owner, Maria, will show you a picture of herself with Angelina Jolie, who was here with the UN in 2003. There is plenty of charm here if you look for it, but war curiosity is the best reason to venture north. And the evidence is everywhere. On the drive out of town, Liya stops on the old "highway of death". In Kilinochchi, the former Tamil Tiger capital, an enormous concrete water tower lies on its side. Bombed in the final stages of battle, it now has its own giftshop. "This tower is a silent witness to the brutality of terrorism," a stone plaque reads. Two schoolboys playing cricket inside the tower will only have faint memories of their country's bloodshed.
Our next stop looks more like the Sri Lanka in the brochures, but the company behind it is playing its own role in the island's new life. Ulagalla is a resort hotel near the northern, ancient city of Anuradhapura. Part of Uga Escapes, a home-grown group of hotels mixing with the international giants, its villas hide among trees around a 150-year-old mansion. A vast azure swimming pool attracts monkeys before sunset, and peacocks roam the grounds. It is a resort to linger in but also the base for exploring the sacred city's palaces and dagobas, towering domed monuments to Bhuddism. On a cycle tour, monitor lizards scurry away as we roll between sites. At Sri Maha Bodhi, pilgrims wearing white pour through the gates to pray before a 2,000-year-old sacred bodhi tree, reputedly originating from a cutting of the Buddha's tree of enlightenment in India. 
Our biggest concession to the tourist trail is Sigiriya, or Lion Rock. Visitors snake up via rickety steps to the top of a 200-metre granite peak that rises out of the mouth of a huge brick lion. The ruins of an elaborate palace and gardens roll off at all sides into an endless view across jungle, hills and lakes. The breeze is the reward for the climb. And so is week two, which we spend on the east coast at a hotel like no other in Sri Lanka. Jungle Beach, also part of the Uga family, is the only resort on 100 miles of sand north of the villages outside Trincomalee, a naval city. The beaches here, which stretch all the way up to Jaffna, were also cut off by the war but the government is now leasing plots. So far, Uga is the only company to move in.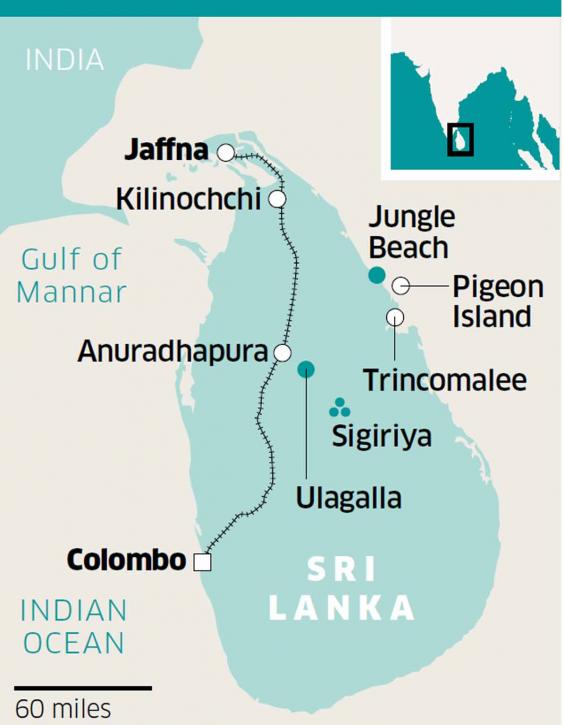 Again the villas are hidden in jungle, with sandy paths leading to an undisturbed beach. "Ten years ago this was basically no-man's land," Anandasivam Sivapriyan, the general manager, tells me at the airy poolside bar. He is Tamil, too, and left Jaffna as a teenager. He says the north will continue to develop but identifies differences in the culture. 
"A lot of Jaffna people see hospitality as a low industry," he says. "They are also not very experienced in service." This is occasionally evident at Jungle Beach, where the standard of food, among other things, is a good notch lower than at Ulagalla or the Residence, Uga's swish new boutique hotel in Colombo. I was baffled to find Nescafé presented at breakfast as a luxury (call me a snob, but this place ain't cheap). 
There are turtles and reef sharks to swim with at the deserted Pigeon Island, off Trinco. The city, with its ancient Koneswaram temple complex, is also worth a trip (go to Chaaya Blue hotel for the dinner buffet – and arrive hungry). Otherwise take a book and frequent walks along Jungle Beach itself. It couldn't be a wilder yet more peaceful place to relax. If Robinson Crusoe were the resort type, he'd check in here. And if the service seems slow at times, remember where you are. Almost half the staff are locals, Sivapriyan tells me. A group of war widows runs the laundry. "We have ex-combatants who had nothing and are now building houses and have motorbikes," he adds. "They couldn't have imagined this before."
Getting there
Simon Usborne travelled with Indian subcontinent specialist Wild Frontiers (020 7736 3968; wildfrontierstravel.com), which offers 10 days in Sri Lanka from £2,750pp, including flights, accommodation in Uga hotels with breakfast (ugaescapes.com) and private chauffeur-driven transfers.
Colombo is served by SriLankan Airlines (020 8538 2000; srilankan.aero) non-stop from Heathrow. Connecting flights are available with airlines such as Qatar Airways (0844 846 8380; qatarairways.com), Emirates (0844 800 2777; emirates.com), Etihad (020 3450 7300; etihadairways.com) and Oman Air (0844 482 2309; omanair.com) via their Gulf hubs.
More information
Reuse content