The formalities of hotel dining usually run on the same well-trodden lines – what you might call the César Ritz lines. You walk to the entrance and a well-mannered, agreeably dressed member of staff swoops in and leads you, usually with the solemnity of a cardinal, to your table; which is usually covered in a thick, off-white cloth and all the other glinting appurtenances of fine dining.
But here I am being led across the dining room, right to the other side of the room, which, as my guide helpfully tells me, is where Clark Gable famously danced with Ava Gardner, until we reach a small swing door. And then we go down. Past waiters in a white-tiled corridor, until we come to a halt outside a small open kitchen in the depths of the hotel.
"Here," says the smiling maître d', gesturing at a shiny stainless steel set-up, "is your table, sir."
At Gaddi's, in Hong Kong's The Peninsula Hotel, they do things differently. You are not just seated approximately 12 soup spoons away from Remi Van Peteghem, the man cooking your dinner; you are also in the working part of the hotel, and so not only do you have the procession of expertly realised Vendéen pigeon, and lobster soup to arrest your attention, you can also rubberneck at the mechanics of the vast, 300-room city of a hotel.
If it strikes you as odd that the flagship restaurant of the most famous hotel in Hong Kong is French, it shouldn't. Eighteen years after it was ceded back to China, Hong Kong remains Asia's pre-eminent trading hub, drawing people from all over the world, hungry for dollars. And so it is no surprise that its restaurants are as polyglot as its inhabitants.
I start my gourmet tour of Hong Kong not in a restaurant but on the streets of Mong Kok, cited in the Guinness Book of World Records as the world's most densely populated area, and until recently the centre of the Occupy Hong Kong movement, outside the main Central district camp.
Camp or no camp, exiting the MTR (Mass Transit Railway) at rush hour here is a singular experience. You don't so much get off as find yourself regurgitated; manage just about one breath of fresh air and then you're carried off in a great unfurling ribbon of humanity.
Pause for just one second to look up at the vast neon signs from Nikon, Super-X, Millet or any of the thousands of other hoardings that plaster the buildings around this part of Kowloon, and you're done for. It's like being stuck in a washing machine on high spin. Fight through the crush on Argyle and Fa Yuen Street, though, and you'll find rich rewards – rich, edible rewards.
For HK$8 (70p) you can get a square of stinky tofu smothered in hoisin sauce. The tofu, which has been soaked in a brine of milk, vegetables and herbs until it starts to ferment, comes molten in the centre and, like most of the street food here, served on a stick. "It looks," says my companion, "like a large, deep-fried lollipop."
On stalls nearby – and indeed all over the Kowloon peninsula – you can pick up similarly priced dim sum. Here that doesn't mean dainty shrimp dumplings or airy pork buns, but doughy balls studded with bits of fish and offal. These are very similar to the original form of dim sum, which originated in Guangdong, and were conceived as a sort of afternoon tea, to be eaten in the mid-afternoon before you returned to work in the fields or before you continued on your journey on the Silk Road. Usually, the act of eating dim sum is bound up with yum cha (which translates as "the act of drinking") but in Mong Kok there is no time (or indeed space) to stand around sipping and contemplating. Still, though, these dumplings cleave to one tradition: they do indeed, "touch the heart", the literal meaning of dim sum.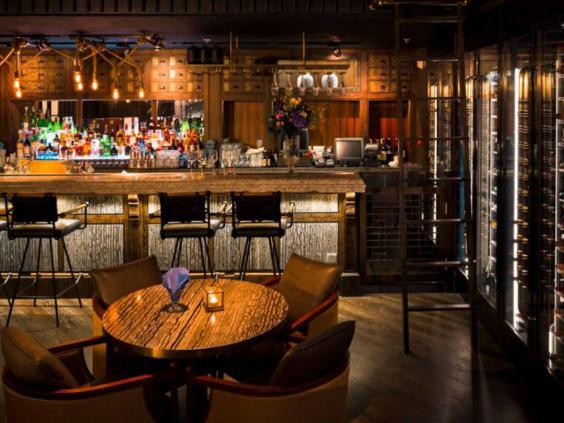 No one would accuse the dim sum at Duddell's, the two-Michelin starred restaurant at the top of David Tang's Shanghai Tang flagship, of being fillers: dainty and exquisite, yes; a danger to your shirt front, certainly. Not filling, but that's the point. Ceremony is all. Each portion – whether it be the mushroom dumpling with black truffle or the deep-fried Bombay duck, which is actually fish – is its own little world of flavour. It is a place to while away the day, and you pay for it: the average meal is HK$600 (£50) per head.
For xiaolongbao – "don't try to say it", my Hong Kong friend, Keno, tells me "just say you want the broth-filled soup dumplings" – and not a little full already, we travel on the MTR to Causeway Bay. Here amid the Burberry and Aquascutum shops, at the back of a shopping mall, you find Din Tai Fung, part of a chain of fast food dim sum and the recipient of a Michelin star in 2010. They take no bookings; you take a ticket, place your order and queue. It's low on ceremony but high on taste: as you bite into the dumplings the subtle broth slowly fills your mouth. It is less a taste explosion, more a taste flood. You can eat a full meal there for as little as HK$120 (£11).
After Din Tai Fung, it is time to head back to the Peninsula, if only to escape the crush. It is an extraordinary place, a plutocratic dream, where you can choose to have one of the hotel's Rolls Royces pick you up from the airport (complete with cocktail menu, for HK$1,600/£135) or simply land your helicopter on the roof. Its significance, though, is in its history. The Peninsula has been serving sundowners to Hong Kongers since 1928, when it was founded by the Kadoorie family with the aim of being "the finest hotel east of Suez". Indeed, the yacht-like rooms have since played host to presidents and movie stars.
As you would expect of a place which has been around for nearly 90 years, survived Japanese occupation and the setting of the British imperial sun, it has changed more than a little. Yes, they still serve the famed afternoon tea in the lobby, but that is now joined by a slate of restaurants, which in variety and distinction are pretty much unmatched. As well as Gaddi's, there is sky-high fine dining at the Philippe Starck-designed Felix; modern Japanese at Imasa; a facsimile of a raclette-serving Swiss chalet at Chesa; Verandah, with its unfathomably large breakfast buffet; and modern Cantonese at Spring Moon; to say nothing of the hotel's beachfront outpost, Repulse Bay, on Hong Kong Island.
Outside the precincts of the hotel, you will find more European-style restaurants, which seem to cater mainly to a besuited, non-European clientele. There is Alain Ducasse's Spoon, with its Michelin star, at the InterContinental hotel, and Jason Atherton, the London chef-du-jour, has several outposts here: a no- reservation tapas joint, 22 Ships; Spanish-themed Ham and Sherry; and upscale Aberdeen Street Social.
Another interesting addition to the scene in recent years is Mott 32, a high-end Cantonese restaurant deep in Hong Kong's finance district. Chef Fung caters to off-duty financiers and those other people who populate the pages of Hong Kong Tatler.
Try grandmother's marinated boneless suckling pig's trotter and marinated jellyfish and cucumber with a cup of Yunnan Reserved Ole Pu'er tea. Or, if you prefer your dinners more bibulous, make hay with Hong Kong's policy of not taxing wine.
A younger, far more hip crowd congregates in Soho, whose bars and restaurants bear a striking resemblance to its New York and London namesakes. If art is your bag, head to Poho, which is a little like London's Shoreditch. We are particularly taken with Soho's Yardbird, a pleasing juxtaposition of a restaurant on Bridges Street, which is decorated like a trendy London joint, but serves dishes that range from pork belly to gizzard and liver. It is fun and easy-going, but the cocktails, as the friendly couple on the table next to us, explain "are a danger to your plans for the next day".
Worth queuing for is Tim Ho Wan. One of the best-known restaurants in Mong Kok, this unprepossessing hole-in-the-wall joint was recently garlanded with a Michelin star – a taste of chef Gor's coriander-rich beef balls and cha siu pineapple buns quickly confirms why.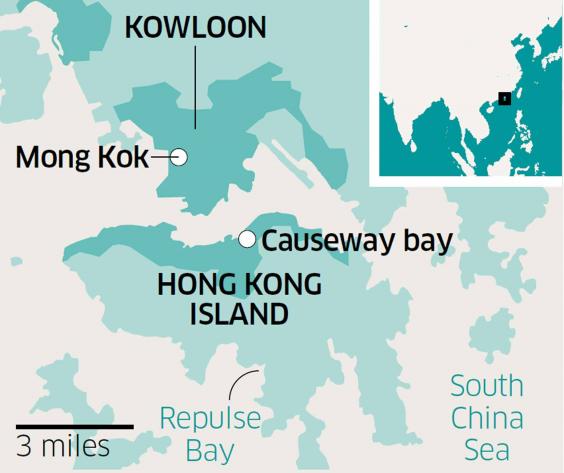 Hong Kong is a diffuse, tiring, exciting and excessive place and its food is no different. I have seldom been somewhere where I have queued for food so long and so often. And I have never been anywhere where gritted-teeth frustration disappears in the time it takes for chopsticks to reach my mouth.
But then the city is a culinary playground, where restaurants pop up and pop down with the frequency of spring bulbs. You may search in vain for that much-vaunted thing, an "authentic meal", because, here, authentic is anything that exists. But what you won't have to look far to find is a good meal. Hong Kong is as rich in restaurants as it is in dollars.
Getting there
Cathay Pacific (020-8834 8888; cathaypacific.com) flies to Hong Kong from Heathrow and Manchester. BA (0844 493 0787; ba.com) and Virgin Atlantic (0844 209 7777; virgin-atlantic.com) also fly from Heathrow.
Staying there
The Peninsula, Salisbury Road, Hong Kong (00 852 2920 2888; hongkong.peninsula.com). Doubles start at HK$4,928 (£422), room only.
Eating and drinking there
Tim Ho Wan, 9-11 Fuk Wing Street (timhowan.com).
Duddell's, Shanghai Tang Mansion, 1 Duddell Street, Central (duddells.co).
Din Tai Fung, 68 Yee Woo Street, Causeway Bay (dintaifung.com.tw/en).
Ham & Sherry, 1-7 Ship Street, Wanchai (hamandsherry.hk).
Spoon, InterContinental, 18 Salisbury Road, Kowloon (bit.ly/SpoonKowloon).
22 Ships, 1-7 Ship Street, Wanchai (22ships.hk).
Aberdeen Street Social, 35 Aberdeen Street (aberdeenstreetsocial.hk).
Yardbird, 33-35 Bridges Street, Sheung Wan (yardbirdrestaurant.com/info).
Mott 32, 4-4a Des Voeux Road (mott32.com).
More information
Reuse content