Twenty-five years ago, the canals in the 1,300-year-old "water town" of Wuzhen, 90 miles south-west of Shanghai, ran black and dense with filth. There was little or no electricity or modern plumbing. The town's once highly successful silk and textile productions were virtually moribund, and many historic buildings – some dating back to the onset of the Ming dynasty in the 17th century – were in ruins. And yet today, in the wake of a £400m re-invention which began in 1999, Wuzhen is visited by almost 1.5 million tourists a year. 
They bustle along narrow, granite-surfaced streets and alleys, and across the 30 or so hump-backed bridges reflected in river and canal waters that now glimmer like pale green Qing Hetian jade. The scenes here are almost eerily picturesque. But if you're passing through the Shanghai region, Wuzhen is an ideal destination for a historically intriguing and convivial day-trip or short stay. 
For luxe-inclined visitors, it can also be an extremely comfortable detour. For example, just across the Quianshan bridge, to the south side of the Xishi river, sits the 345-room Waterside Resort Hotel, a five-star complex covering 11 acres. Staying here felt a little like being one of hundreds of extras on a vast film-set. 
On the north side of the river, the more obvious sights include a few acres of traditionally tilled vegetable growing plots, and three or four minutes' walk westwards, the White Lotus Pagoda, a restored temple dating back to the beginning of the 12th century; it sits elegantly alongside a stretch of the 1,104-mile Grand Canal, the longest in the world and, for centuries, the key trade route between Hangzhou and Beijing.
There are many more attractions – silk and pottery workshops, soy paste and indigo fabric producers among them – which have led to Wuzhen being marketed as "a living fossil of ancient oriental civilisation". The fossil has been sharpened up on its northern edge by two moments of striking 21st-century architectural modernism. The Wuzhen Theatre, completed in 2013, looms like a vast glass and concrete armadillo; and near it is the newly opened $30m museum dedicated to the art of Mu Xin (pronounced Moo-shin) who was imprisoned in Shanghai during the 1970s Cultural Revolution because his family were among the wealthy and cultured elite of Zhejiang province. 
This once despised, Bach-playing, Nietzsche-reading son of Wuzhen has now been sanctified as a strategic cultural and commercial asset for the re-branded Wuzhen West and East Scenic Zones. The Mu Xin Art Museum, designed by OLI Architects, is very beautifully made, its cement façades embossed with the impressions of rough wooden planks – a nod to the joinery of Wuzhen's historic buildings.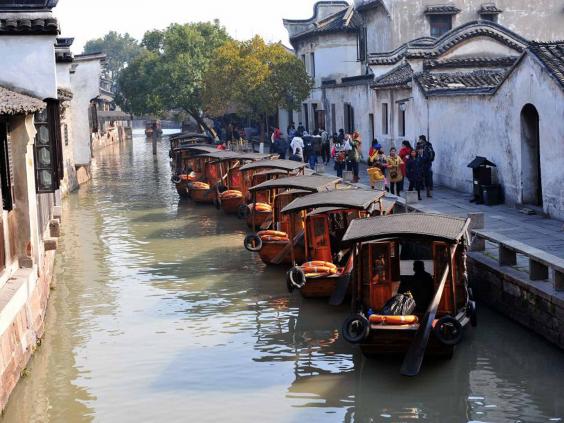 And so, a non-Little Red Book cultural revolution is in progress here. Wuzhen is unique in being the most detailed conservation-cum-tourist project in China involving a complete town, and it's being monitored by Unesco for potential World Heritage Site classification. This rebirth, masterminded by Chin Xianghong, a leader of the Chinese heritage movement, is the product of a continuing joint-venture between the privately backed Wuzhen Tourism Co and the government of China. 
Wuzhen is, in many ways, historically engrossing, yet also tantalisingly ambiguous. Does this place ring true in any profound way, or is it simply a monetised historic dreamscape? 
Renovated Qing dynasty buildings sit among newly built copies of them – not to mention artfully "ancient" KFCs and gift shops ensconced behind antiqued Qing-styled façades. Yaoluchuan, the local equivalents of Venetian gondolas – bigger, chunkier, with historically accurate forms – drift past, freighted with tourists rather than bolts of silk bound for Beijing on the once boat-thronged Grand Canal. 
About half the buildings in Wuzhen are surviving historic structures; a third have been renovated or largely rebuilt using reclaimed historic materials gleaned, typically, from cleared sites in Shanghai; and the rest of the tableau – most obviously in the form of hotels – is newly built. 
It's tempting to see Wuzhen as a very skilfully finessed Disneyfication of historic fabric to produce cashflow. But the transformation is actually more interesting than that. This is an A la recherche du temps perdu experiment in a country obsessed by the future, propelled by explosive industrial production. 
Wuzhen, simultaneously old and "ye olde", is evidence that the Chinese authorities are fretting about national historical amnesia. The country's economic growth across the past two decades has generated scorched-earth urban development, typified by the tundras of compacted high-rise blocks for workers in the bigger cities, and the obliteration of historically significant buildings. And so, what happens in Wuzhen could have a significant influence on China's strategy for tourism, and its retention of historically important sections of towns and cities. 
Wuzhen, two hours by bus or train from Shanghai, has been bifurcated and demarcated into the more genuinely historic East Scenic Zone, and the overtly touristic West Zone. Together, they cover an area about half the size of the central islands of Venice; you get from one zone to the other in five minutes by frequent shuttle buses, and you can amble the length of either zone in no more than 20 minutes, and cross them in 10. 
Wuzhen is therefore tailor-made for wandering historians, ferreting shoppers, or Sino-foodies. For the latter, Wuzhen has a conveniently dense concentration of restaurants. 
Wuzhen's general vibe is courteous and rather jolly, and for the 4,000 visitors who throng its streets and bridges every day, the town has clearly established itself as a hugely popular destination. The more standard-issue "exotic" sights include waterborne martial arts displays, shadow-plays, and dramatic bamboo pole-climbing gymnastics – the latter classed by Unesco as a National Intangible Cultural Heritage. 
This is two kinds of town in one, with two kinds of population. The bricolage of old and new buildings in the West Scenic Zone is more or less entirely service-orientated: very few genuine locals actually live here. Most of the latter live in the East Zone, which contains the highest percentage of original historic buildings, and whose tourist offerings are largely craft-based. 
Scores of tourist-targeted shops, selling a predictable range of gifts, are concentrated in the West Zone, and are quaintly named – at least to foreigners: the Mao Lao Tai Smelly Tofu Shop, for example, the Turnip Cake Store, Hengdai Wooden Bucket Store and, bizarrely, the Pakistan Handmade Oxfords Store. If you're looking for alcohol-infused entertainment, try the 500 Times club or the Up Beat ("Blues Classic Latin & Variety Kind of Music"). And should a hangover result, there's always the Heal Town Pharmacy.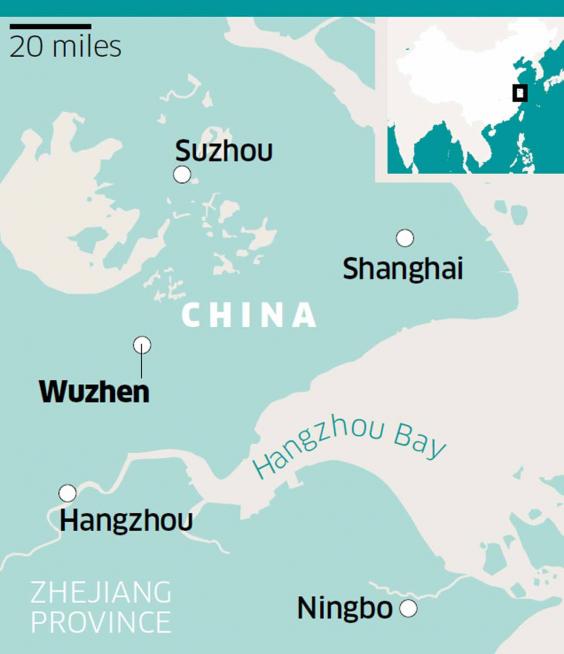 Though not a great deal of truly fluent English is spoken, it hardly seems to matter in this palpably relaxed place: there are English directions on the wooden signage, and it's easy to get the drift of things and find your way about; most menus and buffet cards are multi-lingual. No surprise, then, that a steadily increasing number of foreigners are pitching up here – inquisitive individuals, rather than tour groups. 
And most of them will surely find themselves wondering about the actual historic resonance of Wuzhen, in relation to the very skilfully built replica buildings in a water town heralded as an exemplar of place-saving in China. These perceptions are complicated by the rapidly accelerating, and increasingly cosmopolitan cultural ambitions – most notably Wuzhen's annual international theatre festival and world internet conference. The town's inaugural international contemporary art exhibition will be held from 27 March to 26 June this year; and there are reports that a touring production of The Lion King may be staged on the water. 
In the sombre, charcoal-dark rooms of the Mu Xin Art Museum, I felt far from these buzzy, busy-busy developments. Here, examples of the ex-prisoner's art and writings convey his minglings of ancient and modernist styles, whose interesting aesthetic tensions predated the coming together of old and new in Wuzhen today. 
"Culture is like the wind," Mu Xin wrote. "It knows no boundaries." 
That remark hangs in the air, especially when Wuzhen is experienced in mists, light rain, or at dawn and dusk when the outlines and surfaces of the town soften exquisitely into scenes that might almost have been painted hundreds of years ago. When Wuzhen is in this condition, it seemed to me that the boundaries between history and modernity, deep culture and appliquéd culture, and shopping and musing hazed into another more delicate and free-floating kind of reality. 
Getting there 
Jay Merrick flew Heathrow- Shanghai with China Eastern (020 7935 2676; flychinaeastern.com). British Airways and Virgin Atlantic compete on the same route. Economy seats start at £550 return, and business class from £2,720. There are two options for onward travel from Shanghai to Wuzhen: the bullet-train from Shanghai Hongqiao airport to Tonxiang, then bus or taxi to Wuzhen (about 60 minutes total); or by bus from Shanghai direct to Wuzhen, taking two hours. 
Staying there 
Rooms at the five-star Waterside Resort (bit.ly/WatersideWuzhen) start at 710 yuan (£71), with breakfast. There are other higher-end guest houses, such as the Wuzhen Guest House (bit.ly/WuzhenGuesthouse), but cheaper rooms can be found at guest houses and youth hostels for about 60 yuan (£6). 
More information