So, where did the rest of it go? Who took it and how did they do it? We've made our way through a variety of car parks and dimly lit stairways to the roof, and we're standing behind the 1930s Herald Sun neon sign. Each letter is two metres high and well spaced from the next. 
With an RKO-style transmitter tower next to it, the vista smacks of Hollywood or Gotham but, along with the 1960s Nylex Plastics clock, it's one of the most iconic elements of Melbourne's skyline. 
"When the publishers left, the sign was left to rot," says local historian Meyer Eidelson. "Then when the building was turned into apartments; they restored it. It's a landmark. But while they were doing it, some of the letters were stolen, and had to be remade."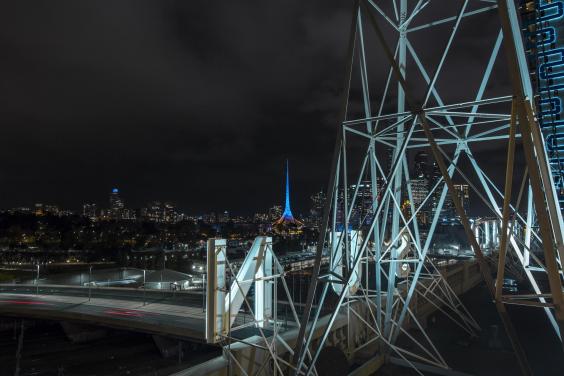 Melbourne is a city that's best known for its laneways, jazzed up with Krylon spray, stencil murals and caffeine vendors. But in the summer months it lives on its rooftops. The Central Business District (CBD) is full of bars, restaurants and surprises on top of super modern highrise towers. You can sink a negroni, sleep in an Airstream trailer, watch a movie in a striped deckchair and tour architectural oddities, all without hitting ground level.
The rooftop tour I took is one of the Walking Tours of Melbourne, run by Meyer and his team. It takes place over three hours, with stories that span everything from unsolved murder (and neon theft) to the 19th-century film studio that operated out of the top floor of the Salvation Army HQ. 
"This is the only place in the city you can see the Silurian bedrock," Meyer said, as we left one building and entered a graffiti-adorned, dead-end alleyway – Spark Lane. He gestured at layers of rock ahead of us and told me that, according to Aboriginal myth, this is the residence of Mindi, the Rainbow Serpent. With none of Melbourne's typical speakeasy-style bars or coffee-shop-cum-shoemakers nearby, Mindi is rarely disturbed by foot traffic.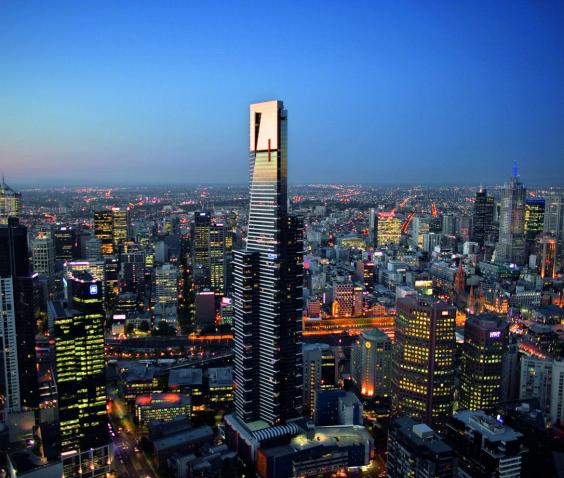 It's Melbourne's nightlife that takes best advantage of its rooftops. On a sweltering January night, mid-summer in the city, I lounged at the Rooftop Cinema atop Curtin House, drank cocktails and watched a fantastic documentary about the late architectural photographer Julius Shulman. As the images of the Palm Springs desert homes he immortalised drifted across the screen, I found my attention wandering periodically to the Melbourne skyline behind, and the glowing purple summit on top of 120 Collins. More people gravitate to the Eureka Tower, with its gold-plated windows and viewing platform, but I love 120 Collins, which has a retro-futurist, Flash Gordon feel to it. It's a great backdrop for any after-dark event.
You can engage in a fairly comprehensive bar crawl of the CBD, sticking purely to the dizzy heights: Bomba, the fairytale-themed Goldilocks and the post-work throng of Loop Roof are all favourites, with good cocktails and great views. The city's best rooftop venues don't suffer from the same curse as their equivalents in New York and London; these aren't just tourist spots or cynical attempts to rinse out an expense account, they're just good bars that happen to be outside, on high.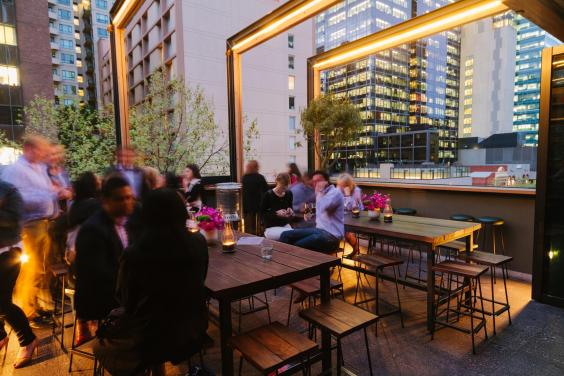 Melbourne is infinitely more relaxed than many other cities. You might think that the Fitzroy district – one of the first neighbourhoods to regenerate in a glitzkrieg of filament bulbs, chalk boards and vinyl – would turn into an unsavoury mix of Shoreditch and Camden at the weekend. The crowd on the roof of the fantastically named pintxos bar Naked for Satan (which goes by the subtitle Naked in the Sky), is boisterous but good-looking and good-natured. And the negronis – served correctly with a single ball of ice – point to a bar that knows what it's doing.
There are plenty of other ways to get high in the city. An evening at Vue du Monde, on the 55th floor of the Rialto Tower, starts at AU$235 (£140) for the most basic tasting menu without wine, but the food is some of the finest in Australia, and the 360-degree views are among the best too. On a budget? Drop by for a martini in the Lui Bar instead. Or do what one group of diners notoriously did a few years ago: jump out of the window wearing discreetly but securely strapped-on parachutes.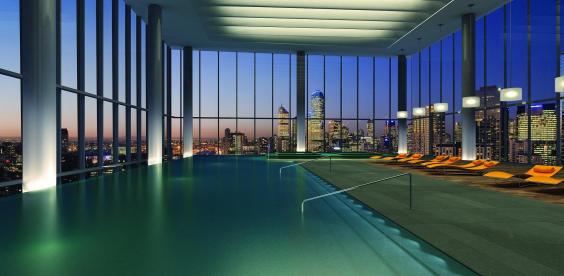 The Crown Metropol is the super modern tower in the Crown casino, hotel and fine dining complex (Heston Blumenthal is in residence with an offshoot of Dinner). You'll get great views from the floor-to-ceiling glass of the hotel rooms, but the pool, set inside a soaring sweep of glass with views far out across town, is a real beauty – although at holiday times the serenity is shattered by a sometimes frenzied family-friendly atmosphere.
The most famous pool in the city, however, is also one of the smallest: the cantilevered clear box that peeks over the edge of the roof at the Adelphi Hotel, where you can look down at people on Flinders Lane below. It's recently been renovated, and the hotel itself is still one of the best boutique operations in the CBD. There's a dessert-themed café in the lobby (the nauseatingly named Om Nom), which explains the oft-Instagrammed Liquorice Allsorts stools and the incredible hit of sugar fragrance you get when you walk in (the hotel had the scent blended especially). As something conceptual, it might be the most impressive, loveliest hotel lobby art in the world.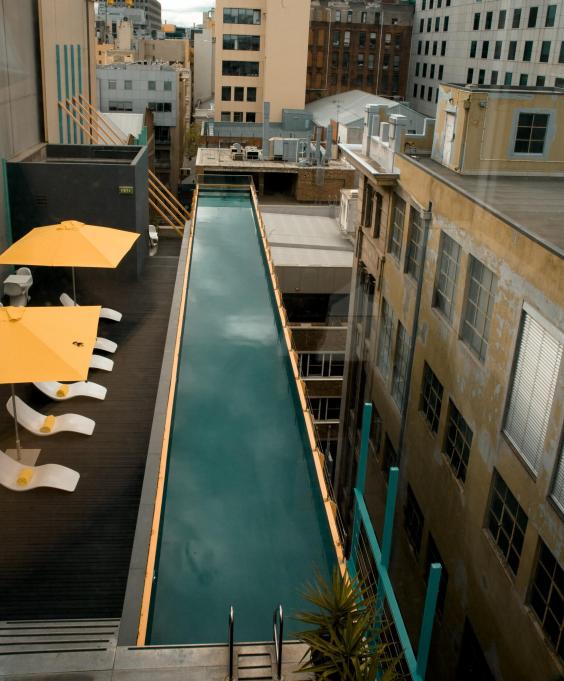 The new thing on the Melbourne hotel scene is doing away with traditional rooms altogether. The recently opened Notel consists of six pimped-out, chrome-covered, classic Airstreams on the roof of a carpark that's been clad in bright red astroturf. Throw in Amanda Lepore and some plastic palm trees and it could be a David LaChapelle shoot. Tellingly, a caravan here costs more than a night at the Adelphi.
One night, I bedded down on the roof of the unlovely Melbourne Central shopping mall. Last year a forward thinking non-hotelier set up in business with a bunch of luxury tents in the middle of town. St Jerome's – The Hotel has a bar, a shower block, and on arrival you get an Esky (cooler) stocked with beers and snacks. Again, it's not cheap – and certainly not for everyone. The novelty would wear off after a couple of nights, but the tents are plush, with proper bedding, and the whole thing feels romantic and, after a few drinks, mildly fabulous.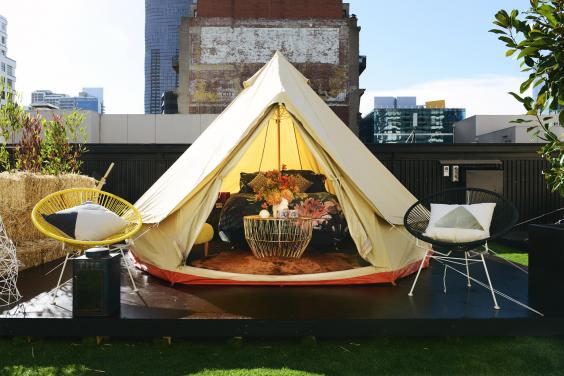 Like rebranding burgers or fried chicken as something indulgent, fancy and gourmet, it is rip-roaringly Millennial. And like everything else that Melbourne did before the likes of London – from flat whites to small plates to an obsession with ampersands – it's bound to catch on. Soon every city will be full of tents on rooftops, with brightly coloured circular 1950s cane chairs and ping-pong tables. It'll happen. Melbourne is always on top of things, and trends trickle down.
Travel essentials
Getting there
The writer flew with Qantas (qantas.com), which flies from Heathrow to Melbourne via Dubai from £648 return. 
Staying there
Adelphi Hotel (adelphi.com.au). Doubles from AU$335 (£200), room only.
Notel Melbourne (notelmelbourne.com.au). Doubles from $395 (£235) per night, room only.
St Jerome's The Hotel (stjeromesthehotel.com.au). Rates start at $420 (£250) per night, B&B.
Visiting there
Walking Tours of Melbourne (melbournewalks.com.au). Rooftop tours from AU$30 (£18) per person for groups of 11 or more, AU$180 (£107) for a private group of three.
More information
Reuse content