A dot bounces left and right above me, kicking up powdery plumes from the meadow, where in summer cows graze among wild flowers. Today, a metre or more of undisturbed snow covers the ground. It glows as the sun meets the ridge across the valley. Soon the dot takes on the shape of my brother. He leaps over the track where I stand, snow lapping against his waist, and lets out a cackle as he flies past me. When he disappears into the white-cloaked trees below, I set off after him, leaving a track next to his.
The final run of the day started at a place that is loaded with meaning for us, in conditions that could scarcely be better. Croix de Coeur is a ridge on which stands a large wooden cross. It looks down on the pitched-roof sprawl of Verbier, the Swiss town famed for its off-piste skiing. When the snow is untouched, the light golden and the mountain quiet, it's impossible not to stop by the cross and drink in the view. It's the kind of place that can give the stoniest men pause to think on life. 
Few could have more to think about here than Patrick and me. Because this was also one of our father's favourite places. Since his death in an avalanche 15 years ago this month, it has come to symbolise a mountain inheritance – the gift of a sport like no other – and a bond now entering a new stage in our lives. A couple of winters after our father's last run in Canada, we came here with our mother to scatter his ashes in the snow at Croix de Coeur, not far from the cross itself.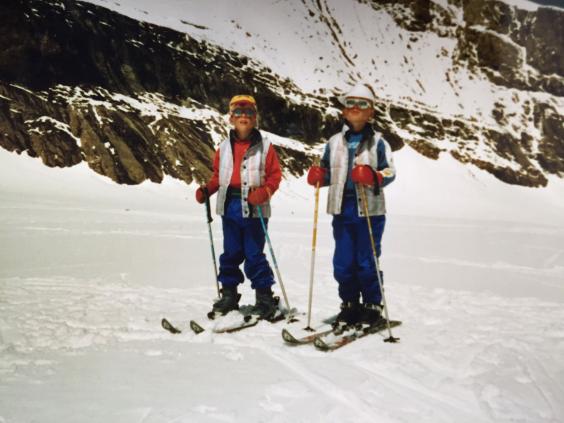 Patrick and I are fairly different people with fairly different lives, but on the mountain we ski and think as one. Now, as we approach our mid-thirties and start our own families – we are both newly married, Patrick will soon be a father – our trips are becoming harder to carve out of winter. Yet they sustain a bond as solid as mountains, around which life can change quickly. 
Snow entered our blood umbilically. Our parents, Robert and Gilly, met and honeymooned on skis. As children we'd stay with sympathetic grandparents, all four of whom also skied, before mum and dad returned with peculiar suntans from their latest mountaineering trip. In the winter of 1987, the snow came to us in rare abundance. I suspect Dad remains the only person to have skied from New Cross, where we grew up in south-east London, to Greenwich, where he worked. In his lunch hour, he bagged several first descents on the hills of Greenwich Park.
Our first family ski trip came in 1990, when I was seven (Patrick is 20 months older than me). Progress was frustratingly slow in those days, when the skis were as slight as our knees. But by the time of our first visit to Verbier, in 1994, Mum and Dad were introducing us to big,  off-piste skiing, for which there are few better destinations. Dad spent a season here as a young man, washing up dishes to stay afloat, and paid his last visit weeks before he died. The resort has everything he loved in skiing: trees, high cols and couloirs accessed by traverses or hikes, and good friends. It was tough at times for us to keep up, but we kept at it and, the odd tantrum notwithstanding, loved it, too.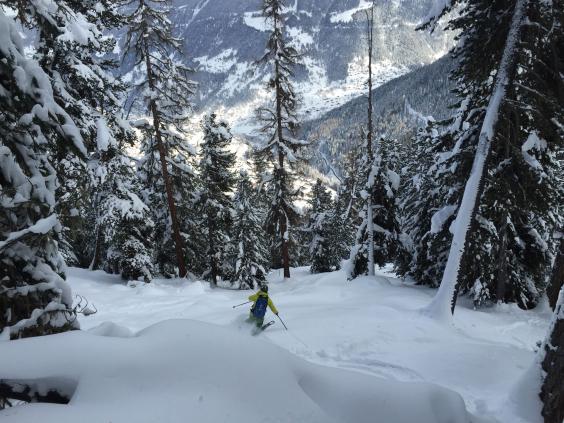 We grew up skiing in Dad's tracks, but there was never a question after the avalanche, when Dad was 46 (I was 18), about our will to continue. Skiing was just what we did. Mum, who had witnessed the accident, has continued to ski, with her new partner, Ian. And Patrick and I ski together as often as we can. In the past 10 years, we've muscled into cable cars in Chamonix on a snow day, cooked moose stew in a remote cabin near the Canada-Alaska border, and ticked off the steepest couloirs in the Dolomites. 
But Verbier feels like a mountain home. In 1999, we spent Christmas here as a family. Our grandparents joined us, years after they had put away their own skis. So for Patrick and I, it was the obvious place to come back to, 15 winters after Dad skied his last. 
Big money has transformed  the town even since then, as royals, celebrities and the rich build giant chalets. On the day we arrive, we pop into the W Verbier, a new luxury hotel where you'll struggle to get a double room for less than £400 a night. 
There are also new lifts and, on the Croix de Coeur, a new restaurant built pretty much on my  father's ashes. There is much that he would not recognise – but not everything changes so quickly. Our lodgings recall the ski holidays of our youth. The Hôtel de la Poste is one of the oldest in town. The décor – brown bathrooms with white sachets of shampoo – is the same as it was after a refurbishment in the late 1980s. We wonder whether the boiled eggs at breakfast have been simmering since then. But it's clean, perfectly located, and almost admirable in its resistance to change.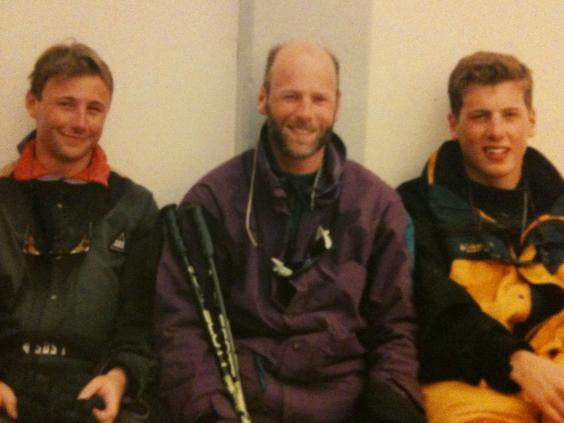 Happily, the mountains themselves are the same, too. And Patrick and I strike gold, arriving as a metre and a half of snow falls after a New Year drought. We ski a day with a guide, vital when the avalanche risk is this high. He takes us to Bruson, on the other side of the valley, where we put skins on our skis and hike up the Col de Chargerat three times for the descent to the valley floor, making new tracks each time. The guide, who grew up here, says he's rarely enjoyed snow so light. 
After three days we hop over to the next valley for more. The short journey to Grimentz is like going back in time. Now linked to neighbouring Zinal by a new cable car, the village has one nightclub, and a handful of shops that close for three hours at lunch. Great skiing and the availability of good wine and cheese are among the few things it has in common with Verbier, making it a winning, complimentary stop on a tour of the Valais region. 
We look up Nick Parks, a British mountain guide based in Zinal, where English voices remain rare. He's in his fourth season and has no plans to leave. And the snow just keeps on falling, largely confining us to the trees but happily so. We bound through glades and between chalets and raccards, old granaries on stilts, on the run down to the neighbouring village of St Jean. At La Gougra, a tiny bar and cafe, the tables empty in a flurry of gloves and half-finished beers when the 4:20pm bus back to Grimentz rolls into view through the window.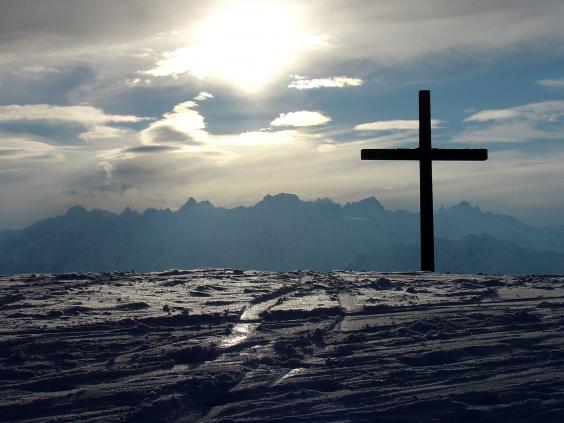 For five days we do the kind of skiing Dad dreamed about, and which we now dream about, too. In adulthood, Patrick has become the better all-round skier, and has inherited Dad's radar for finding good snow. Where I used to follow Dad, I now ski behind my brother. On lifts and in the evenings we talk in a way that we don't do often enough at home, taking in marriage and imminent fatherhood; shared memories; ideas for our next trip, and how we might pass on the sport to our children. 
We don't ski to honour a memory, although that's nice when we think about it. And if a trip to Verbier can be compared to a visit to a cemetery, it is a cemetery with unlimited outlets for thrills, without the need, in our minds, for tears or flowers left to wilt. Because if we learnt one thing from our father – and it is a lesson we've honoured here with every run – it was that to ski well in good company and deep snow, as light and clean as the second it fell, is one of the most joyous things in life. We drink to that after our descent from the Croix de Coeur.
For more on travel and lift passes: verbier.ch/en. For the Hôtel de la Poste: 0041 27 771 66 81, hotelposteverbier.ch, and rented skis at Oreiller Sport (0041 27 771 19 72). To hire a guide: guideverbier.com. To book a guide in Grimentz-Zinal, contact mountaintracks.co.uk