A confession: I like to nose around people's houses. I may not be a snooper, but I love seeing the types of books people own, the records they play or the pictures they put in pride of place to get a glimpse into a person's life. Which is why, sitting in a total stranger's Paris apartment, munching on canapés and sipping wine while ogling their living room, I feel an undeniable thrill of excitement.
Moments earlier I'd stepped through a large wooden door down a side street in the 14th arrondissement of Paris to be greeted by Marie, a chic-looking French woman with a shock of dark hair sporting a crisp white shirt and leather trousers. She ushered me and the rest of my party – all of whom she'd never met before – into her first floor abode before swiftly getting us settled with salmon tarama (a type of taramasalata), fresh bread and wine from Burgundy to feast upon. But I'm as interested in taking in our host's home – complete with ornate iron balconies, blown up still-life photographs and an array of cook books – as I am in the food. 
Marie is one of 22,000 currently indulging in the unconventional practice of inviting strangers into one's home in order to feed them. She is a host signed up to VizEat, a start-up that lets travellers book interesting food experiences in 110 countries across the globe. It was an idea dreamed up nearly four years ago by co-founders Camille Rumani and Jean Michel Petit after they had been travelling in different countries and had the same stand-out experience: eating the kind of food you can't get in a restaurant in a local family's home. So they set up the Airbnb of eating, creating a platform where tourists can connect with local hosts and arrange to come to their homes for dinner, a cooking class or maybe just wine and cheese and a chat. Apple CEO Tim Cook has already tried it.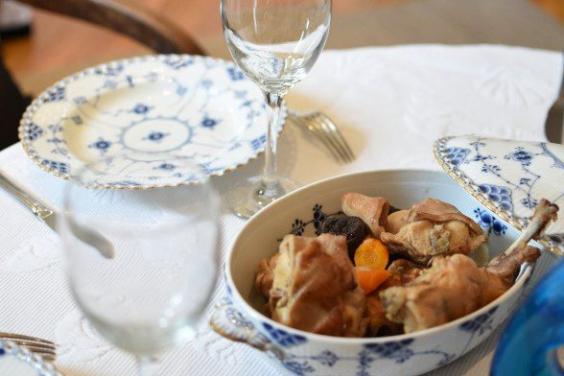 Our party is having a three-course meal prepared by Marie, a former advertising exec and keen photographer who recently completed a qualification in patisserie. Having a nose around her home aside, part of the charm of the experience is hearing about her life as she serves lavish courses upon a dinner table dressed with pink, yellow and orange flowers. She tells us she learned to surf for her fortieth birthday and plans to hit the waves in Tel Aviv this year, before handing around a plate of steamed green and white asparagus with raw fennel and pine nuts. The vinaigrette is served in a teapot (she ran out of serving receptacles), and the asparagus is from the southern coast of France. 
The 10 Best Restaurants in the World 2017
The 10 Best Restaurants in the World 2017
1/9

1. Eleven Madison Park, New York, USA

World's Best 50 Restaurants

2/9

2. Osteria Francescana, Modena, Italy

World's Best 50 Restaurants

3/9

3. El Celler de can Roca, Girona, Spain

World's Best 50 Restaurants

4/9

4. Mirazur, Menton, France

World's Best 50 Restaurants

5/9

6. Asador Etxebarri, Axpe, Spain

Mariano Herrera

6/9

7. Gaggan, Bangkok, Thailand

FB://Allwecandid

7/9

8. Maido, Lima, Peru

Jose Caceres

8/9

9. Mugaritz, San Sebastian, Spain

World's Best 50 Restaurants

9/9

10. Steirereck, Vienna, Austria

World's Best 50 Restaurants
It's important to Marie, she says, that the food she serves be in season, which is why we have turnips and caramelised carrots to accompany our slow cooked veal later on, with a fragrant pine nut and sage paste made from the last of the season's bear's garlic leaves. By the time we get to dessert – a blood orange tart presented with half a large Nice lemon on top – we've been given a taste of our host and her life, and treated to a lesser known side of Paris. 
The food is delightful, as is the warm atmosphere that comes with being welcomed into someone's home as opposed to a faceless restaurant. But the whole way through dinner, I have a slightly unsavoury question on my mind: why would anyone invite strangers into their home? Aren't hosts worried that, well, anything could happen? 
The answer is no, not really. Marie says that, being well travelled herself, she likes meeting new people from different countries and sharing the experience of French cooking. And her sentiments are echoed by other hosts I speak to. Elodie, who I joined on a food tour of Montmartre earlier in the day, loves to share her knowledge about the local community while Benedicte, who shares a family recipe for macaroons, said her husband was more worried about her cooking for strangers than she was.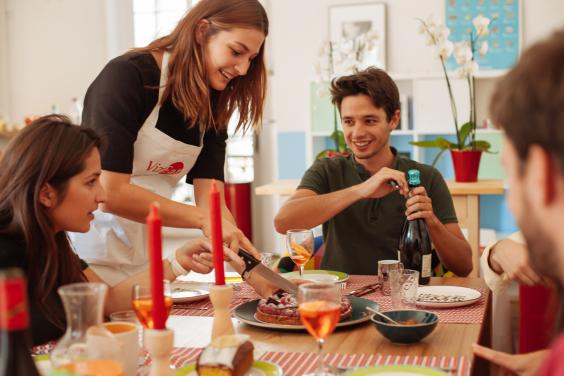 For guests, there's the peace of mind that comes with knowing that the hosts have been fully vetted by the VizEat team; plus they can message beforehand to get a sense of what their chef for the night will be like. 
This isn't one for bargain hunters – our three-course meal with Marie cost €59 a head, though hosts set their own prices, so there are cheaper options. But there's no faffing around with cash: bills are taken care of via a secure payment service on the VizEat website. And for a taste of authentic Parisian life, three courses of quality, locally-sourced fare, and Marie's hospitality, it's definitely worth it. 
Travel essentials
Getting there
The writer travelled as a guest of VizEat. Eurostar goes from London St Pancras to Paris Gare du Nord from £58 return.
Staying there
The Hotel Castille sits next to the headquarters of Chanel, with modern and 1930s rooms to choose from. Doubles from €260, room only.
More information
Marie's VizEat profile is here 
Reuse content