Don't we all secretly feel like we deserve to live in a palace? Well, in Genoa, you can now rest your head in grand, historic style. The fourth floor of the Lamba Doria Palace, in the heart of the city's medieval old town, has just been transformed into Le Nuvole, a B&B that combines careful restoration of the palazzo's historical features – including original frescos – with chic, contemporary Italian style.
It is one of Genoa's "Rolli Palaces", 42 of which are protected by Unesco. These noble residences, with high ceilings, grand staircases and elaborate stucco ornamentation, were on an official list (the rolli) of palaces where visiting dignitaries could stay during Genoa's Golden Age, between 1575 and 1664, when its wealthy merchants became the bankers for much of Europe.
THE BED
Le Nuvole's 12 rooms marry a rich history with mid-century modern and contemporary styling. With bathrooms newly built within each room, the restoration involved reconfiguring the space – mezzanine levels were added above the bathrooms, taking advantage of the enormously high ceilings. These open-plan upper levels may house your bed, or just extra living space. Our junior suite featured an over-sized floor lamp arcing over two wing-shaped walnut and leather chairs, contrasting with pale stucco flower garlands twirling up the wall. A large bathroom, with an enormous tub and monsoon shower, was clad in slate-grey tiles.
There's no in-room refreshment, but you can help yourself to drinks and snacks from the breakfast room at any time. Rooms are spacious, with marble floors, tall windows and classic pieces such as Arne Jacobsen Egg-style chairs and Eames-esque loungers.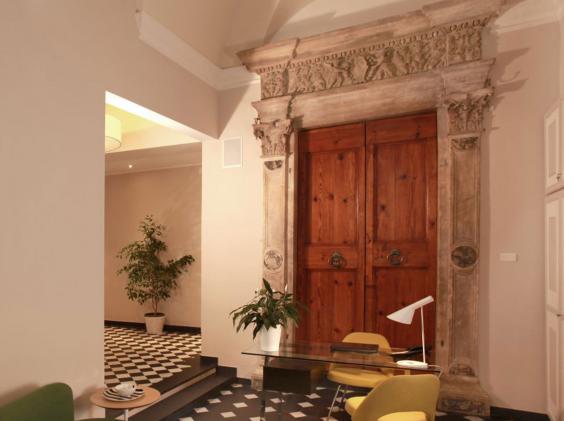 THE BREAKFAST
A buffet of fruit salad, yoghurt, cereal and toast is given a decadent touch with a homemade, daily-changing delicacy: apple pie, melting almond biscuits or apple fritters. Best of all is the fresh, salty focaccia – a Genoese speciality – which the host recommends dunking in cappuccino. It works a treat.
THE HOSTS
Matteo Paini was brought up in Genoa, but left the city for an international career as a photographer. He was drawn back by the project, taken on with his retired father, to restore the palace. Paini now runs the B&B; his dad helps out by baking those delicious treats for guests.
The renovation took two years. Restoring the pretty plaster-work was a major undertaking in itself: "there were fifty layers of paint that had to be cleaned off", he explains. With a photographer's eye, Paini had fun decorating, trawling Italian furniture factories to give Le Nuvole its smart, modern feel.
THE WEEKEND
Genoa is less on the tourist map than rivals such as Venice, but there's plenty to entice. Its medieval centre is a warren of tall buildings and tiny winding streets, known as caruggi. The Old Town is home to lively bars – try the buzzing Piazza delle Erbe for a taste of nightime café culture. The Porto Antico harbour area was re-designed by Shard architect, Renzo Piano, in 1992, and is home to a world-class aquarium (00 39 010 23451; acquariodigenova.it).
Via Garibaldi is the main street for Rolli Palaces – some are in private hands, but you can venture in others. Historic sights include Palazzo Ducale (www.palazzoducale.genova.it) – the Doge's palace – and the splendidly humbug-striped San Lorenzo Cathedral (00 39 010 557 2903; turis mo.provincia.genova.it). See www.visitgenoa.it or www.turismoinliguria.it for more information.
THE PIT STOP
Embrace the carbs: as well as the fantastic focaccia – try it with different toppings for an on-the-go lunch, Genoa is also the home of pesto. Verdant trofie al pesto is a menu staple. Rosmarino, on Salita del Fondaco 30, is the place to try it, with pasta dishes from €9 (00 39 010 251 0475; www.trattoriarosmarino.it).
Around the corner from Le Nuvole, in Piazza Campetto, is new cocktail bar Les Rouges, run by red-headed Italian brothers (00 39 32 9349 0644; lesrouges.it). Another old palazzo, its beautiful, if flaking, ceiling fresco draws you in, but you'll stay for their mixing skills and negronis (€6.50).
THE ESSENTIALS
Le Nuvole, Piazza delle Vigne, Genoa, Italy (00 39 010 2510018; hotellenuvole.it). B&B doubles from €85.
Holly Williams was a guest of British Airways, which offers return flights from Gatwick from £89 (0844 493 0787; ba.com).