Norman Bates notwithstanding, there's something romantic about motels. Perhaps it's the hazy glow of the vacancy signs, or maybe the Jack Kerouac-inspired image of a weary traveller pulling up in a convertible. In either case, The Graham & Co - a recently refurbished 1940s motel in the pretty village of Phoenicia in upstate New York - will be a big hit among fans of mid-century Americana.
Set at the foot of Hunter Mountain (the largest in the Catskill mountains) and just two blocks from Phoenicia's kitsch main street, the building's stark design serves as a canvas for some carefully considered minimalism. Whitewashed walls, grey detailing and natural wood tones offset the dip and sway of the dazzling mountain scenery, making this the perfect weekend escape from the Big Apple.
THE BED
The 13 rooms are perhaps best defined by what they don't contain; there are no TVs, no velvet curtains, no marble bathrooms and no fancy fittings. Instead, the reclaimed wood furniture is simple and functional, with crisp details such as a salvaged glass jar lamp, or a tin vase of dried flowers reinforcing the rustic, modernist flavour. Outside, guests lounge around a tastefully decked pool on the edge of a large, leafy garden. Bikes are on loan for local forays and there's a fire pit for stargazing and marshmallow roasting in the evenings.
THE BREAKFAST
Breakfast is locally sourced and uniformly delicious. Cranberry pecan bread, organic brown eggs and cider donuts (not the hard stuff) are among the offerings, all with an assortment of Harney and Sons teas and Southdown coffee.
The one snag is that breakfast is served only at weekends. If you're here on a weekday, your best bet is to walk five minutes into town, where Sweet Sues (001 845 688 7852) serves giant blueberry pancakes. For healthier fare, hop in the car and head over to The Phoenicia Diner (001 845 688 9957; phoeniciadiner.com) just 10 minutes' drive away on Highway 28. The highlight here is the Arnold Bennett Skillet, a smoked trout and parmesan omelette named after the English author of The Grand Babylon Hotel.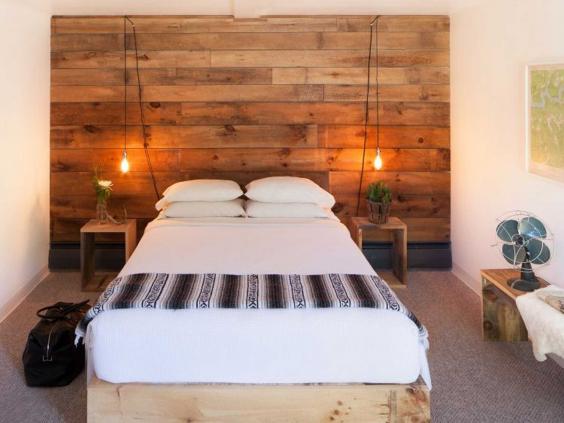 THE HOSTS
The Graham & Co is the brainchild of Jason Gnewikow, Jeff Madalena, Amanda Bupp and Bianca Barratina - all Brooklyn residents working in the fashion or design industry. Jason - creative director at the Williamsburg-based design studio, Athletics - explained how the idea for the motel came about: "I think the main inspiration was a Donald Judd aesthetic: hyper-minimal, right angles, square lines; but using natural materials that were at hand in the Catskills."
There are plans to open a lounge and a bunkhouse on the property, and the four friends are also toying with the idea of moving their brand to California. "Joshua Tree just outside Los Angeles could be a cool place for the next project," says Jason. "We love the idea of secondary markets that are in close proximity to larger urban areas."
THE WEEKEND
With its rivers, lakes and Rip Van Winkle-style mountain ranges, the Catskills has long been a bolthole for city-fatigued New Yorkers. Phoenicia is about two-and-a-half hours' drive from Manhattan and a short drive from Belleayre Ski Resort (001 845 254 5600; belleayre.com). In the warmer months, Panther Mountain - a ring-shaped valley formed by an ancient meteor strike - is a hikers' favourite.
For an artist's view of the region, don't miss Opus 40 (001 845 246 3400; opus40.org). The life's work of American sculptor Harvey Fite is now an otherworldly sculpture garden, complete with terraces, ramps and rain-fed pools. I spent an hour wandering through the grounds whistling "Opus 40": the Mercury Rev song inspired by Fite's bizarre creation.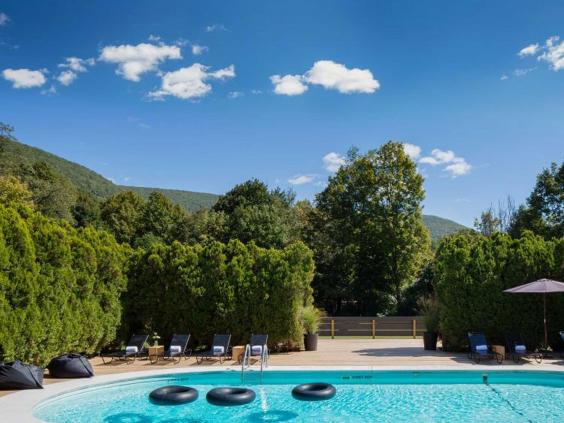 THE PIT-STOP
For picnic paraphernalia, try Phoenicia Delicatessen (001 845 688 5125). Owner Margaret Nolte makes a mean roast-beef sandwich, as well as Scandinavian-style staples such as pickled herring and potato salad.
For dinner, drive 15 minutes west to Peekamoose (001 845 254 6500; peekamooserestaurant.com) in neighbouring Big Indian. Chef Devin Mills began his career at New York's Le Bernardin. The smoked rainbow trout ($22/£13) and slow-braised beef short ribs ($28/£17) here are testament to his stellar training.
THE ESSENTIALS
The Graham & Co, 80 Route 214 Phoenicia, New York, US (001 845 688 7871; thegrahamandco.com). Doubles start at $136 (£91), excluding breakfast.
Trailways Buses (trailwaysny.com) run from Port Authority in New York City to main street Phoenicia daily; $63 (£42) return.