Lima's Barranco neighbourhood is the epitome of boho chic. Cutting-edge galleries stand beside cool bars and quirky corners housing everything from vegetarian pizza parlours to the beautiful, wooden Bridge of Sighs. In the early 20th century, this Pacific-side district was where the wealthy upper class spent their summers, and while it fell into decline a few decades later, many of Barranco's decayed Belle Époque mansions have now been given a new lease of life. Every twist and turn along the cobbled streets reveals another colourful building, lovingly restored to take on a 21st-century dimension.
Casa Nuestra is a charming property, revamped by its owners, that occupies the second and third levels of a sunflower-yellow house on the Miraflores side of the neighbourhood. The vibe is laid-back, and despite the boho guesthouse tag, prices remain on the economical side.
The bed
This B&B. set on a quiet residential street, has five rooms that range between a well-sized single to a loft-style studio apartment with kitchenette. On arrival, a key is thrust into your hand – this is very much a get-on-with-it kind of place that will suit more independent travellers.
With just the wooden floorboards in common, each space is different, from the colour scheme to the textiles and art work. Shared areas include a brick-hued living room with a leather sofa and slouchy bean bag for reading or quiet time, while the bright and breezy upstairs terrace with wrought-iron furniture is an ideal spot for when the sun (eventually) bursts in front of Lima's usually cloudy skyline. With an eclectic style, artefacts from the couple's travels as well as books, rugs and a fluorescent work by renowned local chicha artist Elliot Tupac complete the bohemian look.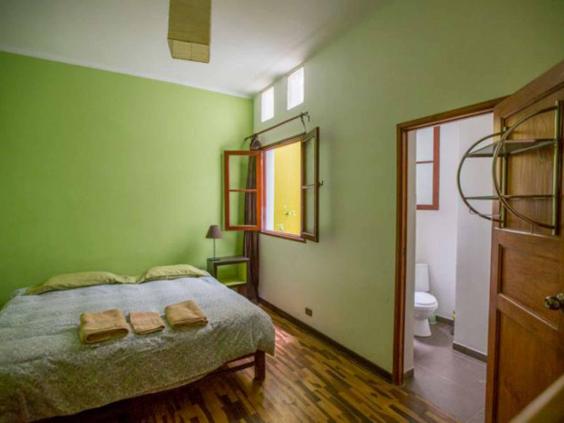 The breakfast
Peru is known for its diverse range of produce, spanning the Amazon, the Andes, and the Pacific. A simple yet effective breakfast incorporates fresh tropical fruit such as papaya or the more unusual granadilla (a type of passion fruit) and lucuma (eggfruit). Served at the kitchen bar, where there's space for four, breakfast also includes tea, coffee and a small selection of bread and spreads. Guests can make use of the kitchen facilities.
The hosts
Casa Nuestra is owned by an Italian and his Peruvian wife. While Francesco used to run what he calls "quite a successful B&B in Florence", he realised there was too much competition in the bosom of the Renaissance. After he and Lima native Carmen married, they decided to head to Peru in 2011 to raise a family.
The weekend
Much like the seagulls soaring on nearby air streams, it's easy enough to be swept along with the Barranco vibe, popping into galleries, markets or cafés on a whim.
Highlights include Dédalo Arte (Paseo Saenz Peña 295; 00 51 1 652 54 00; dedaloarte.blogspot.com), a work of art in itself, given that it's a converted mansion-turned-Aladdin's cave dealing in handicrafts, jewellery, and recycled wares. Pop through to the back patio for a herbal tea and a piece of cake.
Barranco's most riveting photography gallery is home to some of Mario Testino's works. The MATE (Pedro de Osma 409; 00 51 1 251 7755; mate.pe) showcases the Peruvian photographer's most famous muses, including Kate Moss, Madonna and Gisele Bündchen; an entire room is dedicated to Diana, Princess of Wales.
Feeling peckish? Drop by the Choco Museum (Grau 264; 00 51 1 477-3584; chocomuseo.com) for a workshop – you get to take your produce home (or simply devour it on the spot).
And if all that hard work pounding cocoa beans has made you thirsty, swing by the bar at Hotel B (San Martín 301; 00 51 1 206 0800; hotelb.pe) for a pisco sour. This stunning boutique hotel is a stone's throw from Dédalo and has ground-floor tables that are perfect for watching the world go by, and a roof terrace with unrivalled views. Book ahead for the best seats.
For something more casual, head to the Barranco Beer Company (Miguel Grau 308; 00 51 1 247 6211; barrancobeer.com), a gastropub with a fine line in craft ales and choptails – cocktails with a beer base.
The pit-stop
For canteen-style dining enjoyed by all corners of society under one tin roof, head to neighbourhood stalwart Canta Rana (Genova 101). On the outside it looks like a hole in the wall. Inside, its dishes such as scallops au gratin (vieyras gratinadas) and ceviche are pure poetry.
The essentials
Casa Nuestra, Jiron Tumbes 270, Barranco, Lima, Peru (00 51 1 248 8091; casanuestraperu.com). Doubles start at $50 (£32). The owners can arrange airport pick-ups.