On first inspection, the Hôtel des Dromonts might not look like a listed building. The steeply angular, shingled structure resembles a flat-topped pyramid, its quirky planes matched by interior arches and sloping floors designed to maximise views of the surrounding mountains.
The concept of high-rise skier cells was inspired by Le Corbusier's early 20th-century models for dwelling in crowded cities and can be found throughout the purpose-built resort of Avoriaz. Built in the 1960s, des Dromonts adapted the Swiss architect's ideas to set the style for vertical resorts in many parts of the French Alps.
After 50 years as Avoriaz's only hotel, des Dromonts's game-changing significance has been recognised with a French 20th-century patrimony classification. Good news for social historians, less so for Megève's high-end Sibuet Group when it wanted to turn the dingy three-star into a smart four-star. To conform with regulations, its architects had to leave all existing interior walls in place. Creating 34 luxury bedrooms out of 34 orange and purple units with tiny en-suite bathrooms was a challenge.
The conjuring trick was completed during three months last autumn, at a cost of €2m, in time for a pre-Christmas opening. The network of interlocking public rooms on varying levels covers all the bases in the minimum of space. The reception area has a dais with comfortable seats to encourage instant relaxation.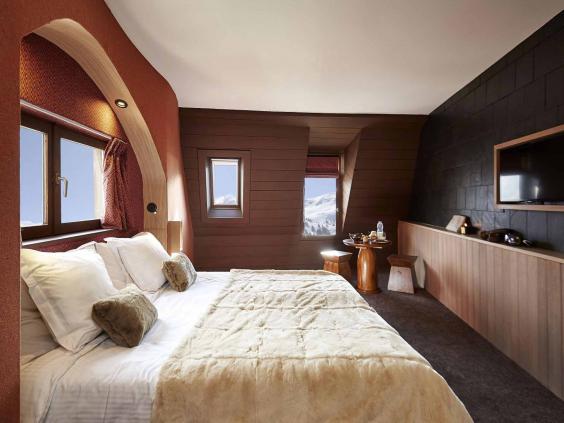 Cowhide walls and arches made of white roughened concrete divide the Le Festival Bar – home to a film festival from 1973-1993 – into eating and drinking areas. Old photographs feature past heroes, most notably a series of images of the derring-do skier who plotted a descent down the hotel's vertiginous sides to leap safely into the snow below. Head upwards for mouth-watering seafood in Les Enfants Terribles, named, like other Sibuet restaurants, after Jean Cocteau, who was a regular visitor in the 1950s to Hôtel Mont-Blanc, the group's Megève flagship. The hall of mirrors takes you down to the Pure Altitude spa and the gym.
Location
Avoriaz is the heart of the Portes du Soleil, a dozen resorts straddling the Franco-Swiss border covered by a single lift pass (portesdusoleil.com), around 90 minutes' drive from Geneva. The Hôtel des Dromonts is ski-in, ski-out: clip in at the boot room door to access the main lift network within moments. The resort is the gateway to challenging black descents down to Les Prodains and onwards to the sweeping pistes of Morzine and Les Gets. Alternatively, a swift ascent to Chavanette opens up runs to Les Crosets and Champéry in Switzerland.
Avoriaz is on a long-term mission to upgrade from mid-budget to sophisticated hotspot, with at least one five-star hotel in the pipeline. Many visitors arrive via the new Prodains Express above Morzine, but those who come by road will appreciate the welcome in Le Village, a chic four-star apartment development. Aquariaz (avoriaz.com), with its pools and water playhouse, is part of the same scheme, as is the outdoor ice rink. There's also a bowling alley, pool table and bars opposite des Dromonts.
Comfort
The hotel's 34 rooms are divided into 15 classics with showers, 13 superiors with free-standing bath tubs, four suites with compact sitting rooms and two family suites. Given the restrictions on reconfiguration, the retro skier cells are cosy, but original arches maximise the sense of space while the liberal use of red cedar walls and furnishings creates warmth.
Designer Jocelyne Sibuet has put her own spin on 1960s fabrics, choosing nobbly textures and pale colours, predominantly silver and grey, for wall coverings, bedsteads and curtains. Crisp white linen, subtle lighting and smart bathrooms with slate floors complete the transformation.
Travel essentials
Hôtel des Dromonts, 40 place des Dromonts, Avoriaz, France (00 33 4 56 44 57 00; hoteldesdromonts.com).
Rooms ****
Value ***
Service *****
Doubles start at €290, including breakfast. Ski Independence (0131 516 9903; ski-i.com) offers a week's B&B from £852 including flights from Heathrow and transfers.
Reuse content