The six-room Maria Santa Teresa guesthouse opened its doors just in time for the World Cup; but, rather unusually, this Design Hotels' project is popping up for only 12 months. The hotel marketing group has previously taken over properties on Mexico's Mayan Riviera and the Greek Island of Mykonos, transforming them to fit its design-driven portfolio. Once this "project" closes, the guesthouse is set to undergo another redesign at the hands of the Brazilian architect, Marcio Kogan, in time for the 2016 Olympics.
The modest pousada was snapped up by Design Hotels' partner Hans Georg Näder, who also owns Germany's Hotel Zum Löwen. It perches high in the tropical, bohemian Santa Teresa neighbourhood. The panorama of Rio de Janeiro below will take most acrophobes' breath away. The less faint-hearted will relish peering through the antique brass binoculars dotted around the villa, to catch a glimpse of the distant Maracana football stadium and the turquoise Guanabara Bay.
The four floors have been transformed - they soar upwards to include a breakfast terrace, eclectic living room, lobby-bar and a rooftop pool, whose tropical terrace doubles up as a restaurant for sagui monkeys that tuck into the mango and almond trees.
Guests can order snacks, make use of the poolside honesty bar or dip into the tempting ice-cream freezer. Although the bohemian-chic style reflects Maria Santa Teresa's arty environs, a dose of laid-back Carioca cool ensures the guesthouse stays the right side of designer.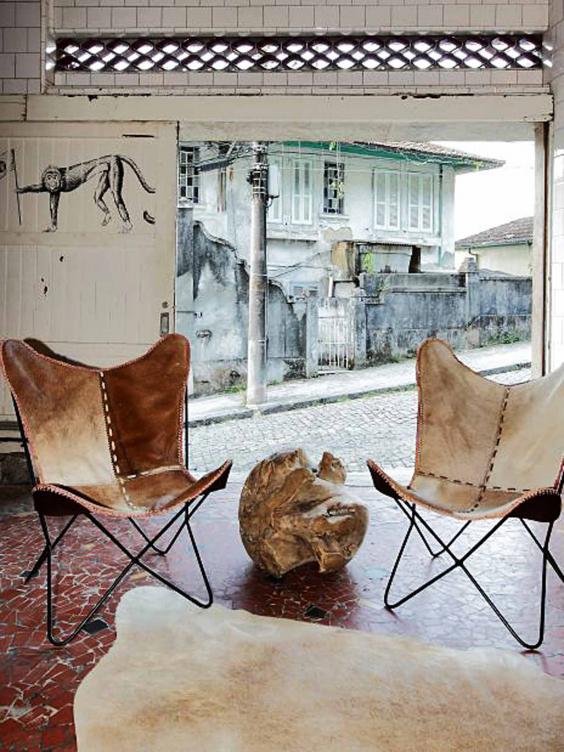 Location
The lofty Santa Teresa neighbourhood is a 25-minute drive from Ipanema and Copacabana beaches. It was named after a local convent in the 17th century. Wealthy families adopted the area to construct glorious mansions 200 years later but Santa Teresa has long left behind its upper-crust attitude and now houses Rio's artistic community. Ateliers, colourful homes and botecos (bars) dot the winding, cobbled streets.
Unless you possess a runner's lungs, the best way to access the guesthouse is via bus or taxi. The city's last bondes (trams) used to trundle up and down this steep hill – a bright yellow image depicted in street art and shop fronts around the district – but the service was suspended after a derailment in 2011 in which five people died.
Ask at the guesthouse reception to make an appointment to meet Zemog, an artist who takes everyday items such as saucepans or bottle caps to create curvaceous installations. Also nearby is Museu da Chacara do Ceu (00 55 21 3970 1126; museuscastromaya.com.br), once the residence of the arts patron Raymundo Ottoni de Castro Maia. Now a museum, it houses works by modern European masters such as Matisse, Degas and Miró.
Almost opposite the guesthouse is one of Rio's top restaurants, Aprazivel (00 55 21 2508 9174; aprazivel.com.br). More breath-taking views from a series of connecting terraces and gazebos, as well as a menu of contemporary versions of Brazilian classics, await at this family-run restaurant; they also make their own cachaca and lagers. Order the tangemahall – a refreshing cachaca, tangerine, mint and cashew cocktail, before tucking in.
Comfort
The ambience is easy and breezy at Maria Santa Teresa: the eclectic interior fuses vintage pieces – such as a restored Harley Davidson hanging in the living room – with contemporary photography and fittings. If Ipanema beach wasn't so tempting, it would be easy to stay rooted here. In addition, the ample variety of communal spaces, from the pool terrace to the lobby-bar, means guests might not even cross paths except over breakfast, whose highlights include organic coffee, super-food juices, tropical fruits and tapioca pancakes. However, you also won't want to miss out on flamboyant impromptu poolside barbecues and bossa nova jams, the ideal chance to mingle with locals and other travellers.
Divided across two floors, each of the six rooms, named after local wildlife, sports a king-size mattress, LCD television and organic toiletries. The eclectic look continues here, with an olive or mandarin colour scheme; all the rooms have marvellous views of the bustling cityscape below.
Travel essentials
Hotel Maria Santa Teresa, Rua Aprazivel 163, Santa Teresa, Rio de Janeiro, Brazil (00 55 21 3259 7169; mariasantateresa.com)
Rooms ****
Value ****
Service ****
B&B starts at R695 (£184).
Reuse content