Take a world-famous chef, add a top French winemaker and a theatrical interior designer and unleash them on a 19th-century mansion in the heart of Bordeaux – here you have all the ingredients for one of the most exciting new luxury hotels in France. La Grande Maison, which opened in December, is the creation of wine magnate Bernard Magrez and Michelin-starred chef Joël Robuchon.
 It's heralded as the city's first luxury hotel, but, as you swing through tall wrought-iron gates into its manicured and sculpture-scattered grounds, it feels more like a grand private home.
The elegant honey-hued house – which dates back to the 19th century – is all classical, understated elegance outside, the topiary clipped and controlled. Inside however, it oozes opulence and boudoir-chic. There's a no-expense-spared focus to the design, down to the table settings by Christofle and glasses by Baccarat. Even the low-key reception has the wow factor with a dramatic black and white tiled floor; the curved, almost monastic-white stone staircase and exposed walls are the backdrop for an ornate hand-blown Murano glass chandelier.
With just six sumptuous bedrooms, a "restaurant with rooms" is perhaps a more fitting description than "hotel". The main event here is the culinary experience – a gastronomic extravaganza matched, of course, by the stellar cellar – and the rooms are essentially exquisite cocoons where you can sleep off the effects of indulging in the restaurant downstairs.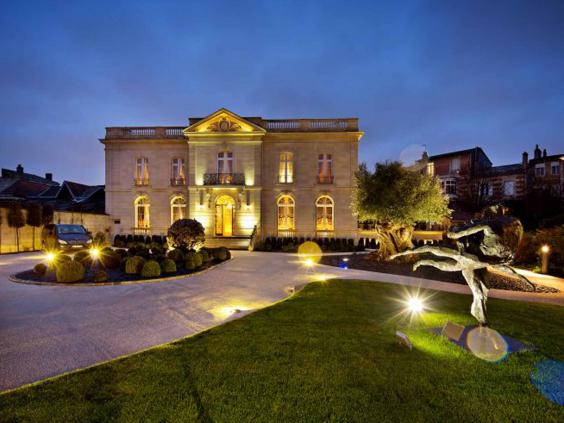 Robuchon has more Michelin stars than any other chef , and may well add to his tally with the exquisite, jewel-like starter of king crab, lobster jelly and caviar at La Grande Maison – which is as much a work of art as it is a culinary delicacy.
The hotel's cellar, meanwhile, stocks all 259 Grand Crus Classés in Bordeaux. The region's name is, of course, synonymous with wine and Magrez is viticulture royalty, the owner of numerous wine estates and four Grand Crus Classés in the region: Château Pape Clément; La Tour Carnet; Château Fombrauge; and Le Clos Haut Peyraguey.
For fine wine, fine dining and fabulously over-the-top fixtures and fittings, La Grande Maison will take some beating.
Location
The hotel might be on one of Bordeaux's quiet backstreets, but it's just a five-minute taxi ride or a short amble to the city's "Golden Triangle". Located on the banks of the Garonne river, around half of the city is also a Unesco World Heritage Site. Its elegant, wide boulevards lined with honey-coloured buildings are perfect for pottering.
Comfort
Anyone who subscribes to the Kelly Hoppen school of beige should look away now. The six ostentatiously luxurious rooms are all your French fantasies rolled into one. Giant tassels struggle to contain reams of taffeta drapes; walls are hung with embroidered silk; and bathrooms are clad in grey Carrara and travertine marble (where you can douse yourself liberally in Hermes toiletries). The overblown Napoleon III style is busy and boudoir-blowsy. The hotel also seems to be spearheading the renaissance of the swirly carpet – in subtle shades of mauve.
The rooms all have pretty names: Lumière, Contemplation, Sagesse, Espérance, Harmonie and Passion d'Une Vie – all paired with a Bernard Magrez wine. I was in Lumière, matched with a 1st Grand Cru Classé de sauternes, which arrived with a plate of melt-in-the-mouth macarons.
Travel essentials
La Grande Maison, 10 rue Labottière, Bordeaux, France (00 33 5 35 38 16 16; lagrandemaison-bordeaux.com).
Rooms ****
Value ***
Service *****
Double rooms start at €444, with breakfast, although there are often special offers.