Back when I had the stamina to dance all night, the ignominy of the night bus home – and in later years, searching out the sunrise glow of a taxi – was a guaranteed fast-track from rapture to despair. A pity that those Soho dives hadn't thought to add hotel rooms so that I only needed stumble to the top of the stairs before collapsing into bed.
Even more of a pity that my clubbing nights are clearly behind me when I check into Les Bains and have to bore my head under a pillow when the thumping of the nightclub downstairs cranks up.
At breakfast, I'm surprised to be alone in the cavernous dining room – which appears to have enormous burgundy wax stalactites dripping from the ceiling – at 11am. "Breakfast is served until 3pm", explains the menu, beneath a list of remedial fruit smoothies. Clearly I'm going to have to try a little harder to fit in.
Opened in 1978 on the site of the 19th-century bathhouse Les Bains Guerbois, with interiors by a little-known designer called Philippe Starck and music from a DJ called David Guetta, Les Bains Douche nightclub was the place to be seen, its strict door policy admitting the likes of David Bowie, Mick Jagger, Carla Bruni, Prince, Kate Moss and Andy Warhol. Joy Division recorded the live album Les Bains Douches 18 December 1979 here. It closed in 2010, prompting film-maker Jean-Pierre Marois, whose family owned the building, to assemble a high-profile cast to deliver the elegant Haussmannian building into the third phase of its life: a hotel.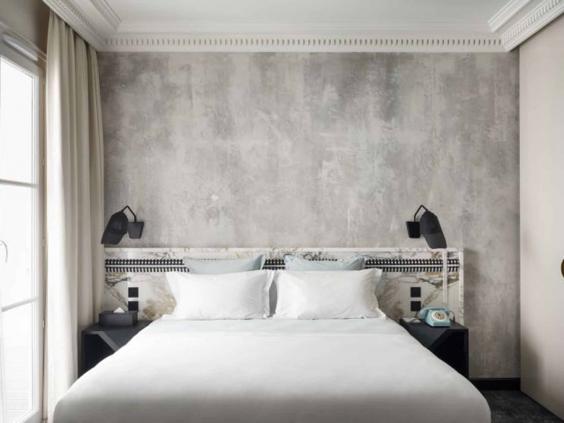 Today, its handsome stone façade is no less striking as the day it was built, a bas relief of Bacchus taking up the role of doorman, with Belle Epoque bronze ladies holding lamps aloft either side, alluding to the baths' history, when Proust, Manet, Degas and Zola all took the waters.
Inside is a mix of heritage and future-gazing, with Starck's original tiled dance floor restored below Hermes boutique-designer Denis Montel's extraordinary red-lacquered dining room and a cosy, clubby guest lounge beckoning you into its wood-panelled warmth.
The nightclub has been revived in the basement. Having mustered the courage to attempt access (a clutch of smartly-dressed women in front of me have just been told "it's not possible"), I am ushered downstairs to what looks like an empty spa. Slowly, the room fills up, but the crowd is more after-work lawyers than Bacchanalian free spirits. A besuited couple next to me is drinking vintage Dom Perignon Luminous, whose label glows knowingly in the dark. While previous revellers would regularly jump into the pool, tonight's patrons are happier to pose next to it for photos.
Perhaps deprived of sunlight, the bar staff are noticeably frostier than their counterparts upstairs, who are attentive and eager to please. After an hour of people-watching, the call of my bed is strong. And, at the touch of the lift button, I'm tucked up in bed just five minutes later.
Location
Hidden away down a side street in the quietly chic third arrondissement, the hotel is a block north of the Pompidou Centre and an easy stroll to the hip boutiques, small-scale museums and easy-going cafés of the Marais. The Seine and Notre Dame are around 15 minutes' walk south, while the Eurostar terminus at Gare du Nord is just four stops away on the Metro; change here for RER line B to Charles de Gaulle airport.
Comfort
Aim for the higher floors, or bring earplugs, to ensure a good night's sleep – unless you plan to make proper use of the facilities. My lower-level classic room is very small but stylishly, and thoughtfully appointed, with a balcony overlooking the restaurant's patio. The petite double bed is layered with high thread-count linens, stitched with the building's timeline, "Les Bains 1885 1978 2014". The marble headboard is softened with a mosaic tile-effect cushion strip that also acknowledges its history, alongside a hammam slab-style coffee table.
The bijou bathroom is pure nightclub – painted black, with speakers in the ceiling, it is stocked with generous bottles of Le Labo's Santal 33 products, plus free-to-use (but not stash away) bottles of apothecary-style eaux de colognes. There's a decent sized shower, but no bath, though suites come with hammams.
If you don't fancy frequenting the nightclub, the room also comes with a suitably powerful Marshall amp speaker, free wi-fi, a gourmet minibar and an eclectic selection of books.
Travel essentials
Les Bains, 7 Rue du Bourg l'Abbé, 75003 Paris, France (00 33 1 42 77 07 07; bookings via designhotels.com).
Rooms ****
Value ***
Service ***
Doubles start at £287, room only
Reuse content