It is a disconcerting thing to arrive at Skye Window House after dark. This newly built structure on the island's Sleat peninsula is heavy on the Scandi wood-and-glass aesthetic, and the huge, curtain-free windows that take up much of the ground floor greeted us only with the rural blackness outside and our own reflections.
Come morning, the real appeal of the place became clear: stunning, panoramic views of sea and mountains, and so much light streaming in that it felt like being outdoors. This is chic, contemporary architecture with strong environmental credentials, embedded in one of the UK's most rough and ready landscapes; high-end self-catering for those who want both the great outdoors and their creature comforts.
The Rooms
The house consists of three bedrooms; two doubles, one of which is en suite (complete with roll-top bath) and a single with a futon. There is another big bathroom, an open plan kitchen-diner, and an upstairs living room with wood-burning stove. There's also wonderfully toasty under-floor heating, white walls, and lots and lots of windows. The kitchen is well equipped with high-spec appliances, while the vibe elsewhere is more minimalist.
The whole feel is very calming and stylish, although those who want old-fashioned Highlands cosiness should look elsewhere. A travel cot and high chair are provided, but no plastic crockery at the time of our visit – the house only opened to guests a few months ago, so that might change. Parents of young children should also note the lack of a garden (there is some decking) and wide, ungated staircase.
The Window House claims to have wi-fi throughout – indeed, the TV depends on it – but it was not functioning while we were there; worth checking in advance and/or packing DVDs.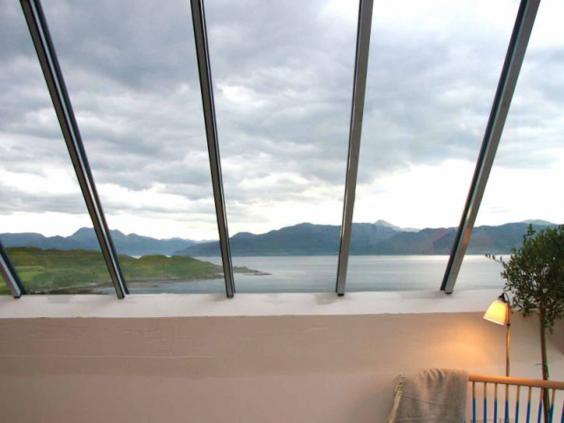 Out and about
A visit to Skye is all about fresh air and landscapes. For serious walkers, there are the dramatic Cuillin mountains, while for those who prefer a leisurely stroll there are countless easier options. The pleasant walk to Sleat Point and back will take a couple of hours starting from a car park about 20 minutes' drive from the Window House, while for those with little people in tow there are some useful, short "nature trails" (and a playground) at the Clan Donald Skye visitor centre, also nearby.
There are numerous beaches to choose from around the island, some offering sand and rock pools, and various seal-watching boat trips, most of which run Easter-October. The trip from Plockton, a village about six miles from Kyle of Lochalsh – back on the mainland and worth a visit anyway for its gorgeous harbour and tasty seafood – is free if you fail to see a seal.
If the weather's unkind, you can always check out the Talisker Distillery at Carbost (01478 614308; discovering-distilleries.com/talisker) – or dig out your anorak. The Window House's owners provide a very useful guide to local activities and restaurants.
Food and drink
Substantial shops for self-catering supplies are few and far between on this surprisingly big island; anyone hiring a car after flying into Inverness would be well advised to stock up at the huge Tesco a few miles along the road from the airport.
Failing that, there are Co-op supermarkets in Kyle of Lochalsh, just before the Skye bridge, and on the island itself at Broadford and Portree. A pint of milk is left provided at the Window House, and there might also be a few bits and pieces like oil and flour left over from previous guests.
There are a few farm shops for buying tasty, local produce such as cheese and fish, including one at Armadale, about 10 minutes' drive from the house. In terms of eating out, the island's flagship is undoubtedly the Michelin-starred Three Chimneys (01470 511258; threechimneys.co.uk; no under-fives); somewhat more laid back are the Oyster Shed in Carbost (01478 640383; skyeoysterman.co.uk), where you can sample fresh local scallops (£6) or langoustine and chips (£7) from a catering van while buying more seafood to cook later, and the nearby Wee Tea Room (01478 640766).
Café Arriba in Portree (01478 611 830; cafearriba.co.uk) is a nice spot with harbour views for lunch (dishes include Moroccan-style chicken and tabbouleh; £8.75) or coffee, and has wi-fi. There are a couple of upmarket options on the Sleat Peninsula, including another Michelin-starred establishment, Kinloch Lodge (01471 833333; kinloch-lodge.co.uk).
The Essentials
Skye Window House, Knock Bay, Teangue, Sleat, Isle of Skye (stayhouse.co.uk; 07917 161 211). Rates from £995 a week; less for out-of-season short breaks. No pets.
Reuse content