Mykonos may be a playground for the international jet set, but you'd never guess it from the sleepy seclusion enjoyed at Drakothea. This distinctive villa in the little-visited south-east of the island is remarkable for exclusivity and one-of-a-kind appeal.
Set within a protected zone that limits any further development, the property (whose name means Dragon's View) is one of just two rental homes in this part of the island. Everything else here is privately owned, the majority by familiar names – so don't be surprised to find fashion designers and Hollywood heavyweights among the scattering of neighbours.
The house, garden and infinity pool overlook unspoiled, coastal countryside. Beyond lies an island-studded Aegean seascape, framed by Ikaria to one side and Naxos, the other. Rocky little Dragonisi, whose form calls to mind a slumbering dragon, fills the foreground just offshore and lends this villa its name.
There's extra airlift this summer, too. British Airways' newly launched, seasonal service to Mykonos, operates twice-weekly from Heathrow.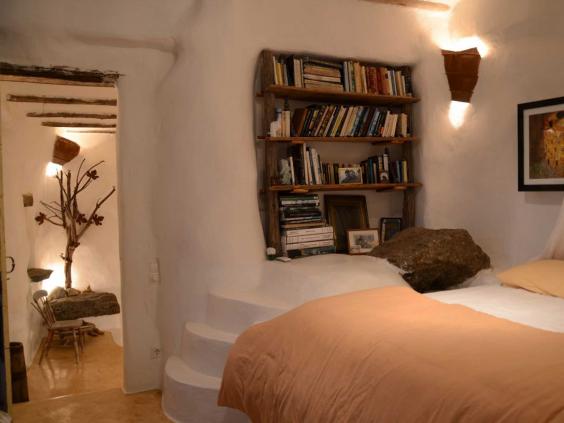 The Rooms
There are hundreds of villas to rent in Mykonos, but none can match Drakothea's originality, location and style. Its immediate appearance is traditional Mykonian; all organic curves and whitewashed walls, with pea-green shutters and splashes of colour. Time-worn lintels, doors and beams add a pleasing air of antiquity, but they're all recycled: sourced by the owner from salvage yards across Greece. It may look old, but the house only dates from 2001.
The main entrance leads into a flowing, linear space split by muslin drapes and archways into kitchen, dining and living areas. There are lots more architectural antiques inside, plus a meticulously curated collection of religious icons and rustic furniture. It's a perfect pastiche of Greek country living – albeit one wired for contemporary tastes, with mood lighting, wi-fi and a serious sound system.
The house is partially built into the hillside, so it feels much larger than its proportions suggest. From the delightfully den-like living area, a stone staircase curves upwards to two large, en-suite bedrooms and a series of rooftop terraces. There's a third en-suite on the ground floor, with access to the pool deck through patio doors; plus a fourth guest suite in a separate cottage adjacent to the main house. There's plenty of outdoor living space, too, with a choice of shaded dining areas and a seemingly infinite selection of loungers, daybeds, nooks and terraces dotted all around.
Out and About
Mykonos is not large, so everything you'll need is within a 20-minute drive. The island's legendary party scene is centred on Chora (Mykonos Town) in the west. This makes Drakothea ideal for dipping into the action, but not if you're planning to party non-stop. The villa's owner provides a concierge service for restaurant and nightclub reservations – essential in mid-summer.
The island has a beach for every occasion. Family-friendly Lia Beach is just down the hill, but the watersports at Kalafatis, party scene at Paradise, gay beach at Elia and cosmopolitan edge of Kalo Livadi are all close by. Nearer still (within walking distance) is tiny Tigani. It may not be the prettiest beach, but when the others are swamped at peak season, this hard-to-reach strip of sand and pebbles comes into its own.
Further afield, make time to explore Chora's labyrinthine streets; or take a trip from the harbour to uninhabited Delos, whose well-preserved ruins comprise one of Greece's top archaeological sites. Greek mythology says that Apollo was born on this island, which was once a prosperous trading port.
The Food and Drink
Stock up with provisions on the way to the villa. A parade of shops in pint-sized Ano Mera includes greengrocer, mini-market and excellent bakery, plus a café serving breakfast and snacks. There's a larger supermarket behind the village's main square, while the square itself is lined with half a dozen charming tavernas. Try Apostolis (00 30 22 8907 1760) for authentic Greek home cooking; around €25/£20pp with wine. Another good bet is Flora's Taverna (00 30 22 8907 1430), near Kalafatis Beach. It's run by the island's only fisherwoman and serves that day's catch with coastal views (around €30pp with wine).
The essentials
Villa Drakothea, Mykonos, Greece (mykonosvilla-drakothea.com).A week's rental costs from €4,500 (£3,664) for eight guests through Cool Rental Guide (coolrentalguide.com/drakothea).
James Litston flew with British Airways (0844 493 0758; ba.com/car) which offers flights from Heathrow to Mykonos and seven days' car hire from £289pp.
Reuse content