"I entered the inn of the 'Pump Saint'. The people were kind and attentive, and set before me a homely but savoury supper, and a foaming tankard of ale ... [In] a large chamber, I found an excellent and clean bed, in which I enjoyed a refreshing sleep ...." Everything, and yet nothing, has changed at the Dolaucothi Arms, in the small Carmarthenshire village of Pumsaint. When George Borrow, author of Victorian travelogue Wild Wales, stayed in 1854, he found a "good specimen of an ancient Welsh hostelry". In 2014, with new landlords and new beds, but with meals that are still hearty, it is all that again – despite a short hiatus.
Dating back more than 200 years, this coaching inn was long a welcome stop on the old drovers' road; big fireplaces and original tiled floors are reminders of its age. It's been owned by the National Trust since 1983 but became run down and closed in 2009. However, a revamp, plus the energy and vision of a young couple looking for a project, saw it re-open last year. Now, thanks to Esther and David's hard graft, the Dolaucothi Arms is back at the heart of this small community: there's quality pub grub on the menu and Welsh beers on tap; there are plans for a small shop selling essentials; and the darts team has a home once again.
There are also three (soon to be four) en-suite rooms upstairs. Painted in Farrow & Ball heritage hues, with diamond-paned casement windows, the aesthetic is arts-and-craftsy-in-progress: the couple are gradually adding scrubbed-up second-hand furniture, interesting prints and oddments. "I didn't want to just chuck up Ikea prints to cover the walls," says Esther, who used to work at Special Places to Stay publisher Sawday's. "It's a collecting process."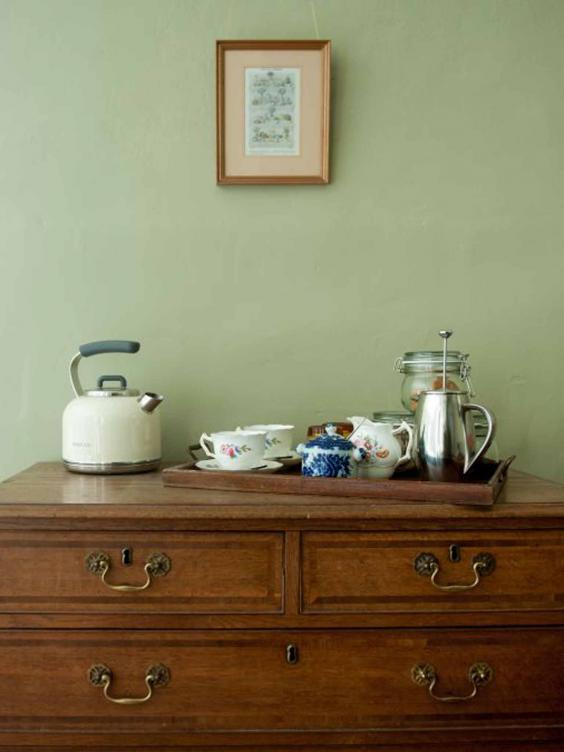 It's also a collaborative process – Esther and David have found the locals willing to help. "An upholsterer covered our chairs so she could shoot them for her website," explains David. "And the local rat-catcher/sour-dough maker uses our salmon and trout fishing rights in exchange for teaching us a bit about fishing." At last summer's inaugural beer festival, farmers lent marquees and hay bales; it was a resounding success, and a bigger one is planned for next month.
Indeed, there are many plans afoot. David – musician, pub deputy manager, salesman and gardener – wants to put in raised beds to grow their own salad (he can't dig down; there's a Roman fort below). They also hope to host bread-making, photography and survival-skills courses. Of course, they offer the basics too: you can just sit by the woodburner with a decent pint.
Location
Tucked within the folds of northern Carmarthenshire, Pumsaint – or "Five Saints", named after a quintet of holy pilgrims who once stopped here en route to St David's – is part of the National Trust's 2,500-acre Dolaucothi Estate. The Cothi River trickles behind the beer garden; the Dolaucothi Gold Mine, where tours head down the Roman and Victorian shafts, is a 10-minute walk. There's good hiking from the door (and laminated OS maps in the rooms), while the edge of the Brecon Beacons lies 12 miles east. The nearest train stations are Llandovery (12 miles) and Llanwrda (eight miles). There's a bridle tie-up if you come by horse and a 10-per-cent discount on rooms for cyclists.
Comfort
There's a pleasing simplicity to the bedrooms – a bit like staying with an aunt who has good taste. Pillows, duvets and mattresses stuffed with British wool top the king-size beds – sustainable and a boon for allergy sufferers. There are digital radios but no TVs (you can request one). Tables bear Fairtrade tea and cafetière coffee, good biscuits and a help-yourself decanter of port. Bathrooms are no-frills: only one (Room 2) has a bath and one (Room 3) is particularly bijou. But the monsoon showers are vigorous, with British-made Faith In Nature toiletries.
Esther, whose commercial kitchen experience previously ran to making scones at the National Trust's Tyntesfield, has taken to her new head chef role with aplomb. The monthly changing menu comprises well-priced staples (Welsh beef burgers, assorted pies) and seasonal experiments (wild-garlic pesto in April).
Breakfasts are high quality: home-made muesli, bread and jams; free-range sausages and bacon from a farm you can see out the window; obscenely creamy butter sourced from the Jersey cows down the road. Dolaucothi is an all-round "good specimen" once again.
Travel essentials
The Dolaucothi Arms, Pumsaint, Carmarthenshire, Wales SA18 8UW (01558 650237; thedolaucothiarms.co.uk)
Rooms ****
Value ****
Service ***
Doubles start at £75 including breakfast