It's been a poor house, an overnight lock-up, an arsenal and a fire station. But as of this week, this stone building in the North Yorkshire market town of Masham is officially the world's best-rated B&B – according to the 2015 TripAdvisor Travellers' Choice Awards. It beat off competition from as far afield as New Zealand and the United States to claim the top spot earlier this week, after having received more than 350 "excellent" reviews on the site.
Like Masham itself, The Millgate is small and charming, located on a quiet street near the market square, where parking fees are collected in honesty boxes. The living room's stone mantelpiece has been dated to around 1580, and low doors, uneven walls and exposed oak beams in this Grade II-listed building also hint at that age.
Will the award result in people heading here with unrealistically high expectations? Well, I was won over straight away by the genial hosts and hearty breakfast.
The bed
There are three double rooms, two of them en-suite, with tongue-and-groove panels and Victorian-style Burlington fixtures. The other has a private bathroom down a flight of stairs. Each has a flatscreen TV, free wi-fi and comfy, bright decor, featuring artwork with local connections.
Fresh flowers are the norm, along with a vacuum flask of milk for tea and coffee plus a bottle of chilled water on arrival.
I stayed in the spacious first-floor Millgate room, with its king-sized bed and reassuringly heavy duvet. By the time I returned from dinner in town, the bedding had been turned down and a chocolate placed on it.
The breakfast
Tables are set in the living room between 6.30 and 9.30 each morning, with a buffet of orange juice, chilled water, jams, fresh fruit and cereals in sweetshop-like glass jars set out on the sideboard. Guests are requested to choose time slots 15 minutes apart, as each breakfast is cooked from scratch. The Yorkshire breakfast was a filling fry-up whose highlights were air-cured bacon and sausages from the local butcher. The delicious calorie bomb was served with a cafetiere of coffee and freshly baked bread.
The hosts
It's the couple behind the decor, and their attention to detail, that make this a winning B&B. Sue and Andrew Burrell opened The Millgate to guests in March 2012, having originally purchased the property with the intention of sharing it with their daughter and her family (they've since moved elsewhere).
"It's a happy accident; the best thing we've ever done," Sue told me. She takes care of the bookings, administration and cooking. As well as breakfast, freshly baked scones with butter and jam await guests on arrival.
On request, Sue can also put together walking routes, from easy strolls to hardcore hikes. Andrew looks after maintenance and housekeeping. Down-to-earth and welcoming, the Burrells are great company. "We're small and not extravagantly luxurious," says Andrew. That brings advantages, though. "We can spend more time with each guest."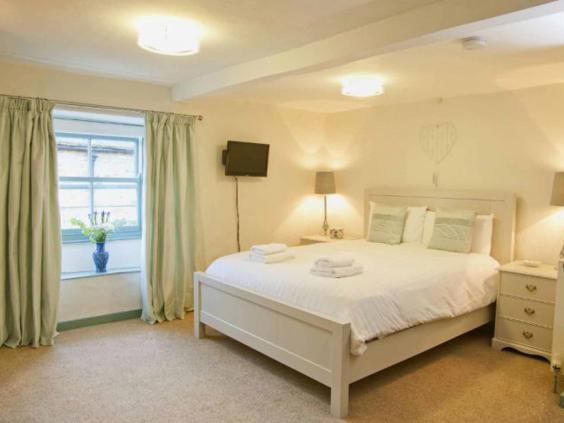 The weekend
Masham sits on the edge of the Yorkshire Dales, so keen walkers are well provided for. Trails through Hackfall (bit.ly/Hackfall), an ancient woodland dotted with glades, waterfalls and (in spring) bluebells, start 2.5 miles from Millgate.
Back in town, a steady flow of visitors heads to Masham's highly regarded breweries. Tasting tours start from the Theakstons (01765 680000; theakstons.co.uk; £7.25) and Black Sheep (01765 680101; blacksheep.co.uk; £6.95) visitor centres.
Six miles away are the ruins of Jervaulx Abbey (01677 460391; jervaulxabbey.com; open February to November), which was founded in 1156. The city of Ripon, a 20-minute drive away, also warrants a visit, not least for its cathedral (01765 603 462; riponcathedral.org.uk).
The pit-stops
For a game of darts or honest, freshly made pub grub and a good pint of beer, head to the Bruce Arms (01765 689372; brucearmsmasham.com), off the market square. I dined by the fireside on sausage, mash with onion gravy (£9.95), supping a pint of local Black Sheep bitter, before heading across the square for a pint of Theakston's Old Peculiar at the King's Head (01765 689295; chefandbrewer.com).
For seasonal, gourmet cuisine book a table in Samuel's Restaurant at Swinton Park (01765 680900; swintonpark.com), an ivy-clad castle on a country estate 1.5 miles outside of Masham. Chef Simon Crannage prepares a seven-course tasting menu (£65) and serves Sunday lunch (£28) in an establishment which requests diners to dress smartly.
The essentials
The Millgate, 5 Millgate, Masham, North Yorkshire HG4 4EQ (01765 688 096; millgate-masham.co.uk). Doubles from £76 a night with breakfast.
Reuse content