Westbrook Court is the type of place that's off the satnav. Although it's just 10 minutes outside Hay-on-Wye, on the English side of the border with Wales, it feels remote – the conurbations around it are so few that full-beam headlights are required to make your way through the inky-black night. The mobile phone signal is patchy. But few who come to this newly-opened B&B will want to spend time checking their emails.
It is, after all, on the fringes of the Brecon Beacons National Park (breconbeacons.org), a dream for outdoor enthusiasts. In May, the tiny town of Hay-on-Wye also brims with thousands of book lovers, as the world-renowned literary festival rolls into town (21-31 May 2015; hayfestival.com). Next month is the festival's Winter Weekend (28-30 November), with literary events, family activities, a festive food market and music.
THE BED
Behind Westbrook's 17th-century brick farmhouse, five contemporary rooms are tucked away in a timber-clad new-build, on the site of the old stables. The owners came across the run-down property while holidaying from London and put in an offer on the spot. Four of the rooms have a mezzanine that accommodates the sleeping space, with a smart lounge and bathroom below. One room contains a four-poster bed and two turquoise armchairs that the owner found at auction – secondhand from The Dorchester hotel – for £7 each.
In fact, it's the owners' magpie eye that makes this property. While the footprint of each room is largely the same, each has unique touches: a home-made Conran-style pendant lamp; old apple crates re-imagined as shelves; upcycled furniture. Removed from the main house, the rooms feel more like self-contained suites than a traditional B&B.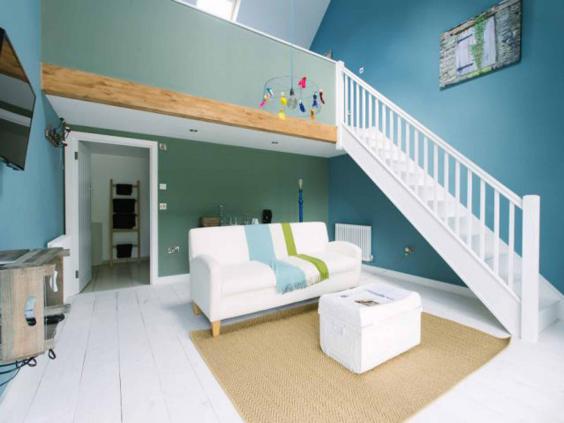 THE BREAKFAST
At weekends, breakfast is served in the farmhouse, with sausages and bacon from butcher C J Gibbons in Hay, mushrooms and tomatoes from Castle Greengrocers, hand-blended Trumper's Tea, and coffee from the Theaker family in nearby Cusop (who learnt their trade living on a Kenyan plantation). Eggs are from the owner's free-range hens. At weekdays, a hamper is delivered, laden with smoked salmon, hard-boiled eggs, fresh bread, fruit, yogurt, cereals, pastries and juices.
THE HOSTS
Kari is an Australian designer who left Melbourne 20 years ago on a one-way ticket and met Chris, her husband. They have a four-year-old daughter, Heidi. The family swapped a hectic London lifestyle for bliss in Herefordshire, with plans to add Gloucestershire Old Spot pigs to their growing list of livestock.
THE WEEKEND
It was Richard Booth who turned Hay-on-Wye into the undisputed "Town of Books". The maverick businessman opened Hay's first major bookshop in 1962, having bought truckloads of cut-price stock from failing retailers in America. In 1977, he crowned himself "King of Hay" and declared the town an "independent kingdom". The stunt garnered publicity and in 1988, the town's literary festival was born. Although Richard sold his bookshop in 2005, it remains on Lion Street (01497 820322; boothbooks.co.uk), now with added café and cinema.
The town also has handfuls of lovely one-off boutiques to browse, including concept store Eighteen Rabbit (01497 820 069; eighteenrabbit.co.uk), and antiques outlet Fleur de Lys (01497 821644).
Good choices for dining out include Tomatitos Tapas (01497 820772; haytomatitos.co.uk), and St John's Place (07855 783 799; stjohnsplacehay.tumblr.com).
Allow time for exploring the outdoors. In Glasbury, Wye Valley Canoes (01497 847213; wyevalley canoes.co.uk) rents huge, Canadian-style canoes (£20pp), plus bikes and Vespas for excursions into the Brecon Beacons (£17/£45pp).
THE PIT-STOP
Drive into the hills to find The Bridge Inn in Michaelchurch Escley (01981 510646; thebridgeinnmichaelchurch.co.uk). It's sited beneath weeping willows beside a brook and it's an idyllic place to nurse a pint or tuck into hearty local dishes, such as braised shoulder of lamb with Gwatkin cider (£15.50).
THE ESSENTIALS
Westbrook Court, Hay-on-Wye, Her-eford HR3 5SY (01497 831752; westbrookcourtbandb.co.uk). Doubles start at £85, with breakfast.
Reuse content