If the countless Hollywood horror films about the deaths of hitchhikers have taught us anything, it's that jumping in the back of a stranger's car on a deserted road in a foreign country only armed with rusty GSCE-level language skills isn't the smartest idea. But when Rob Jopson got stuck on the border between Germany and Belgium late at night, he didn't have much choice but to trust the first driver he could flag down, and climb into the back of the car. 
But don't feel too sorry for him. He and his friends knew exactly what they were getting themselves into when, in March 2011, they signed up for Jail Break: an annual event that sees students (because who else is this daft?) challenged to get as far away from their starting point as possible in a set time, without spending any money on travel. In an attempt to keep everyone in one piece by the end of the Jail Break, organisers demand competitors send regular updates on their location, direction and method of travel in including registration plates of vehicles. They also can't do anything illegal, including jumping barriers or sneaking over borders. 
At the time, Jopson was a Queen Mary University student, and had just 36 hours to complete the task.
"I expected it to be a fun and bold adventure, a great way to spend a weekend with friends and a way to push us into places and situations we'd never been in before. It was all of the above," he tells The Independent. 
Luckily, Jopson, who is a 26-year-old chef based in London, lived to tell the tale. The couple inside the tiny two-door car he flagged down turned out to be lovely, he says. If anything, they were afraid of Jopson and his weary-looking friends.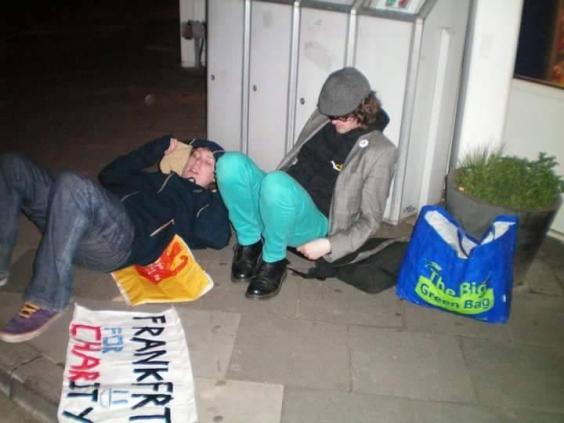 "They clearly sat debating it for a long time before deciding they would take us and letting all three of us can into the back of the car," he says. 
"Another lady who drove us a long way during the night who told us how she thought it was sad people wouldn't trust us because we were three guys, and that even as a woman on her own she was happy to help.
"Then a crazy tattooed man with a dog and the messiest car we'd seen drove us to Vienna."
But it was a man named Davey De Bock that made Jopson's Jail Break, he says. 
"He gave us a tour of Antwerp and loads of local history, then took us for a beer. He gave us a stone he'd taken off a Normandy beach and asked us to take it to our final destination and take a photograph with it. I kept that stone for five years afterwards." He eventually lost the rock when he took it with him during a trip to Australia. 
So far, so idyllic. But it didn't go entirely smoothly for Jopson and his teammates.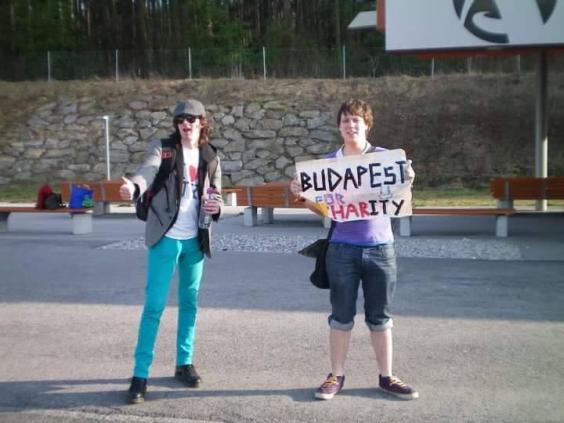 "The worst moments included standing outside a service station in Cologne for seven hours, almost freezing to death. 
"It did result in an hilarious moment when my friend who was crouching down to rest stood up to wave at a car and immediately collapsed as both his legs were dead from the knees down."
Despite their efforts, Jopson and their friends didn't win that year. Neither did his rival Oli Griffin, a 26-year-old journalist from Bristol based in South America, who also took part in the 2011, and 2012, Queen Mary University Jail Breaks. Griffin believes they could have won if they hadn't missed their train from Germany to Poland. And he experienced his worst moment of the 36 hours before even leaving the country. 
"The worst moment for both jail breaks was in Dover," he tells The Independent. "Brits, as it turns out, are the least likely to pick up hitchhikers. Add in bored teenagers driving around and shouting abuse and, well, let's just say Dover isn't my favourite place."
"In 2012 I lost a rock paper scissors with my team and had to get in the boot of a van for about 20 minutes as there wasn't space in the front," he adds. 
For those still tempted to try their own Jail Break, Griffin advises carrying explanations of the challenge in different languages.  
"If you're starting in London, or the south or very north, heading in the opposite direction in the UK could see you clinch it. Language barriers become real problem once you hit mainland Europe, and you can get bogged down. A team that came third or fourth one year just headed to Scotland from London and they did really well."
"And thanks to terrorists," adds Griffin, "there is absolutely no way you are getting a free flight. Unless you write in advanced, and that's just cheating."
National Geographic 2016 Traveler Photographer of the Year contest - winners and runners up
National Geographic 2016 Traveler Photographer of the Year contest - winners and runners up
1/12 Winter Horseman

Photo by Anthony Lau

2/12 Wherever you go, I will follow you!!

Photo by Hiroki Inoue

3/12 Ben Youssef

Photo by Takashi Nakagawa

4/12 Double trapping

Photo by Massimiliano Bencivenni

5/12 Rooftop Dreams, Varanasi

Photo by Yasmin Mund

6/12 Silenced

Photo by Wing Ka H.

7/12 Lagunas Baltinache (Atacama Desert)

Photo by Victor Lima

8/12 Remote life at -21 degree

Photo by mattia passarini

9/12 Celestial Reverie

Photo by Jeremy Tan

10/12 Muscle Beach Gym

Photo by Dotan Saguy

11/12 Divide

Photo by Kathleen Dolmatch

12/12 Bears on a Berg

Photo by John Rollins
In the end, despite the freezing limbs and stints in the backs of a van, Griffin and Jopson are both glad they took part in Jail Break.
"I'd trust my teammates in any situation because of those two Jail Breaks," says Griffin. 
"It was a truly wonderful weekend," chimes Jopson. "It taught me a sense of optimism that I think still shapes my mental outlook to this day. It taught me to love the adventure.
"I would absolutely recommend Jail Break to anyone. Make sure to take it all with a smile, enjoy the adventure as it happens. And really don't bother to try hitchhiking at night."
Reuse content