It was an essential part of the wedding planning. It had to involve sun, luxury and minimal exertion. A year of constructing a wedding day for 90 guests was like taking on a part-time job – although one in which we had no experience – and after the big day, we'd be in need of some serious R, R and R (rest, relaxation and romance). But there was another consideration. Since a honeymoon is one of the most important holidays of a couple's life, we had to make this trip more special than any other.
Most couples may now cohabit before getting hitched, but the honeymoon is as important as it ever was. It's a time to focus on yourselves as a couple and there's nothing like bathing in that post-wedding fuzz and having an excuse to switch off all connections with the outside world.
Wedding magazines had me misty eyed with pictures of couples luxuriating in private plunge pools overlooking the ocean, showered with every luxury, from rose petals scattered on four-poster beds, to champagne on the terrace. It's little wonder that one third of couples now opt for honeymoon contributions as a wedding gift, rather than toasters, towels and photo frames.
Picking a destination proved tricky. Like many couples, we married in the height of summer – when most tropical idylls are drenched by monsoons or at risk from hurricanes. Off the list went the Bahamas and South-east Asia (too wet), Hawaii (too hot) and the Caribbean (too blowy). An August honeymoon in Europe would mean holidaying at the priciest, busiest, time, surrounded by children on school holidays.
We decided on Mauritius – one of the few tropical locations not at risk of a monsoon in August.
Indian ocean honeymoon retreats
Indian ocean honeymoon retreats
1/6 Indian ocean honeymoon retreats

W Retreat and Spa, Maldives

Starwood/Ralf Tooten

2/6 Indian ocean honeymoon retreats

Banyan Tree, Seychelles

3/6 Indian ocean honeymoon retreats

Exploring tea country in Sri Lanka

4/6 Indian ocean honeymoon retreats

Views of the Four Seasons Resort Mauritius at Anahita

Ken Seet

5/6 Indian ocean honeymoon retreats

Four Seasons Resort Mauritius at Anahita

6/6 Indian ocean honeymoon retreats

Four Seasons Resort Mauritius at Anahita
The Four Seasons hotel matched our requirement for reliable five-star luxury. Our holidays hitherto had involved sight-seeing, guide books in hand, on a budget. But this was the time for a blow-out. We would embark on the Ultimate Honeymoon. My ambition was for it to be all that those magazines promised it to be.
Our Ocean View Villa got things off to a promising start – spacious, luxurious, with his-and-hers basins, a generous bath, a shower on the back patio and a plunge pool on the terrace. From the sun loungers in our garden, we could hear the waves crashing on the coral reef. Champagne and springy macaroons greeted us upon arrival so we were already feeling thoroughly spoilt.
The resort is set on the east coast, with inland views dominated by luxuriant mountain peaks. It is perfect for couples happy to be sequestered in their living chambers; there was no need to leave the resort.
Bicycles could be borrowed to ride around the hotel's swathes of neat gardens. If that was too much effort, buggies would turn up at our door to ferry us across the bridge for an appointment at the spa where the treatment rooms were perched over the Indian Ocean on stilts and all classes were exposed to the elements.
The wind rustling through the mangroves and the sound of birds added to a sense of calm and mindfulness during early morning meditation. Treatments took place on side-by-side beds that meant that we didn't have to be apart. The "coconut and aloe island ritual" began with a dried coconut exfoliation, and ended in a relaxing organic coconut oil massage. After strenuous yoga sessions, we were given refreshing herbal teas and fresh tropical fruit was brought to us as we sunk into double sun loungers overlooking the lagoon.
At the beach, the staff kept us topped up with towels, iced water and snacks such as coconut ice cream and melon. Kayaks, sailing boats and pedalos were on hand, too. Fortunately my husband is a decent sailor and was able to whisk us along the lagoon on a Hobie Cat towards Isle Aux Cerfs, a tiny island with some of Mauritius's most idyllic beaches. On one kayaking trip, we were circled by bottlenose dolphins that appeared almost as if the hotel had instructed them to come and find us.
There are plenty more activities designed for loved-up couples. We opted for the "Art of Seduction" bath which was filled with sweet-smelling frangipani flowers, and came with a bottle of champagne, chocolate dipped strawberries, massage oil and candle on the side – it was as cheesy as it sounds, but indulgent nonetheless.
Most memorable was a candlelit dinner on the terrace of our villa. We arrived early to find a waiter planting sparkling tealights around the pool, while naff pan pipes wafted out of our sound system (we swiftly plugged in our iPod). A four-course dinner of bouillabaisse and assorted local seafood was more impressive. But there's nothing like bonding over a class, especially when both halves' skills are questionable. We chose Italian cooking with chef Fabio – animated, passionate, and despairing at his English charges' inability to work an Imperia pasta machine. Our last evening involved moonlight meditation on the beach. Flowers and candles added to the beauty of our surroundings; and it was hard to keep our eyes closed.
Now, if ever I feel stressed, I simply close my eyes and think of that magical moment. Our Ultimate Honeymoon had been worth every penny. At such an emotional time in your life, it's a holiday that will stay in mind forever, and it's the perfect beginning to the journey ahead.
British Airways (0844 493 0787; ba.com/mauritius) offers a nine-night half-board stay in a Garden Pool Villa at the Four Seasons Resort Mauritius at Anahita (fourseasons.com/mauritius) for £2,476.50 per person, including flights from Gatwick. Departs 9 June 2015.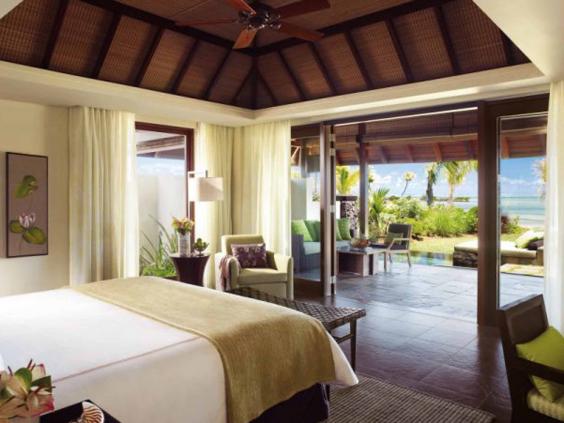 Rooms for two: Indian ocean honeymoon retreats
W Retreat & Spa, Maldives
Well, if it's good enough for A-list honeymooner Kate Bosworth … this is W Hotel's most exclusive retreat, set in the North Ari Atoll. It even has its own private island, Gaathafushi, which is perfect for that ultimate Robinson Crusoe honeymoon. Abercrombie & Kent (0845 485 1142; abercrombiekent.co.uk) offers five nights with breakfast at W Retreat & Spa – Maldives with more two nights on Gaathafushi Island with afternoon fishing trip and barbecue from £6,755pp including flights and transfers.
Six Senses Laamu, Maldives
The only resort in the almost untouched Laamu atoll, Six Senses offers castaway luxury. Villas come with a pair of bicycles with "Just" and "Married" on the back. Turquoise Holidays (01494 678 400; turquoiseholidays.co.uk) has seven nights' half board in a Lagoon Water Villa from £2,199pp with flights and transfers.
Royal Palm, Mauritius
This grande dame emerges from refurbishment on 15 October with 15 new Ocean Suites that are perfect for honeymooners. Set on one of the island's best beaches and near the heart of lively Grand Baie, the resort remains secluded. Beachcomber Tours (01483 445610; beachcombertours.co.uk) offers seven nights' B&B in a new Ocean Suite from £2,850pp with, flights and transfers. For an additional £575, couples can transfer by private helicopter.
Constance Le Prince Maurice, Mauritius, and South African safari
Named after a pioneer of the spice trade, Constance Le Prince Maurice evokes grandeur. Honeymooners enjoy a 50 per cent discount and a resort credit of £100 per room per night to spend on food, drinks and spa treatments. Add on a safari in the renowned Sani Sands private game reserve in South Africa for the ultimate honeymoon. Audley Hidden Beaches (01993 838 250; hiddenbeaches.co.uk) has seven nights' room only, with three-night safari from £3,220pp including flights, transfers, and full board on safari.
Banyan Tree, Seychelles
You can't go wrong with a honeymoon at Banyan Tree on the main Seychelles island of Mahé. It has 60 spacious, colonial-style villas, all with a private pool and awe-inspiring bay views. The spa is a stunner. Western & Oriental (020 3588 6030; westernoriental.com) offers a week from £2,105pp including flights, transfers and breakfast.
North Island, Seychelles
A private island the size of Monaco that's fit for royalty (William and Kate honeymooned here). This place redefines barefoot luxury with a keen eye on ecology. Just Seychelles (01707 371000; justseychelles.com) has eight nights in a Presidential Villa with private pool from £17,850pp all-inclusive (everything from scuba diving to sunset cruises), business-class flights with Emirates and transfers.
Madagascar and Mauritius two-centre
Combine lemur-spotting in Madagascar's rainforest reserve with a week on the beach in Mauritius for a classic Indian Ocean honeymoon with an adventurous twist. Rainbow Tours (020 7666 1250; rainbowtours.co.uk) offers 11 nights from £3,025 for the groom and £2,595 for the bride, including all flights, four nights' room only in Madagascar and seven nights' all-inclusive at the Paradise Cove.
White Pearl, Mozambique
This chic retreat on the lesser-explored south-east coast is a notch above traditionally rustic properties. Go horse-riding, star-gazing and see turtles (between November and February). Exsus (020 7337 9010, exsus.com) has seven nights' all-inclusive from £3,520pp in a Pool Suite including flights and helicopter transfers.
Baraza Resort & Spa, Zanzibar
With African, Indian and Arabian influences, the island of Zanzibar beguiles honeymooners. Baraza Resort on stunning Bweju-Paje Beach has just 30 villas each with private plunge pool. It evokes Zanzibar's cultural mix. Tropical Sky (0843 249 8267, tropicalsky.co.uk) offers seven nights' all-inclusive in an ocean-front Villa from £2,219pp including flights and transfers.
Sri Lanka wildlife and beach
Explore Buddhist temples, climb Sigiriya rock, visit the tea estates, stay in a wildlife retreat in Yala National Park and look for leopards and elephants, before a spot of relaxation on the beaches close to Galle. Black Tomato (020 7426 9888, blacktomato.com) has a luxury seven-night tour from £2,799pp including accommodation, some meals and activities, flights and transfers.
Selected by Jane Anderson, Editor of 101 Honeymoons (101honeymoons.co.uk).
Reuse content