Feast like a Scandinavian
By Susie Mesure
For Trine Hahnemann, midsummer still tastes of strawberries: the small, red fruit, which signals summer's arrival after a long, dark winter, forms the centrepiece of the Danish chef's solstice smorgasbord. Nor is she alone: the berry, intensely sweet from those long Nordic days,  is sacred to all Scandinavians celebrating the longest day of all.
With summer's bounty under way, mid- summer trumps even Christmas for feasting  potential, yet the day hardly registers in the UK's culinary calendar. "This is a tradition that could be started in Britain. You are in  the same hemisphere as us; have the same ingredients; same weather. Why not celebrate that summer is coming?" laughs Hahnemann. "All the really wonderful summer things are ready at the end of June; plus, the light is so amazing at that time, so it's an excuse to have a party and be up late and remind each other that nature is special!"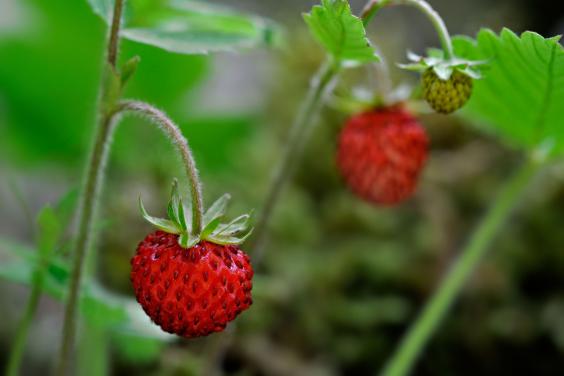 Midsummer isn't a time to play around with the menu; customs endure, just like the festival. "When I was growing up, the first strawberries and the first new potatoes would always be around midsummer. We'd boil the potatoes with dill and butter; then we'd have a big roast; and you'd have the new strawberries with cream and sugar. There would be sausages and snobrod, salted dough that you twist round the end of  a stick for children to roast in the fire. You'd also have summer cabbage and shrimps, which people peel themselves and eat on bread. We serve the cabbage raw in a salad with peas and dill and a dressing of cream, sugar and lemon."
Last year, Hahnemann's roast – always lamb – was cooked with elderflower cordial and deep-fried elderflowers and eaten, as is customary, on the beach on a pretty picnic set. The feasting starts around 6pm and continues into the small hours, with a break at dusk to light a bonfire (Danish lore dictates that a witch be burnt, to send her back to Bloksbjerg, in northern Germany's Harz mountains). White wine, beer, and aquavit wash it down and lubricate the vocal cords for the serious business of singing.
The Swedes are just as devoted to eating  their way through the longest day, starting with  a classic smorgasbord for lunch, according to Stockholm chef and supper-club host Linn Soderstrom. "The focus is on the fish dishes: herring, gravadlax, and boiled-egg halves decorated with roe or shrimp are common. And new potatoes. In the evenings, a lot of people will have a barbecue party. The tradition is just to grill; what you put on the grill doesn't really matter. It's also very traditional to eat strawberries with cream, or a strawberry cake."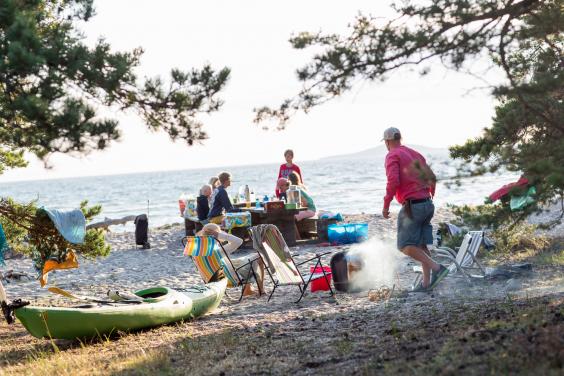 Soderstrom, who is hosting a Swedish midsummer feast this coming Saturday, says her favourite midsummer dish is matjes (soused) herring – because you prepare it in advance,  plus "it's super-tasty" – served with sour cream, chives, red onions and new potatoes.
If anyone's feeling inspired, Hahnemann – who'll be cooking at a weekend of Scandinavian feasting at Somerset's Harptree Court (home to The Great British Bake Off) next Sunday – advises making a picnic and heading to the beach with family and friends. "If possible, have a bonfire. I'd make the lamb and serve it cold with salad and strawberries. Plus, a shrimp salad with dill: cook the shrimp in salted water for a few minutes, and serve with a lemon mayonnaise and dill on sourdough bread."
Oh, and one last thing: don't let the weather defeat you. "Most of the time it's cold and  horrible, but we put on a lot of clothes and take an umbrella. There is no such thing as the wrong weather, only the wrong clothes!"
Pointed cabbage with dill and peas
Serves 8
100g almonds (optional)
2 pointed cabbages, cut into long strips
500g fresh shelled peas
100g bunch dill, chopped
For the dressing
Juice 1 lemon
1 tbsp runny honey
100ml vegetable oil
Salt and pepper
Roast the almonds in a moderately hot oven for 10 minutes. Leave to cool, then chop. Combine the cabbage, almonds, peas and dill in a salad bowl. Mix the dressing ingredients and toss with the salad before serving.
Ride from dawn to dusk
By Rob Penn
The South Downs Way trail stretches from the King Alfred statue in the centre of Winchester to the promenade at Eastbourne. The distance is 100 miles, with some 12,600ft of climbing. To ride the off-road route in two days is tough: to ride it in one is a formidable challenge…
I set off from Winchester as day broke. You can, of course, start in Eastbourne, but the prevailing winds blow west to east and most folk ride it that way. Following a few days of rain, my progress on the trail's first section, along damp, muddy by-ways as far as Old Winchester Hill, was painfully slow. By mid-morning, I was even thinking about abandoning the ride. Then I hit the compacted, hard chalk for which the South Downs are famous, and I began to fly along.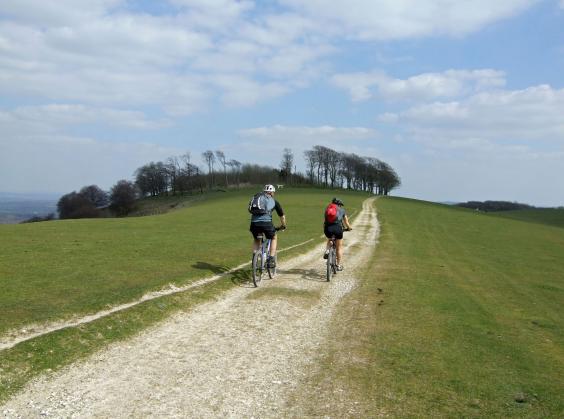 There are good pubs in the flint villages, Bronze Age burial mounds, chalk figures cut  into hillsides and even a sculpture by Andy Goldsworthy along the trail, but you won't have time to stop and enjoy them. In fact, I didn't stop at all, other than to fill up my water bottles, eat, check maps and catch my breath.
You do get to savour the spectacular views, though, not least on the long climbs out of the river valleys: from Cheesefoot Head, you can see out to the Solent and the Isle of Wight; west of Amberley, the trail follows sections of a high ridge and you look down on great lakes of green leaves in the heavily wooded Weald to the north, and over the sea to the south.
At the 80-mile mark, I hit the wall and had to push my bike up the hill, away from the Cuckmere River. Yet when I reached the grasslands inland from Beachy Head, I could feel a sense of satisfaction rising within – at having crossed a great swathe of England and been outside for nearly every minute of a glorious day. Racing downhill to the sea, I realised I'd never particularly wanted to visit Eastbourne – but after 12 hours in the saddle, I'd never been so grateful to get anywhere.
Riding tips
* Ride a light, hardtail mountain bike, ideally a 29er (the largest wheel size), with tubeless tyres. Consider taking a spare tyre – the tiny pieces of flint on the trail can do some damage.
* Choose a good saddle, which you are used to.
* Set off with all the food and drink you need: many of the shops and pubs are off route and you won't want to add any extra mileage.
* The route is marked with "finger posts" but in a couple of places they are hard to follow: take a sat-nav device or OS maps (120, 121, 122, 132 and 133) as back-up.
* For an introductory guide on this trail: nationaltrail.co.uk/sites/default/files/sdw_mtb-guide_2015a.pdf
Sleep out under the midnight sun
By Phoebe Smith
There's something magical about sleeping in the wild on the summer solstice. To watch the sun descend beneath the horizon, warming your face with the last of its heat, while you sit snug in your sleeping bag, the earthy aroma of your soil mattress filling your nostrils, waiting for  the surrounding landscape to fade into the darkening sky. That's the dream, anyway – and one  I have endeavoured to realise for the past three years, every summer solstice eve, on one very special Scottish mountain called Ben Hope.
Sitting between the Kyle of Tongue and Loch Eriboll and rising to a height of 3,041ft, this is the most northerly of all the Munros (mountains over 3,000ft) in the country. From its summit, you can gaze north and – if weather permits – see the Orkneys. Legend has it that on the night of the solstice, due to its northerly co-ordinates, you can watch the sun sink down and almost immediately begin to rise again – as close as Britain can get to a midnight sun.
I arrived there last solstice to see if I could glimpse it – third time lucky; the previous two times I'd been rained off. In my rucksack was  a warm sleeping bag, a camping mat, stove and gas, lots of food, a fleece, duvet jacket, headtorch, hat, gloves, map, compass and, of course, my bivvy bag. Essentially a waterproof pouch for your sleeping bag, a bivvy represents wild camping (that is, pitching away from a proper campsite) at its simplest. Unlike a tent, there's no room for your gear – you need to take a waterproof bag for it – and no "porch" to cook in. But then it doesn't remove you from the outdoors in quite the way  a tent does: from a bivvy, you can lie out in the elements and watch the stars dance overhead, and wake by the light from the sunrise.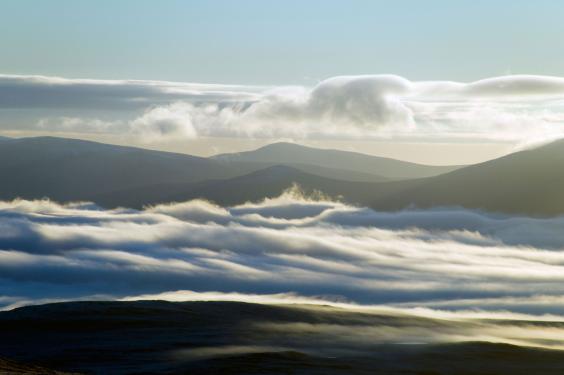 En route to the summit, I tried to ignore the grey clag swirling around it. I ploughed on up the path for a couple of hours as rain became hail, driven into my face by a screaming wind. My boots crunched as I trod over rocks to reach the trig point at the top of Ben Hope, from where  I could see… nothing.
I headed back – but I'd not given up hope. Halfway down the mountain is a flattened patch of grass next to a stream. There, sheltered, I set up camp. As the water in my stove splattered and glugged, I warmed a meal with it first, then poured the remainder into a bottle, wrapped  it in fleece for use as a hot-water bottle, and  surveyed my surrounds. To my left, the stream trickled soothingly as it cleaved its way into the valley below. To my right, the grass glistened green, bejewelled by the raindrops, and beyond I could make out the edge of the hillside, behind which the sea appeared merely a faded watermark against the dull light of the setting sun.
It might not have been the summit sleep I'd hoped for, but then I couldn't complain. I've enjoyed many a wild sleep, each with a camera memory card-filling sunset, from a makeshift driftwood den I'd fashioned on Peppercombe Beach in North Devon, to tent-camping on the high moors of Erme Plains in Dartmoor, bivvying in a cave high on Dove Crag in the Lake District and sleeping next to Melynllyn Lake in Snowdonia's Carneddau range. Anywhere even slightly wild – including your small local hill – can be perfect for a solstice sleep-out.
Movement woke me in the early morning half-light. Only a little after 5am, it was already light enough to see a five-strong herd of deer crossing the river only metres from my feet. Cloud still sat on the hill but from my bed I could spy the muted colours of dawn breaking through. I smiled. Let the crowds have their solstice parties; for me,  a night on a hill is as wild as I want it.
Phoebe Smith is the author of 'Wilderness Weekends: Wild Adventures in Britain's Rugged Corners' (£14.99, Bradt). Her latest book,  'Wild Nights: Camping Britain's Extremes', (£9.99, Summersdale) is out now