From the Thames to the Aegean, travellers face cancellation and disruption on Wednesday due to strikes by transport workers.
Dozens of flights to and from Greece have been delayed or cancelled because of a four-hour stoppage by air-traffic controllers, starting at noon UK time.
The main Greek airline, Aegean, cancelled 19 flights and warned that others would be disrupted - mostly postponed to avoid the strike period.
Britain's biggest budget airline, easyJet, warned: "We are expecting severe disruption throughout the day. We are doing everything possible to minimise the impact to our customers, but unfortunately we will have to cancel some flights."
British Airways axed a Heathrow-Athens-Heathrow pair of flights, but hopes to accommodate passengers on other departures.
Thomas Cook Airlines is asking its pilots to fly faster than normal in order to dodge the impact of the strike on three of its holiday flights. A spokesman for the airline said: "We'll largely maintaining our current schedules but will use high-speed flight plans to protect customers from its impacts."
The controllers are taking the action in protest over pay and changes to working conditions.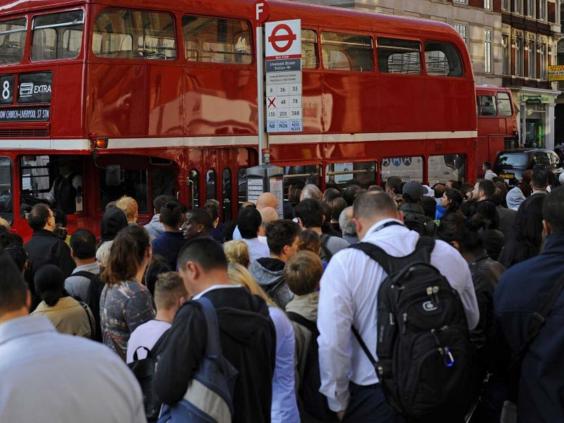 Travellers seeking to reach Europe's busiest airport will have their options limited from 6.30pm tonight and all day tomorrow because of the strike by Tube workers unhappy with arrangements for all-night services. The Piccadilly Line to Heathrow's three stations will, like all London Underground services, be suspended until Friday morning. National Express is laying on extra coach services to help meet the expected extra demand.
In pictures: Tube strike in London (July 2015)
In pictures: Tube strike in London (July 2015)
1/12 London

People queue for buses at Stratford station

2/12 London

Commuters crowd on a platform as they wait for a train on the c2c line at Upminster station

3/12 London

Metropolitan Police with crowds of people queuing for buses at Stratford station

4/12 London

People queue for buses in Stratford

5/12 London

People queue to get on a bus outside Victoria Station

6/12 London

A long line of people waiting at a bus stop in Wimbledon, south west London, as tennis fans leaving the All England Club faced a difficult journey home due to a tube strike

7/12 London

People wait in line for taxis in Wimbledon

8/12 London

A closed entrance to Stratford underground station, as commuters face travel misery trying to get to work because of a strike which has brought London Underground to a standstill

9/12 London

District Line tube trains parked at the Upminster depot during a 24-hour walkout of London Underground staff

10/12 London

Commuters try to board a tube train at Westminster station as workers across the British capital begin a 24-hour strike on 7 July

11/12 London

Commuters crowding around one of the entrances to Oxford Circus Tube station, the rush hour on 7 July started early in London as commuters left work to beat a Tube strike

12/12 London

Commuters crowding around one of the closed entrances to Oxford Circus Tube station. Picket lines were mounted outside stations by members of four trade unions involved in a 24-hour walkout in a row over the new all-night Tubes, due to start in mid-September
One bright spot is that cross-Channel services are operating normally from both Dover and Folkestone to Calais. Yesterday Eurotunnel passengers experienced delays of up to four hours because of what was called an "unplanned tunnel inspection".
Reuse content