A bus driver locked in an angry standoff with a motorist blocked a narrow road for nearly an hour, leaving traffic backed up for half a mile in both directions.
The bus came nose to nose with a Volkswagen Lupo on Coronation Avenue, Bath on Thursday, the Bath Chronicle reported.
As the vehicles blocked each other, the bus driver was heard repeatedly swearing at the motorist.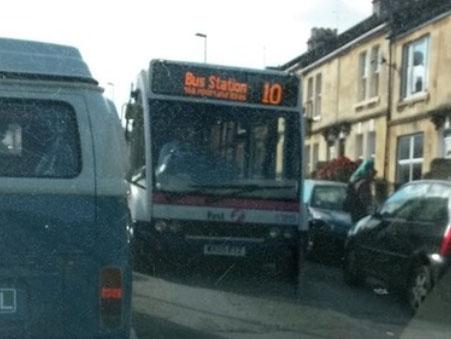 Footage uploaded to social media shows the motorist, Ewan Langley, walking up to the bus and saying: "It's my right of way bruv".
The bus driver then opens the door saying "representing First… I suggest you move" and you "can't drive".
Motorists and passengers stuck in the stand-still are heard pleading with Mr Langley to "back down", while a man shouts from the traffic jam, "I've got work to do", according to the Telegraph.
At one point the bus driver, who was carrying passengers, is seen pulling out a copy of the Metro newspaper and reading it in his cab, refusing to move the bus until the police arrived at the scene.
Omg. Big fight outside my house on Coronation Avenue. pic.twitter.com/Q5Ak7T0EkO

— Rebecca Shields (@Craftyboo) October 1, 2015
A spokesman for First Bus said the driver worked for an agency, meaning they were responsible for any decision about his future.
The company said it was investigating the incident and were treating the issue "very seriously".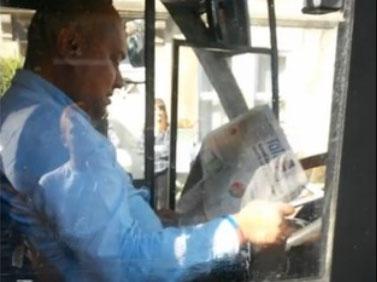 The driver has since lost his job, according to The Bath Chronicle, and has told the paper he was provoked and misrepresented.
Mr Langley, 21, who is allegedly a newly qualified driver, told The Bath Chronicle: "It was my right of way anyway so I stayed there until the police turned up."
Avon and Somerset Police said it was called to Coronation Avenue at 13:00pm and traffic was moving an hour later.
It is understood the bus driver called the police.
Reddit users commented that the confrontation was one of many recent road-rage standoffs in the UK. One user said: "Is this a regular thing in UK or just coincidence?"
The incident comes after a similar confrontation in Hull, involving 54-year-old Ronnie Pickering, who was recorded shouting "Do you know who I am? …Ronnie f****** Pickering!" to a bemused moped driver during a road-rage confrontation.
Reuse content