The noise during a balmy few days in the summer of 2012 was so loud inside the Olympic velodrome that you wondered if the Siberian pine track might come unstuck. A glorious British team won nine medals – seven of them gold – in 10 events, and crowds of 6,000 spectators roared in ecstasy daily.
Seventeen months later, the only person in the audience is an unseeing cleaner sweeping under rows of empty seats. But it doesn't matter that nobody is watching, because the only noise, meanwhile, is the gentle creaking of wood under the tyres – not of Sir Chris Hoy's or Laura Trott's bikes, but mine. I am doing, rather more nervously than the pros, what, from next week, anyone else will be able to do: ride in the tracks of heroes around the greatest stage for cycling in the world, at the centre of a venue that gives new meaning to that fraught phrase "Olympic legacy".
The Lee Valley VeloPark at Stratford is the only place where a cyclist can pedal in four very different disciplines – and on two Olympic courses. Right outside the Pringle-shaped velodrome, the terrifying BMX track has been softened slightly. Around that winds a new, one-mile ribbon of pristine Tarmac, a gift to road cyclists. In and around that: five miles of mountain bike trails. On Monday, the VeloPark opens to the public as the latest Olympic venue to be given back to London (sweaty cyclists might like to cool off in the stunning pool, which opened last month, or, 12 miles north of here, the white-water centre). A hockey and tennis centre opens in May. A week ahead of time, I slipped into something snug for a very rapid, two-wheeled tour.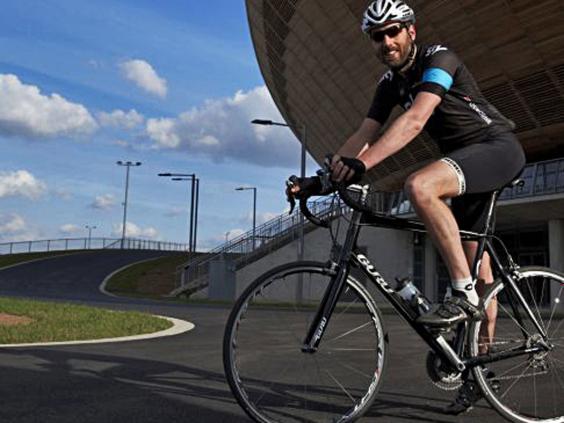 Track
"Push on, push on!" shouts Jez Cox, an ex-pro cyclist who is assistant manager of the VeloPark and in charge of cycling development. The 250m wooden track is formed of 35 miles of pine boards (less the chunk Freddie Flintoff took out in a crash during last week's Sport Relief charity races). Cox assures me they are the "stickiest" of any velodrome, as long as you "push on" to keep momentum going around the steep banks.
Like all the disciplines here, the track is open to riders of any level. Condor Cycles, the well-known London brand, has provided dozens of rental bikes that can be ridden with clippy track shoes (also available to hire) or just trainers. Cox and his coaching team are on hand to help riders take the sport as far as they want to.
What should be as boring to a cyclist as a wheel might be to a hamster, or a bowl to a goldfish, is strangely thrilling. This is the world's fastest velodrome, and while my speed remains relatively modest, the temptation to go faster than you thought you could is irresistible.
BMX
This is the only Olympic cycling venue where Team GB failed to deliver a medal, but we won't dwell on that. The giant start ramp has been halved in height to 4m, thankfully, but descending it on a tiny BMX bike remains daunting for a first-timer.
A mini "pump track" neighbours the course so that beginners can learn the "pumping" arm action required to keep momentum over the bumps (and to keep the wheels on the ground, should you wish to). I take no air as I navigate 400m of bumps and banks on the main course, but can't help grinning, and feeling like a much younger man.
The BMX course is overlooked by the striking velodrome and its open upper concourse, where non-cyclists will be welcome to watch and use the café. Cox says curious tourists have already started coming just to look. There are plans to let them sit inside the velodrome to relive the Olympic races on the big screens as that roar is funnelled back in via the speakers.
Mountain
East London is not known for its mountains, but Olympic-level earth-moving has lent the VeloPark a striking new topography either side of the busy A12 road. A new bridge links up more than five miles of undulating trails, which are graded, piste-style, into blue, red and black runs. I save the big stuff for another time and ride with Cox on some training trails, which are challenging enough for a beginner.
Again, coaching is the priority here, and groups of all abilities and backgrounds will be welcomed and shown the basics of cornering and negotiating a variety of terrain, from gravel to big, rocky drops. The courses have been conceived by Dafyyd Davis, a renowned trail designer, and while east London might be a long way from his native North Wales, this is the closest you'll feel to wilderness, just six miles east of Tower Bridge.
Road
I must declare a bias here and say that the new road course is, for me and booming numbers of like-minded cyclists, a very exciting prospect. Dedicated, purpose-built roads are very rare things. No potholes, no traffic lights, no lorries. The course winds for about a mile, taking in several tight bends and gentle drops and rises, its farthest loop crossing the River Lea via two new bridges.
The floodlit asphalt is as smooth and grippy as a Formula One track, and, at 6m wide, it's perfect for recreational riding as well as racing. It is also the clearest nod to the pre-Olympic history of this place. The old Eastway Cycle Circuit, opened here in 1975, became a hugely popular centre for racing, visited by the world's best pros as well as generations of young British riders, including Bradley Wiggins and Laura Trott. A mountain bike trail called Beastway became a big draw, too, including for Grayson Perry, an amateur now better known for his pottery.
Cox, who's 36, remembers very fondly travelling across London from Hillingdon in west London, where he grew up, to race here from the age of 12, and the huge sadness that came when it was announced that the circuits would be demolished to make way for the Games. "I was living in France and came all the way back for the last race," he says. "When I finished, I kissed the track and cried. A lot of people cried, because this was somewhere they'd grown up, that was special. If I can achieve anything with this place it's to give other people that feeling."
For information about reservations and prices for sessions at the Lee Valley VeloPark, go to visitleevalley.org.uk or call 08456770603. Easter holiday taster sessions for seven-16-year-olds (12-16 for track) cost from £12. Sessions for adults cost £15 and £30 for track. Booking is essential
Reuse content