1. Moy Castle, Lochbuie, Isle of Mull. Thanks to Alex Massie.
2. Ed Miliband was doing well on the Sky News Ask The Leaders yoof event – although he did say "It goes to your point...", as Nigel Fletcher pointed out, one of his most irritating management-speak phrases – until one of them asked if he had any experience outside politics.
"I was an economic adviser at the Treasury," he said. Also, he had a spell at Harvard: "I taught around government and economics." He didn't actually teach government and economics, he taught around them. Perhaps he does have experience of real-life academia after all.
David Cameron was on later and had a more difficult time, because he had to defend decisions he had taken in government. On Saudi Arabia, the implied message was: Maybe the flags at half mast were a bit much, but who wants to end intelligence co-operation or to boycott Saudi oil?
Cameron was also asked about abolishing Prime Minister's Questions. He gently pointed out that you could imagine the reaction if he proposed it. No doubt this will trigger another wave of isn't politics dreadful glendaslaggery. What do its critics suggest instead? A 90-minute Q&A session with the chairs of select committees?
3. Apparently there is a theme around. Seven things you didn't know about me. Mine is in The Independent here.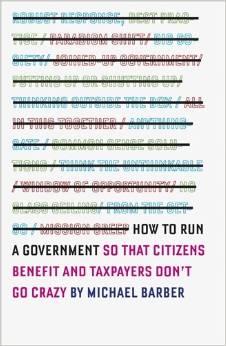 4. Quotation of the Day. "The English race ... has long and successfully studied the art of curbing executive power to the constant neglect of the art of perfecting executive methods." Woodrow Wilson, quoted by Michael Barber in his forthcoming book (right), How to Run a Government. I am reading an advance copy and will report back in due course.
5. All the things I've written for The Independent, The Independent on Sunday and Independent Voices are collected on my biography page. Put this in your RSS feed reader or other gizmo (I use Feedly, which is excellent).
6. And finally, thanks to Tom Freeman for this extract from his speech at a baggage handlers' conference:
"My friends, we need to work… [Excited hush] …on a case-by-case basis."
[Wild applause.]
Reuse content