Thanks to Akmol for letting me know that there really is an Indian restaurant in Street, Somerset, called Two Idiots. Apparently it is a reference to an Indian film called 3 Idiots. A valuable addition to my Top 10 (now Top 51) Genuine Shop Names.
• I did Fictional Fictions as my Top 10 for The New Review, the Independent on Sunday's magazine, last Sunday. Thanks to Market House Books for drawing my attention to two posts at The Dabbler with many more wonderful titles of imaginary books, from Dickens to The Sims, here and here.
• More evidence of the success of the academy schools programme was published yesterday. A new paper by Andrew Eyles and Stephen Machin at the Centre for Economic Performance at the LSE finds that "the first round of academy conversions that took place in the 2000s generated significant improvements in the quality of pupil intake and in pupil performance".
• Another study, also by academics at the LSE, found that "those on the extreme left and right ... are substantially more likely to also believe in conspiracy theories".
• ComRes's annual survey of MPs' summer reading: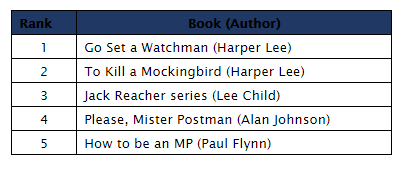 • And finally, thanks to James Martin ("Pundamentalism") for this from a year ago:
"Émile Zola once wrote an open letter complaining about the size of his hot-tub. It was a little J'accuse-y."