1. The choice is clear, as Matt Chorley says. Do you want a better plan or a clear plan? A better future, or a brighter future?
Solly says: "I want a better plan and a brighter future. Failing that, a clear plan and a better future. No one listens."
2. The election is close but still tilted in Labour's favour. The Independent on Sunday Poll of Pollsters (the original and best, accept no imitations from The Guardian) puts David Cameron six seats short of the barest minimum he needs to stay on.
3. My column in The Independent on Sunday looks at what could make the difference Cameron needs. Taking 1992 as the model, where all three applied, he needs the polls to be wrong, he needs a late swing in his favour or he needs "shy Tories" to tell the pollsters they don't know and then vote Tory.
Any of those is possible, and I would say that if the outcome is different from what the opinion polls are suggesting that difference is more likely to be in the Conservatives' favour than Labour's. But there is no evidence for it yet and it is getting late.
4. The Top 10 in The New Review, the Independent on Sunday magazine, is Americanisms That Were Originally English.
5. I haven't banned anything for a long time but some of these are topical and urgent, and my proscription finger is getting itchy. So here is the latest update to the Banned List:
"Concerning" to mean "worrying". Thanks to Aighne Kearney.
"– (said) no one, ever."
"The first social-media election." Ryan Hooper.
"Unless you have been living under a rock/on Mars/on a desert island for the past month/year/decade you will know …" Nominated by Lucy Hunter Johnston for Most Exhausted Intro award.
"Seriously?" Nominated by Eric Farnsworth.
"Car-crash interview." Malcolm Redfellow. Especially to describe one given by Natalie Bennett, leader of the Green Party, whose mother was killed in a car crash.
"Goes to." Nigel Fletcher. As well as "speaks to", which has already been banned.
Property ladder, especially if it involves feet. Ian McRobert.
"The next level." Lisa Markwell.
Shooting foxes. Rob Ford. The law against fox-hunting does not ban shooting them, but in political journalism I do.
6. And finally, thanks to Jamie Reed, standing for re-election as Labour MP for Copeland, for this wonderful draft letter to Jeremy Hunt, the Health Secretary, signed by doctors: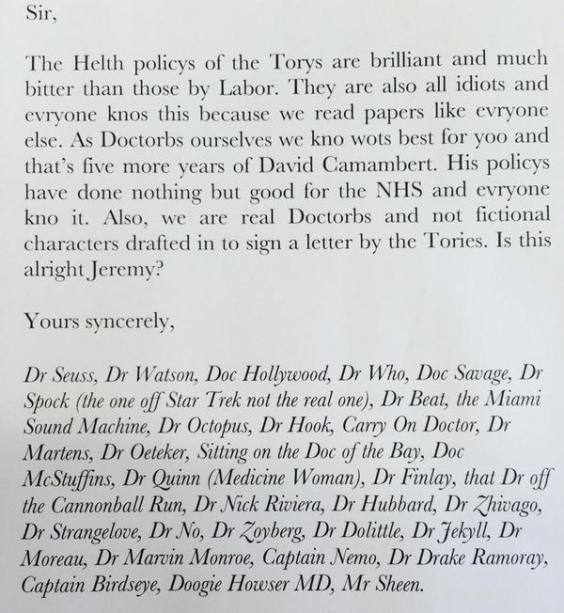 Reuse content